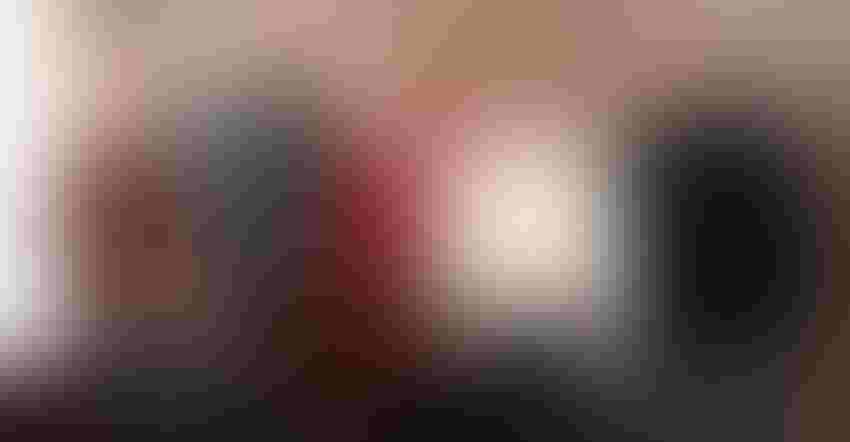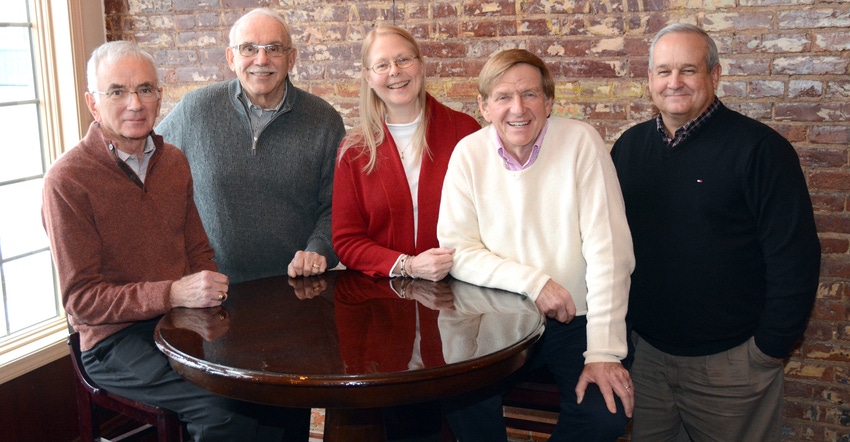 CHAMPIONS: The 2020 Master Farmers are Ted Mottaz, Elmwood (left); Joe Pickrell, Buffalo; Susan and John Adams, Atlanta; and Dale Hadden, Jacksonville.
Five Illinois producers will be honored as 2020 Master Farmers at Prairie Farmer magazine's annual event March 19 in Springfield, Ill. The award recognizes exceptional agricultural production skills, commitment to family and service to community.
The 2020 Master Farmer award winners are:
John and Susan Adams, Logan County. John and Susan live near Atlanta and won the Master Farmer award as a team. They raise 1,000 acres of corn and soybeans, and volunteer prolifically statewide and in their local area. John and Susan were nominated by IL Corn.
Dale Hadden, Morgan County. Dale and his wife, Amy, live near Jacksonville with their two children. They raise 6,800 acres of corn, soybeans, oats, wheat, hay and pasture, plus 280 head of beef cattle, with Dale's parents and brothers. Dale was nominated by 2001 Master Farmer Philip Nelson.
Ted Mottaz, Knox County. Ted and his wife, Janet, live near Elmwood, where they raise 1,500 acres of corn and soybeans in partnership with Ted's brother, Jeff. Ted was nominated by his niece Sarah Grant, manager of McDonough County Farm Bureau.
Joe Pickrell, Sangamon County. Joe and his wife, Marilyn, live near Buffalo, where they raise 3,600 acres of corn and soybeans with sons Joe Jr. and Jason in a family-owned LLC. Joe was nominated by his sons and daughter, Michele D'Antonio.
Prairie Farmer first offered the Master Farmer award 95 years ago, in 1925. Editors have continued the tradition annually since 1968, following a pause initially caused by the Depression. When Editor Clifford Gregory established the Master Farmer program, he felt the award would help give farm people a greater sense of "pride and permanence." Nearly 350 Illinois producers have been inducted as Master Farmers or Honorary Master Farmers over the program's history.
The Master Farmer award has been described as Illinois agriculture's lifetime achievement award. Prairie Farmer continues to present the awards annually because of the important contributions farmers make to Illinois agriculture and their local communities. 
Candidates are nominated by farmers, neighbors, agribusiness leaders and farm organizations throughout the state. Judges for this year's awards were Karen Corrigan, McGillicuddy Corrigan Agronomics; Ed McMillan, University of Illinois board of trustees; Linnea Kooistra, 2011 Master Farmer; Steve Myers, Busey Ag Services; Dwight Raab, First Midwest Bank; and Holly Spangler, Prairie Farmer editor.
Every year, judges pour through pages and pages of applications that document a lifetime of work, sifting until they find the very best Illinois farmers — the people who raise good crops and even better families, and who build their communities all along the way.
Some Master Farmers serve in state and national farm leadership positions. Others chair prestigious boards or serve with honor at the highest levels of government. Still others build their farms or businesses to regional or national prominence.
However, all serve their communities — building churches, chairing little-known but important committees, organizing harvest for a stricken neighbor — and continue the service-minded commitment that earned them the Master Farmer distinction in the first place.
Growmark is a financial sponsor of the award. Like the Master Farmer award, the Growmark system was born during the 1920s, when farmer cooperatives first organized the Illinois Farm Supply Co. Today, the brand is known as FS.
To nominate a farmer for the 2022 Master Farmer award, email  [email protected] for a nomination form or download one here. Nominations are due Sept. 24, 2021.
Follow along at PrairieFarmer.com all week for in-depth profiles on each winner!
Subscribe to receive top agriculture news
Be informed daily with these free e-newsletters
You May Also Like
---