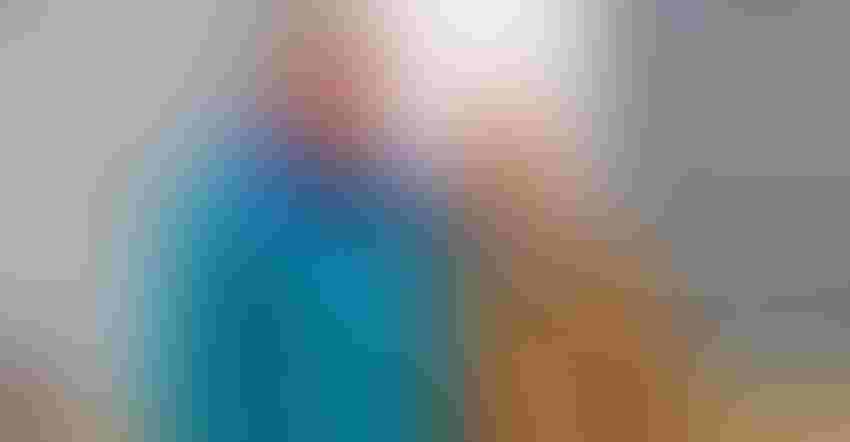 TEAMWORK: John and Susan Adams are able to navigate planting and harvest mostly by themselves, with John running their planter and combine, and Susan running the grain cart and dryer.
John and Susan Adams are well known faces in the Illinois agriculture industry, as the 2020 Master Farmer couple have collectively stepped up for leadership roles dozens of times.
They met while attending Southern Illinois University in Carbondale and moved back to John's family farm in Atlanta, Ill., in 1972. While Susan grew up in the suburbs of Chicago, she also has roots in farming, and continues to own 87 acres of family ground in Gallatin County, Ill. Together, they've grown the Atlanta farmstead to 970 acres since taking it over full time when John's father retired in 1982.
"My dad and I had a small farrow-to-finish hog operation," John says. "And then Susan jumped right in. My dad kind of backed away from it. She was in charge of the breeding and other things." He notes that Susan worked as a teacher for the first year she lived in Atlanta before becoming much more involved in the farm.
"Susan and I both enjoyed raising hogs, but it kind of limited our vacation time and ability to participate in ag leadership positions. We dropped the hogs in 1988 and started to get more involved and go on more trips," he says.
The couple have traveled to 42 states and 20 foreign countries. Often they left home to represent Illinois growers and livestock producers, passing by IL Corn ads that featured their faces on the way to O'Hare Airport in Chicago. They served on the Corn Farmers Coalition national organization for five years, dedicating time to teaching policymakers about agriculture.
Located 30 miles from Bloomington, their Centennial Farm in Atlanta has frequently played host to trade representatives and politicians invited by IL Corn.
"Our door's always open," Susan says, adding that since the farm was originally homesteaded by John's ancestors in 1860, they'll soon file for sesquicentennial recognition with the state of Illinois.

GRAIN CHECK: John and Susan work together with checking on and marketing the grain they have stored.
John won IL Corn's World of Corn award in 2006, while Susan won the group's environmental award in 2016, as well as an ag education advocacy award from the Illinois Leadership Council for Agricultural Education in the '90s.
They were also named Conservation Farm Family of the Year by the Logan County Soil and Water Conservation District in 1992 and the Illinois Extension Agricultural Association's Friend of Agriculture in 2014. John Fulton, retired county Extension director, nominated the couple for the award normally reserved for policymakers and nonfarmer supporters of ag.
"John and Susan were the first producers given the award because of the breadth of their service to the agricultural community. They continue to serve the agriculture industry they love," Fulton says.
Learning new tricks
For someone who admits, "the only thing I ever raised were hamsters" before coming to John's family farm, Susan says she was quick to learn about livestock management with the help of University of Illinois Extension. Before long, she mastered chiseling in the fall, field-cultivating in the spring, drilling beans, and being the primary grain hauler and grain dryer operator during harvest.
"I had a little bit of background in farming. But getting to know John and the operation gave me a broader perspective on farming and what was necessary to get the job done," Susan says, adding late nights during harvest is part of the job. "I don't have to be quite as active as I used to since we've been full no-till since 1988. John does all the planting and bookkeeping, but I keep things moving during harvest."

GRAIN MANAGEMENT: Because the farm is no-till, Susan no longer chisel-plows the ground ahead of planting. She is still the primary grain hauler and grain dryer operator during harvest.
John and Susan are working toward leaving a financially stable operation for a new generation. "We're a family farm, and my sister, myself, Susan and two cousins basically are the owners of it. We're keeping the family farm together and growing," John says.
They've planted 5 acres of walnuts and pine trees for future generations of the family. Susan also grafts fruit trees.
Early adopters
John and Susan are willing to experiment and adapt. They live by this motto: "If we're doing something that works, it's probably out of date." They strive to be as efficient as possible and push the industry to do the same.
Take yield monitors, for example. The couple are proud to say they were a "guinea pig" for the GPS-enabled service back in 1992. They also currently soil test by the grid and apply variable-rate lime and dry fertilizer accordingly.
"In 1980, I started no-tilling," John says. "By 1988, I was 100% no-till. It's evolved. We're using strip tillage, variable-rate technology and yield monitors. Autosteer, too."
John and Susan also have taken part in nitrogen rate studies with University of Illinois and still create nitrogen test plots for their own use. They keep records on fertilizer response alongside finances and yields, which has influenced how they apply fertilizer. Susan is careful to say they balance revenue with being conservation-minded. They maintain grass waterways, filter strips, ditches and field tile. They also drill wheat into erodible areas in the fall to control erosion.
"The dollar isn't always the bottom line — it's how you do a good job and get it done properly," Susan concludes.
MASTERS AT A GLANCE
John and Susan Adams
County: Logan
Operation: 970 acres of corn and soybeans
John's leadership: East Lincoln Farmers Grain Co. board president; Illinois Corn Marketing Board secretary, treasurer, vice chairman and chairman; Prairie Gold Inc. board chairman; Tazewell County Corn Growers Association director; Agriculture Council of America board; U.S. Grains Council director; Land of Lincoln Soil Savers; Atlanta Rotary Club president; Logan County Extension Executive Council chairman
Susan's leadership: Illinois Agricultural Leadership Program Class of 1996; Illinois Agricultural Leadership Associates president; Illinois Agricultural Leadership Foundation board; Agricultural Leaders of Tomorrow graduate; Logan County Pork Association Women president; Illinois Farm Bureau District 10 Ag in the Classroom coordinator; local 4-H leader; Illinois Water Authority Association chairwoman; East Central Illinois Regional Water Supply Planning Committee; Mahomet Aquifer Consortium board; West Central Regional Extension Council chairwoman; Illinois Council on Food and Agricultural Research president
Nominator: IL Corn
Subscribe to receive top agriculture news
Be informed daily with these free e-newsletters
You May Also Like
---