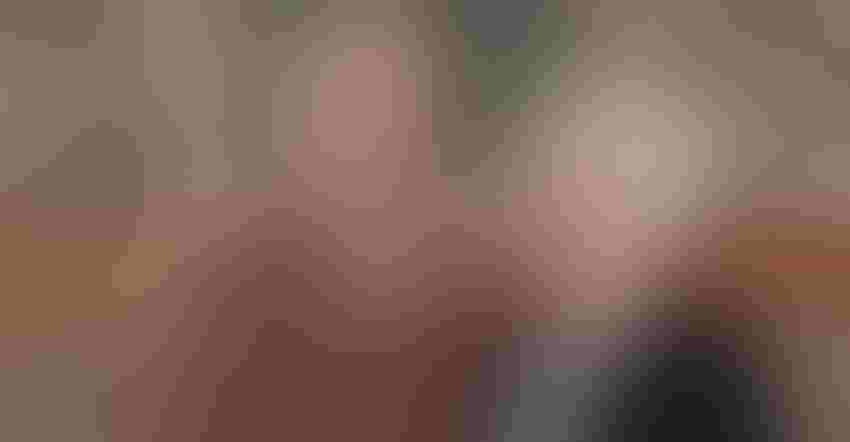 GOALS: Ted and Janet Mottaz will celebrate 50 years of married life in December, with two children and seven grandchildren.
When a businessman bought some land near Elmwood, Ill., and asked the local lawyer for the name of a good farmer, he didn't hesitate: Ted Mottaz.
Why? Ted had a reputation for good yields, born of the kind of acre-by-acre attention that pays off for the land itself. It's a reflection of this 2020 Master Farmer's entire farming philosophy: "Productivity. Innovation. Stewardship," Ted says.
Ted and his wife, Janet, farm in partnership with his brother Jeff Mottaz in southeastern Knox County, raising corn and soybeans on 1,500 acres. Their partnership works because they've divided duties and learned to trust each other's judgment and expertise.
Jeff consults with Ted, then makes seed purchases; they collaborate on crop protection and weed control decisions; Ted keeps records; Jeff operates the planter and combine; Ted maintains equipment and runs logistics; Jeff has a hog operation independent of the farm; Ted owns the semis and hauls grain for the farm.
While Ted began his career off the farm (see below), he rented 80 acres in 1983 while teaching ag at Carl Sandburg College. "The first year I started farming was a drought year — and my 80 acres of corn averaged 97 bushels," Ted recalls. 
He traded labor for equipment and five years later, bought his first farm, 260 acres, with his father and brother.
Mottaz farmers have long been progressive with equipment and technology, going back to Ted's father and grandfather. "In 1960, we had a four-row combine. That was unheard of," Ted recalls. "They were progressive to the point that when autosteer came in, we were one of the early ones in the county to have it — and now we can't drive without it."
Back in 1984, Ted started developing spreadsheet records on the computer, and even wrote his 1982 master's thesis about how the "personal computer" could be used in agriculture. He's revised his spreadsheet system annually ever since, incorporating data, yield results, maps, weather data and more.
President of everything
Knox County farmer Tim Main reflects, "So many great things have been accomplished under Ted's leadership, but the one I remember most is his contagious passion and commitment." Indeed, Ted's been elected president of most everything, from the Knox County Soil and Water Conservation District to the National Council for Ag Education.
"A problem in my career is that I never fully understood the word no," he explains. That, and he was recognized for his ability to build consensus and get things done. Most recently, he served as president of IL Corn in 2019.
"I try to build interaction," Ted says. "Converse, debate and bring in experts."

RESPECT: Asked what he does that's directly tied to his success, Ted demurs. "Don't be braggy. Try not to intimidate people. Try to understand all the sides. I'm not the guy screaming at the board meeting. And I'm willing to say yes."
And back on the farm? "I try to get people to see both sides, to look forward and don't dwell on what happened in 1982. Bring everybody together. No secrets."
Those skills have also gotten Ted on national television. Five years ago, he happened to be lobbying Congress on behalf of IL Corn on the day former Rep. Aaron Schock resigned, right outside Schock's office. Before he knew it, he had cameras in his face and was offering commentary on the young congressman's resignation, airing from coast to coast.
"That was my 15 minutes of fame," Ted says, laughing. "And on national news!"
And while he did a great job in front of the camera, Janet says her husband's real strength is his ability to work locally while thinking globally, a fete she attributes to his time in Vietnam during the war, and to more peaceful visits in Cuba, Panama, Colombia, and back to Vietnam.
"Those experiences have made him personally aware of hunger, labor customs, political strife and the swirl of side issues that complicate both agriculture production and trade," she explains. "He has spent his life determined to balance our production needs with the knowledge that the Earth is finite."
Champion grandparents
Ted and Janet, a retired English teacher, spend as much time as they can with grandchildren, taking in ballgames, cattle shows, musicals and more, picking up small people from school and shuttling them to all the events in their lives. They've also taken them along on trips to Washington, D.C., and more.
One grandchild lives in California, while the other 6 are growing up in the house where Ted grew up, on the farm near Yates City. They raise cattle there on pasture rented from Grandpa, and are learning to show and judge livestock all over the country. Ted is proud of every single achievement, but his hope for the lessons they'll carry into life is simple and profound.
"I want them to be kind to people," he says. "And I want them to work hard and enjoy life."

EXCELLENCE: Ted Mottaz (left) and his brother Jeff farm in partnership near Elmwood, Ill. Ted's philosophy on farming: "Productivity. Innovation. Stewardship."
Back to the classroom
Ted knew the reality of his family farm when he was in high school: There wasn't room for him.
"I wanted to be a farmer, but I didn't see it happening until after I started teaching," he says. So he studied hard, and in high school was chosen most likely to be college bound — probably a science teacher. Close. He graduated in 1966 with a degree in ag education from Western Illinois University. After getting drafted into the Vietnam War, he came home and earned a master's degree and a job at ROWVA High School, where he taught from 1973 to 1979. From there, he moved to Carl Sandburg College to teach ag, and left in 2002 to farm full time.
"I made the move to the community college level because I liked to take a student who maybe didn't think college was for them, and show them two directions to go," Ted says.
Ted's peers say he's a natural teacher whether he's in the classroom or not, putting his education experience to work in the halls of Congress or the meeting rooms of Knox County.
His students agree. Craig Willis, a senior vice president at Growth Energy, studied at Carl Sandburg in the '80s. He says Ted could take a handful of college students who were immature, disrespectful and unappreciative — "harder to handle than any farm crisis" — and could see their potential. "He patiently nudged, taught and mentored us, to send us away better than he received us," Willis describes.
The feeling was mutual. "Successful students have the ability to stay on task," Ted says. "They're able to build good relationships with other people. They're constantly trying to achieve at a high level. And they're willing to take evaluation. I can't guarantee that the success is going to be there, but those are some promising indicators."
MASTER AT A GLANCE
Ted Mottaz
Wife: Janet
Children: Phillip Mottaz, Emily Webel
County: Knox and Peoria counties
Operation: 1,500 acres of corn and soybeans
Leadership: IL Corn president; National Corn Growers team chairman; Knox County Farm Bureau president; Knox County SWCD president; Nutrient Research and Education Council committee chairman; Illinois Council for Ag Education founding member; National Council for Ag Education chairman; Illinois Association of Vocational Ag Teachers president; Elmwood United Methodist Church lay leader; Elmwood Zoning Board chairman
Nominator: niece Sarah Grant
Subscribe to receive top agriculture news
Be informed daily with these free e-newsletters
You May Also Like
---