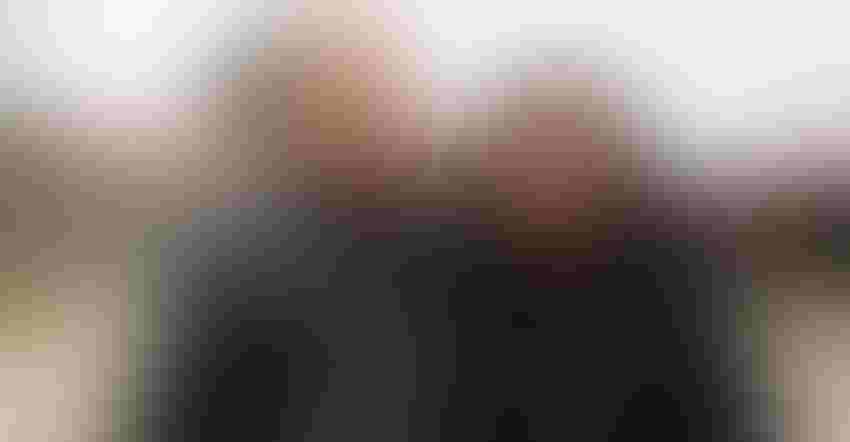 HADDEN FARMS: Dale and Amy Hadden say diversification is the key to their family farm's success.
When Dale Hadden started farming in 1987, he was trading labor for equipment on 315 acres with his dad and grandpa.
Today, the 2020 Master Farmer operates Hadden Farms with his wife, parents and brothers, raising corn, soybeans and cattle on nearly 7,000 acres near Jacksonville, Ill. But it hasn't been easy, and diversification has been key.
"While we have been growing at a steady pace, there have been setbacks, like losing a 50-50 crop share farm when the landlord switched to cash rent," Dale says. "While these bumps in the operation are usually very upsetting to the cash flow, the good Lord has provided other opportunities."
Diversification has meant harvesting and selling 15,000 small square hay bales and 900 round bales each year. Dale took over the family Pioneer seed dealership, started by his grandfather Bill in 1974. The family has sold Apache and Palco cattle equipment since 1999, and this year, they added a cover crop and small-seed business.
The Hadden family also believes in telling their story, hosting 550 to 600 grade schoolers every spring as part of the Agriculture in the Classroom program. Each family member staffs one of 10 interactive learning stations ranging from combines to chickens and other livestock.
"You'll get as many questions from the parents as you do the kids," Dale says, noting his willingness to discuss the science behind genetic modification. "It's important that we educate the public."
Family first
Dale and wife Amy have two children, Blake, 19, and Paige, 17.
"Both children have followed their parents' example, and are hard workers and dedicated volunteers to the community — especially the Morgan County Fair," says Jay Harris, president of the Morgan County Fair Association. "Dale and his family spend many late nights at the fair setting up events and helping other 4-H'ers prepare their livestock and projects for competition."
The farm produces most of its own heifers and bulls through embryo transfer and artificial insemination, though they added selected females as the kids' 4-H projects expanded and they saw the need for different breeds. Eighty percent of the herd calves in the spring and the rest in the fall. They use about 15 bulls, mainly Angus and Simmental.

GOING OUT: Dale feeds the kids' 4-H projects. When the kids have school activities and Dale is out of town on Farm Bureau or NREC business, the chores fall to Amy.
For Dale, giving back means putting his experience to work coaching the Jacksonville FFA meats judging team and his son's baseball team. And while he may not dance, he does regularly attend his daughter's dance competitions.
Dale says Amy, who does payroll and the bookkeeping, keeps the wheels turning on the farm when he's out of town.
Amy became acquainted with the internet and Microsoft Excel early on in her career as an internal auditor, which started shortly after she earned her degree in economics and business administration from Illinois College in 1991. Dale earned his ag marketing degree from the University of Illinois in 1986 and met Amy after a mutual friends' introduction. Amy put her degree and experience to work right away on the farm, and ultimately left her career for farm and family.
"When Dale got on the Farm Bureau board, we knew how much time that was going to take, and we had two young kids at the time," Amy says. "I knew he was going to be gone a lot, and I couldn't give myself 100% to my job if he was gone a lot, so I decided to stay home."
Dale adds: "When I'm going to a Farm Bureau meeting or doing something else and the kids have activities at school, guess who gets to go out and feed the 4-H projects? That's my wife. She jumps up and does that, so she's an integral part of making everything go."
Conservation-minded
Ever since his father bought a dirt scraper when Dale was a boy, he's moved soil to form terraces that capture rain and reduce soil erosion. The family buys "rough" farms needing ditches filled and brush cleared, using equipment many farmers don't own.
"We will put in lots of hard work to make them a very desirable Class B farm when completed," Dale says. "While I have always been willing to take risks, the last three years of farming have caused me to become more conservative and to push harder for efficiencies."
He says efficiency and conservation go hand in hand on their no-till soybeans and strip-till corn operation. Pastures are split into paddocks so they can rotationally graze their cattle, putting them in heavy-use areas for watering while fencing off ditches to reduce runoff.
"I am a firm believer in keeping every particle of soil on our ground and out of the water source," Dale says, adding that they've installed over 900 basin, terrace and water control structures since 1987.
He and Ed Corrigan, senior agronomist at Brandt Consolidated, have served on the Illinois Nutrient Research and Education Council since it was signed into law in 2012.
"Dale brought a tremendous strength to the committee by leading by example on his own farm enterprise, and he brought a great vision as to what NREC needed to accomplish for the stakeholders of Illinois to reduce nutrient loss and increase nutrient efficiency," Corrigan concludes.

SEED SALES: After receiving a load of seed beans, Dale shuts the lid and tightens the bulk storage container.
Dale buys oats for cattle rations, reserving high-quality farm ground for higher-return commodities such as corn and soybeans. The Haddens grow over 100 acres of wheat to bale the straw, and then plant either a forage like sudangrass or a double crop of soybeans.
"The last five years, our double-crop beans have ranged from 25 to 45 bushels per acre, so they've been well worth the effort that we put in to growing them," Dale says.
Most of Hadden Farms' soybeans receive fungicide and insecticide applications at about the R3 growth stage. Dale reports a 3- to 5-bushel-per-acre increase using the practice.
"I apply fungicide to about 25% to 40% of the corn crop, mainly to increase harvest standability and to treat some leaf diseases," he says, adding since they only harvest with one combine, they use a wide range of soybean maturities.
"I am a firm believer in naturally occurring yield loss in the field, so I like to harvest most of my soybeans and corn above the standard moisture levels to ensure maximum yield years," he concludes.
MASTER AT A GLANCE
Dale Hadden
Spouse: Amy
Children: Blake Hadden, Paige Hadden
County: Morgan
Operation: 6,830 acres of corn, soybeans, wheat, oats, hay and pasture; 280 beef cows
Leadership: Illinois Agricultural Leadership Foundation graduate; University of Illinois College of ACES Advisory Committee; Cass-Morgan Farm Bureau board president; Illinois Farm Bureau District 10 director; U.S. Grains Council board; Illinois NREC board secretary, chairman and chairman of research committee; Country Financial and Country Trust Bank director; Illinois Department of Agriculture Livestock Commissioners board; Morgan County Fair board; Illinois Beef Association; Jacksonville Area Baseball Association chairman; Salem Lutheran Church and School elder
Nominator: 2001 Master Farmer Philip Nelson, Seneca
Subscribe to receive top agriculture news
Be informed daily with these free e-newsletters
You May Also Like
---