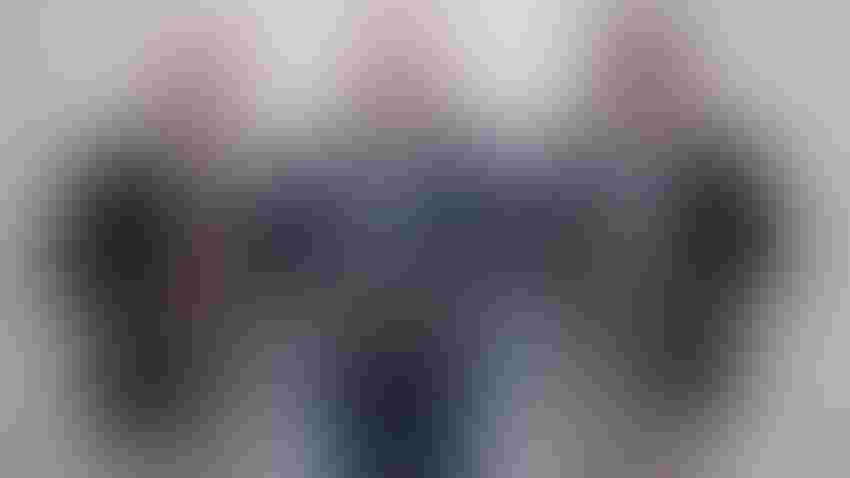 2023 High Cotton Award winners: Southeast- Rusty Darby; Western- Aaron Barcellos; Southeast- Kody Beavers; and Southwest- Williams Family Farms (not pictured).
Brad Haire
The 29th Class of High Cotton Award winners was recognized Feb. 24, in Memphis, Tenn., at the annual High Cotton Awards Breakfast by Farm Press and the Cotton Foundation. The annual award recognizes producers who grow quality cotton using regenerative practices.
The 2023 winners, nominated and selected from four Cotton Belt regions, are as follows: Southeast – Rusty Darby; Midsouth – Kody Beavers; Southwest – Williams Family Farms; and Western – Aaron Barcellos.
Farm Progress Senior Content Director Brad Haire welcomed honorees who were flanked by family and friends and industry professionals.
"The High Cotton Award program stretches across the Cotton Belt and honors top cotton producers who share their production methods, challenges, successes and how they use technology and techniques to efficiently, soundly and sustainably grow cotton, leaving the land better," Haire said to the crowd. "They're true stewards of the land and true stewards of the cotton industry."
Farm Progress Senior Vice President for Operations Greg Frye also addressed the audience, congratulating the winners for their "outstanding achievements.
"The High Cotton Award was conceived for the idea of recognizing what growers are doing to achieve their goals for consistently high yields and premier quality cotton, while instituting practices that protect natural resources and enhance the environment," Frye said. "This year marks the 29th Class of High Cotton Award winners, and each class continues to impress with their innovative techniques that achieve high yields in quality of the product while protecting the environment."
National Cotton Council President of Technical Services and Cotton Foundation Executive Director Don Parker also addressed the winners. "I want to make it clear that this award is a very special award. It is something to be respected because out of all the farmers who are working hard to preserve the lands and do environmental good, these were selected. The competition is high.
"I want to thank those recipients of this award. I want to thank Farm Press for the vision and for working with the cotton industry, from back in the 1990s, to be able to recognize a group that had not been getting recognition, our farmers who are doing more for the land and benefiting the environment."
Regional Farm Press editors introduced their honorees. Each producer was given the opportunity to say a few words.
"Rusty Darby really is a patriot. He loves this country," said Southeast Farm Press Associate Editor John Hart as he explained that scenes from the movie "The Patriot," were filmed on Darby's farm. "His faith in God's very important and of course his family, but also equally important is that Rusty Darby is really a cotton patriot, a patriot for the cotton industry."
Darby discussed his family history and God's faithfulness across generations, including on the 2022 crop.
"We started planting cotton on a Tuesday this year. Everything was ready on Friday, but y'all all know it's a bad idea and bad luck to start planting on a Friday. So, we were going to start Monday. We get about two inches of rain Sunday afternoon. It's too wet Monday to go. Dadgumit. We go look Tuesday morning, it's still too heavy. I tell Reid, let's go after dinner, we found some sandy ground. So, after dinner Tuesday, we got started. It was right. Everything was good. Good moisture, good temperature, good forecast. Time to plant cotton. My daddy's big finger shaking in my face saying, it's time to plant cotton. Go to bed Saturday night. That cotton's gotta be up tomorrow morning. If it's not up, it's pushing. I wake up about three o'clock, can't go back to sleep. Get up, go in the den and sit down with Andy Griffith and Barney Fife waiting on the eastern horizon to start getting gray. Finally, I see some light in the eastern horizon.
"Still in my pajamas and my T-shirt, I run, grab the truck keys, my pocket knife and my cell phone. I take off up to the field, pretty chilly. Slipped on a pair of duck boots and didn't get a jacket. I leave the truck running on the side of the road and go out there in my pajamas. And I think, what's somebody going to think if they see his boy crawling around a cotton field on his hands and knees before daylight? I see the ground pushing a little bit. I say, yee ha man. I kept the pocket knife out. I rake that dirt back and there it is, that little hypocotyl arch and those two little cotyledons rolled up. And I sit back on my knees and the sun's cracking now on the horizon. I say a little prayer. Lord, thank you for being so faithful to my family for 200 years."
"As the age of the average American farmer increases, those of us in this room have spent some time discussing who will succeed those older farmers," Delta Farm Press Editor Brent Murphree said. "We've been blessed to have seen a number of growers and researchers in the Delta take up that charge and continue the farming tradition.
"One of those younger growers is the Delta's 2023 High Cotton Award winner, Kody Beavers. He farms about 3,000 acres in Northeast Louisiana with his wife, Melanie, and operation partner, Jack Dailey."
"I'm so humbled and honored to be presented this award," Beavers said. "To me, this is more a testament of the folks that have been mentors and friends along the way. Being as involved as I am, on all levels of the cotton industry, I've met so many wonderful people that have been such a benefit to my operation.
"Cotton has been so wonderful to our family, and we are very honored."
Williams Family Farms was unable to attend the breakfast. In a prerecorded, hometown celebration, Ryan Williams, who credits his dad Mark for the award, said, "On behalf of our family, my dad especially, we'd like to thank you all. As you see, we have our whole family here. We farm together and live life together. We're just really proud to win this award.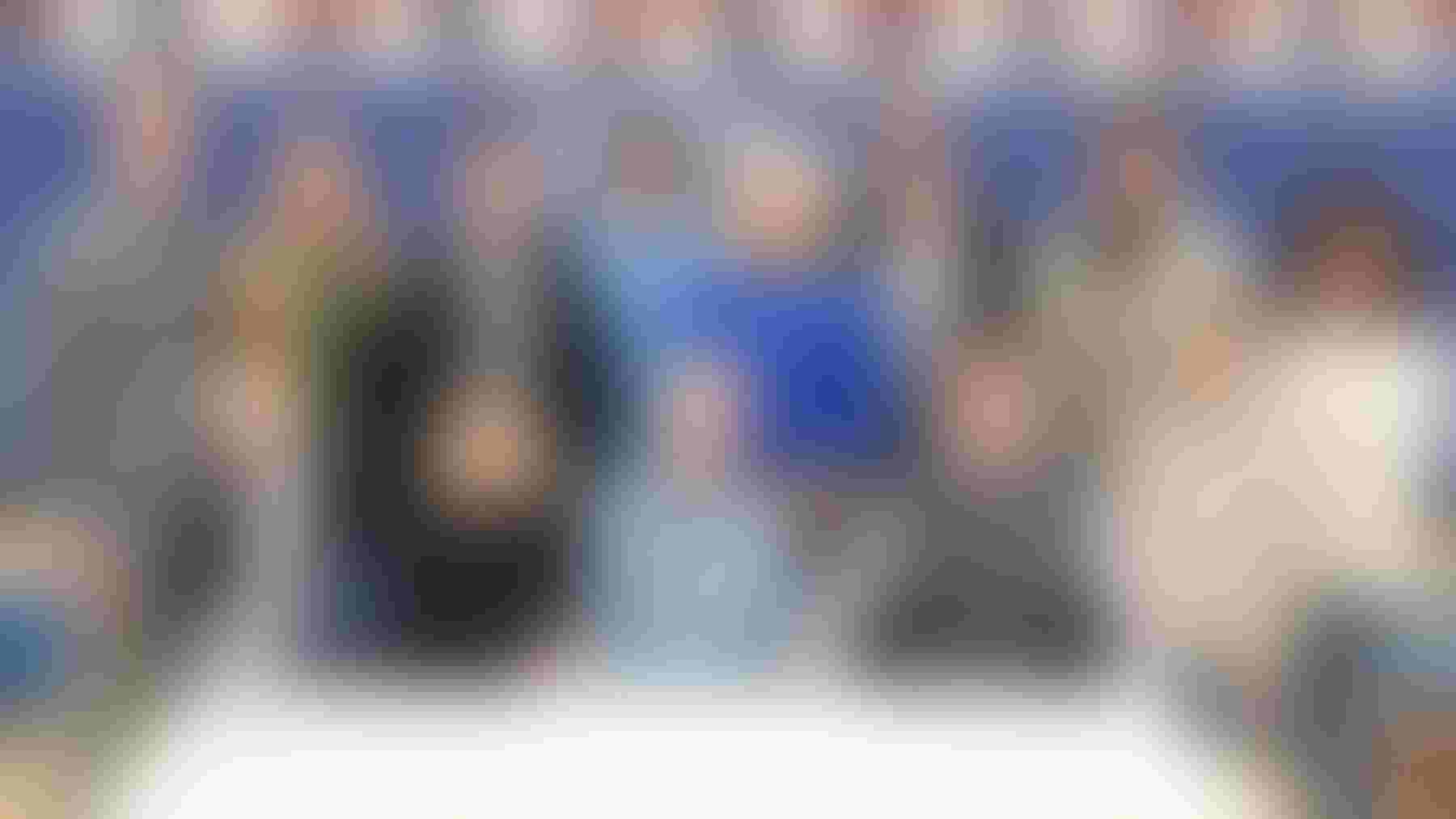 Williams Family Farms: Russel and Julie and their son Whit; Reagan Williams; Walker Williams and his mother Annie; Lincoln Devault with his son Price and parents Kendall and Tracy Devault; (front row) Joyce and Mark Williams and their son Ryan and grandson Casen. (Shelley Huguley)
"Back when I moved home from college, from Texas Tech, my dad's hiatus on the farm began, and he went out and did a lot of really good things for our industry. It took me a while to understand all that, but I know now. He's a great cotton farmer. He loves growing cotton, but he was probably even better in Austin and D.C. and everywhere he went representing cotton.
"I'm really proud of that aspect of him."
"Aaron Barcellos is a fourth-generation farmer in the Central Valley, but the first generation to start growing cotton after his family was in the dairy industry for many years," said Tim Hearden, Western Farm Press editor. "He was drawn to Pima by prices that now return over $3 a pound to the grower. He grows up to 2,500 acres of cotton along with other crops. He also works to support the industry."
"Cotton was not anything I grew up with," Barcellos told the crowd. "It was nothing I had any real awareness of. And when I first got involved with cotton leadership and with my cotton work family - which I like to call them - I see a few of them here today - it wasn't long before I felt like part of the cotton family.
"Out West, cotton really doesn't hold the same status as it does here. And I'm always amazed because you people - cotton is king and it really is king out here. And I always feel that sense of just commitment and I'm absolutely blown away by it and impressed with it and I love every part of it."
Subscribe to receive top agriculture news
Be informed daily with these free e-newsletters
You May Also Like
---