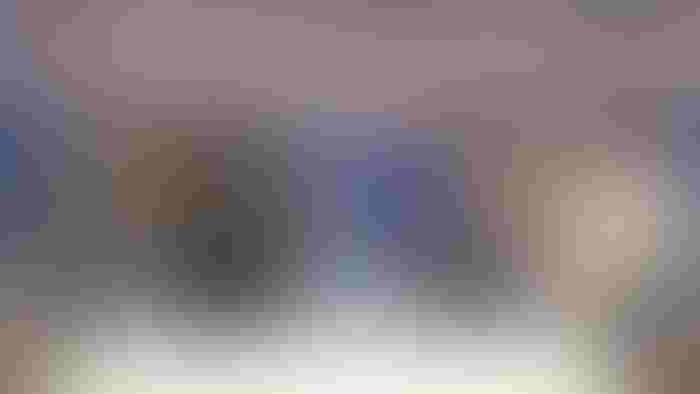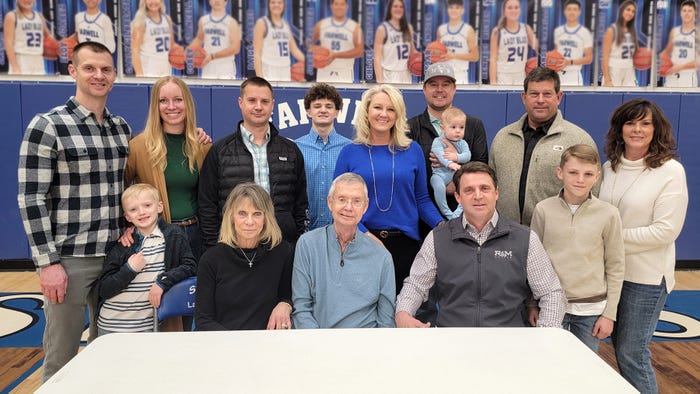 Williams Family Farms: Russel Williams and Julie and their son Whit; Reagan Williams; Walker Williams and his mother Annie; Lincoln Devault with his son Price and parents Kendall and Tracy Devault; (front row) Joyce and Mark Williams and their son Ryan and grandson Casen Williams.Shelley E. Huguley
A small circle of family and friends gathered midcourt Feb. 14, at Farwell High School, Farwell, Texas, for an early, impromptu High Cotton Award celebration honoring Williams Family Farms as the 2023 High Cotton Award recipient for the Southwest.
Williams Family Farms consists of Mark and Joyce Williams and their three sons and spouses, Ryan and Annie, Russell and Julie and Reagan, all serving in various roles to make the farm successful. The Williamses also farm with Mark's sister Tracy Devault and husband Kendall and son Lincoln and his wife Whitley.
Annually, Farm Press, in cooperation with the Cotton Foundation, recognizes four cotton producers/operations and their families at the High Cotton Awards Breakfast in Memphis, Tenn., in conjunction with the Mid-South Farm & Gin Show. Producers are nominated and selected for the award based on their sustainable production of U.S. cotton.
Related:High Cotton: Williams family credits water, timeliness, varieties for success
As the Williamses reviewed the dates of the breakfast with Southwest Farm Press Editor Shelley Huguley, a potential conflict surfaced -- for them and Huguley. The date of the breakfast, Feb. 24, coincided with the Texas high school basketball playoffs, an event in which the Williamses and Huguley hoped their son's teams would be competing. Both boys are seniors.
Once playoff eligibility was certain, a hometown High Cotton celebration was quickly arranged. Family and friends were on hand for the gymnasium presentation, followed by a lunch given by Parmer County Cotton Growers.
While the award represents the family operation, Ryan says it belongs to one man, his father Mark, who spent the 90s and early 2000s serving the cotton industry in various roles, including through the National Cotton Council, American Cotton Producers, Plains Cotton Growers, Cotton Council International, Southwest Council of Agribusiness, and Parmer County Cotton Growers, to name a few.
"On behalf of our family, my dad especially, we'd like to thank you all," Ryan said as he addressed the crowd. "As you see, we have our whole family here. We farm together and live life together. We're just really proud to win this award.
"Back when I moved home from college, from Texas Tech, my dad's hiatus on the farm began, and he went out and did a lot of really good things for our industry. It took me a while to understand all that, but I know now. He's a great cotton farmer. He loves growing cotton, but he was probably even better in Austin and D.C. and everywhere he went representing cotton.
"I'm really proud of that aspect of him."
Related: Williams Family Farms receives High Cotton honors
Russell concurred. "Right about the time that Ryan was talking about that my dad started doing a lot of industry work for cotton, I was kind of lost, graduating from Texas Tech University, and he really pushed me to go out and do something else. So, I spent 10 years in D.C., working in the industry with him. And then I got the opportunity, and probably one of the best privileges of my life, to come back to the farm and learn from him, learn from his passion for agriculture, not only from 'hands in the dirt,' but also from his industry perspective.
"It was a great privilege to grow up under this man and to work with my brother and work with the rest of my family, working with the love-hate relationship that I have with cotton. But it's been an amazing life to be part of this operation."
A word from friends
Family and friends were given the opportunity to say a few words following the presentation. Here's what they had to say:
Shawn Holladay, cotton producer, National Cotton Council chairman and 2012 High Cotton Award recipient
"Mark is a mentor of mine. I've got three of four guys, that when I first started doing some of the things that I do in the industry, took me under their wing when I first came in and sat next to me and argued with me. Me and Mark would argue about everything because he always takes the other side. Doesn't make a difference what, you never know what he's thinks until it's over. But it made me a lot better at what I do. Mark's always been looking at the big picture and moving down the road and putting us in a different place in leadership.
"And there's a few of those guys that I think about often before I get up and speak or before I get up and do anything or negotiate or whatever. He's one of those guys. There's three or four of them that I can't get out of my head and that's a good thing because they were very good at what they did. They are passionate about what we do for a living and passionate about our way of life. And I appreciate it very much."
Julie Holladay, cotton producer and The Cotton Board Board of Directors member
"Mark is responsible for building great leaders. That's part of his legacy with Plains Cotton Growers in this region. He's built smarter leaders, and not just males, but women too. He's married to a strong woman and he's an equal opportunity arguer. He's made fun of my shoes. He's made fun of my politics and all the time he was making me smarter and a better person. I've appreciated his leadership and his friendship and the education and example he set for cotton."
Ricky Bearden, cotton producer and past Cotton Incorporated chairman
"Mark and I spent many a day walking the halls of D.C. arguing and everything. But what I want to say is how neat it is. Mark and I, many a time, said the reason we stayed at it as long as we did is for these guys, this family. I have a family that's involved in agriculture, and that's who we did this for is these kids that are now grown into men and hopefully another generation that'll be along before long. Thank you, Mark, for your service, and Joyce, thanks for sharing him with us."
Craig Rohrbach, Parmer County Cotton Growers general manager
"I run Parmer County Cotton Growers, which Mark helped hire me to run that gin that he helped found back in 1999. So, there's never been a person that's held me more accountable, but in turn, made me try to be a better person than Mark Williams. And so, I owe a lot of my success to his mentorship and knowledge and sharing, and all the Williams family, and everything they do for the industry."
Rob Pomper, Farwell Chamber of Commerce president
"I know we're here to talk about cotton, but I also need to talk about the impact this family has had on our city. These folks have been nothing but giving in so many ways, from the hospital district to the school boards and in so many other aspects of life through the church, through so many things that this town has. They've helped this town become better."
Yolanda McFarland, Williams Family Farms bookkeeper (14 years)
"They've taken me in like family and been so great. I lost my husband and parents in two-years' time and they were so great. They've just been amazing."
To read more about Williams Family Farms, visit:
Read more about the High Cotton Award winners from each Cotton Belt region:
Subscribe to receive top agriculture news
Be informed daily with these free e-newsletters
You May Also Like
---