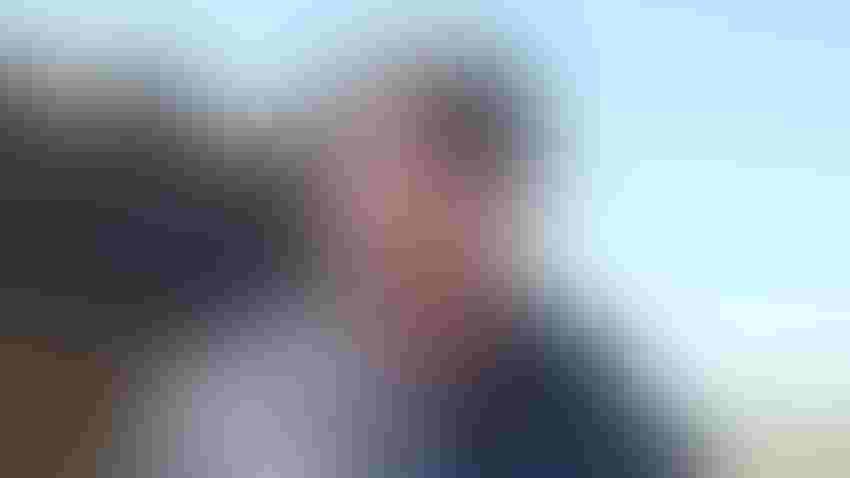 Kody Beavers farms cotton in northeast Louisiana, he said that growing cotton is an art form.
Farm Press
Kody Beavers is not your average farmer. At a time when, according to the latest ag census, the average age of the American farmer is 57 years old, Beavers holds his own at more than half that age.
But you couldn't tell that by watching him farm. The progressive grower stands out because of his modern approach to farming, his eye toward conservation and his leadership in the ag community.
It is his forward-thinking approach that has led him to be selected as the 2023 High Cotton Award winner from the Delta region.
Beavers started farming about seven years ago after receiving his BA in Agriculture Business and a master's degree in Business Administration from Louisiana Tech University. He brings that acumen to his operation. He partners with his wife Melanie and Jack Dailey.
Melanie also has her degree in Ag Business and is currently working on her MS in Agronomy. She works hand-in-hand with Kody on the operation.
"She drove the picker on probably 400 acres of cotton this year," he said. "She's hit the ground really running. She has a wealth of research and agronomic background that meshes with my business background. So we make a pretty good team together and she's willing to jump in there and do what's needed to make sure our operation is the best it could be."
Cotton, corn and soybeans
They farm about 3,000 acres in northeast Louisiana. About a third of that acreage is land that Melanie's family had farmed for several generations. Roughly half of the operation is in cotton. Beavers also grows soybeans and corn.
When Farm Press spoke with him in the spring of 2022 to talk about increased cotton acres in Louisiana, he mentioned how much he enjoyed growing cotton.
"I love growing cotton. I would have the whole farm in it if it made sense," he said. 
Six months later he spoke again to Farm Press and noted that the feeling had not dimmed, even after a wet and cold planting season, a drouthy early summer and August rains that hammered the area day after day, which set back 2022 yields.
"Cotton in comparison to grains is more of an art form," he said. "It's a challenge and you can have some fumbles and recover from it.
"With cotton, you have to work at it and kind of almost baby it. You can do different things to have different results throughout the season. It keeps you in tune with what's going on with the crop.
"Hopefully at the end of the season you're going through a sea of white. It's just a very good feeling whenever you've got to the end and have had a good crop, because you've got a lot of hard work involved in it."
Community culture
He also mentioned how cotton is engrained into the culture of the community.
"It's been a staple of our local economy and it provides a fair amount of jobs within our little communities," he said. "It keeps these towns a little bit more robust and it has for many years. So, we kind of try to hang on to that. And it's just a fun crop to grow for me."
He notes that the rains that took place in the region in August put a big hurt on cotton growers.
"When the rain hit, it was just supposed to be a little rain that would come through and move out and we'd be back going in a few days," he said.
It stuck around.
"It started about an inch or two. Somedays you'd catch a half inch and other days it would be two or three inches," he said. "For 15 days straight, most mornings you'd wake up to rain."
He estimates that he lost about half of his crop yield to the precipitation.
"Cotton and soybean yields in northeast Louisiana took a huge hit," he said. "We probably had one of the better crops we've ever grown going into August. But we got right to the end and unfortunately had circumstances that were out of our hands. It caused the year to be not so much fun."
High inputs
His input costs were high, with recent nitrogen prices almost doubling. The price of cotton compensated for that increase early on, but after a less than stellar harvest and a decrease in the price some adjustments have been made for 2023.
"It's just making a decision a little bit tougher when you have grain prices at the levels they are," he said.
"At the moment, I'm going to have to decrease cotton acreage with prices where they're at. I'm hopeful that we may see a rebound before we actually have to make a final call on it and can move some grain acres back into cotton if we can get this price up."
In the meantime, he is maintaining his focus on conservation, soil health and nutrition.
Cover crops
Beavers is a big believer in cover crops and usually seeds the cover in mid-October.
"I've got a mixture of wheat, oats, cereal rye, vetch, Austrian winter peas and radishes," he said. "So, I've got a good mixture of everything out there this year. This is the first year I've gone into the legume and radish side of things."
He adjusts his nutrition plan as needed by sampling and using variable rate applications for potassium and phosphorus with the goal to stay as close to his budget as possible. He also watches nitrogen levels, applying conservatively only when needed.
His biggest insect pest is the tarnished plant bug, but overall the in-plant chemistries are working well for bollworm and he is hopeful that the efficacy of the tools used for insect control can be maintained and improved.
As a board member of the Louisiana Boll Weevil Eradication Program, he notes that monitoring for the boll weevil is important.
"It's still a very intensive program," he said. "They do a great job of making sure that we don't have any issue, because it would be detrimental to the industry if we had to start fighting that again.
Italian rye grass and Palmer amaranth are the two major weed problems in the area. He notes he has managed to keep Palmer amaranth mostly under control in his fields and is working to maintain and improve the level of both weeds through a variety of treatments.
"We do have a few Palmer amaranth scattered around that we're fighting," he said."It's a pretty good challenge to keep those back to a manageable level."
Trust Protocol
2022 was Beavers' third enrollment with the U.S. Cotton Trust Protocol program, which verifies U.S. cotton's sustainability in the world market by capturing data, aggregation and reporting improvement across water use, energy efficiency, greenhouse gas emissions, soil conservation, soil carbon and land use.
"If we can show consumers where our cotton comes from and that we're growing it in a very good way, we can help them shift to buying our cotton," he said.
He holds to the conservation tenants of the program and is working to improve his operation in all the areas it works to help growers track.
Working with Louisiana State University Extension also helps Beavers stay up to date with research that helps producers with production. He is involved with both research stations in Winnsboro and St. Joseph.
"Both stations have a very good set of researchers that are doing a lot of good work in cover crops, herbicide, pathology, insecticide and fungicide," he said. "They provide a lot of good information. Whenever I have a question on something that may be very new or if there's something that hasn't been tried in a while, there's institutional knowledge there that I can glean."
Beaver participates in the university cotton variety trials as well has hosting graduate students on the farm for projects like cotton nitrogen use, spot traps and some pathology work.
"I've gotten to know those folks with ag center," he said. They've been a huge help and I've tried to help them as much as I can.
His work is not limited to the farm. He is on the boards of the Louisiana Cotton and Grain Association, Louisiana Boll Weevil Eradication Program and the Soybean Promotion Board. He is an alternate to the board of the National Cotton Council and Cotton Incorporated. He is vice-chair of the Louisiana Farm Bureau Young Farmers & Ranchers and is in the current class of the Louisiana Ag Leadership Program.
It appears that a balanced approach is working for Beavers and his involvement in the industry is working for both him and Louisiana cotton.
Subscribe to receive top agriculture news
Be informed daily with these free e-newsletters
You May Also Like
---