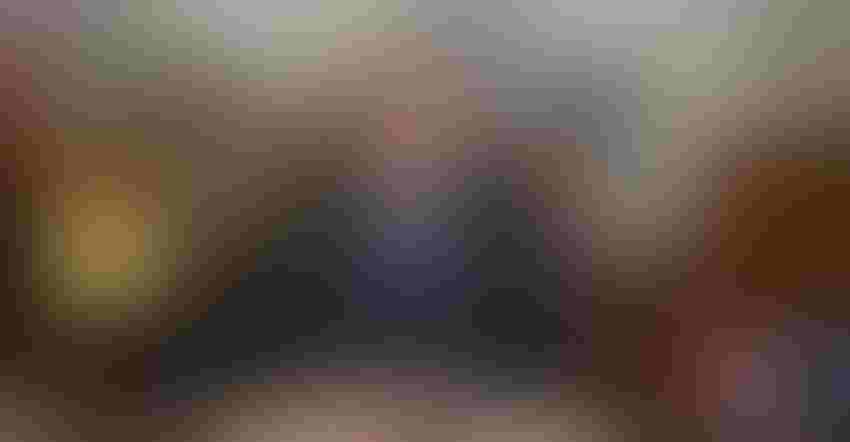 Agriculture Secretary Tom Vilsack spent eight years sitting behind this desk at the USDA building during the Obama administration and now plans to return to serve in the Biden administration.
After days of speculation and anonymous sources, President-elect Joe Biden officially announced that he has asked Tom Vilsack to return to serve as the agriculture secretary after serving eight years during the Obama administration. 
Vilsack served as the governor of Iowa from 1999 to 2007, and currently serves as the president and CEO of the U.S. Dairy Export Council since departing from USDA a week before President Donald Trump was inaugurated in 2017. We first reported Vilsack (see full story here) had surfaced to the top of the list on Monday, but his nomination was not made official by the Biden team until Thursday morning.
Working families, veterans, farmers and producers, and those fighting for their place in the middle class will have partners in government once again.

This experienced group will help us make it through this pandemic and thrive once the crisis is over.https://t.co/5tVM8IrmYM

— Biden-Harris Presidential Transition (@Transition46) December 10, 2020
While serving as the agriculture secretary, Vilsack was known for being an effective listener and working across traditional divides within the agricultural industry recognizing the role that small and large farmers play in American agriculture's success.
When President Obama nominated Vilsack to be the secretary, the Organic Consumers Association outlined six reasons why naming him to the post would be a terrible idea, calling him a "Monsanto buddy" and criticizing him for his support of biotechnology. However, in announcing their support for Vilsack's nomination this time around, OTA says Vilsack oversaw a period of unprecedented growth for organic farmers and businesses. "He knows the importance of clear and consistent organic standards, and the responsibility of the USDA to support the unique public-private partnership that has made the organic sector successful," OTA says in a statement.
Related: Vilsack bids farewell (A final look at the last day serving as the ag secretary under President Obama)
He also garnered praise ahead of the official announcement from traditional farm groups such as the American Farm Bureau Federation and National Farmers Union. He's expected to bring his knowledge of production agriculture, but also defend the need to make farmers part of the solution for the changing climate. 
AFBF President Zippy Duvall says, "Tom Vilsack understands that the agriculture sector is far more complex than most people understand. He believes in a 'big tent' philosophy that supports all types of production and understands the importance of respecting farmers and ranchers as partners worthy of support in the race to achieve sustainability goals."
During a discussion Thursday morning, Phil Karsting, senior policy advisor for Olsson Frank Weeda Terman and Matz and former administrator of USDA's Foreign Agricultural Service during Vilsack's tenure, says Vilsack is "incredibly balanced, meticulous and hard-working."
Ryan Bernstein, a senior policy advisor with McGuireWoods in Washington who represents food and agribusiness interests and previously served as chief of staff for North Dakota Sen. John Hoeven, R-N.D., says Biden's selection of Vilsack returns an "agriculture traditionalist to his former position."
"He will likely receive swift confirmation in the Senate but will face challenges from the more progressive wing of his party. Given his prior role at USDA and hailing from a traditional farm state like Iowa, look for Vilsack and the Administration to shift the Department's goals and policy objectives to alleviate and address many of the concerns of progressives including climate change, broadband access, renewable energy and hunger," Bernsteain adds.
In 2009, Vilsack was confirmed by the Senate by unanimous consent, and Biden's release on Vilsack touted that he "oversaw record-breaking investments in rural communities, secured vital improvements to the nation's school meal system, and led a successful campaign to increase food safety standards during his tenure. Vilsack also served as Chair of the first-ever White House Rural Council, where he helped drive critical financing opportunities to rural businesses and entrepreneurs." 
Given the broad spectrum of USDA programs and responsibilities, Vilsack's previous experience and intimate knowledge of USDA will allow him to hit the ground running, says Andrew Novaković, Cornell University emeritus professor of agricultural economics and an agriculture and food policy expert.
"In choosing Vilsack to reprise his role under President Obama, Joe Biden has turned to an old friend, with experience to hit the ground running. The fact that these two are not just familiar with one another but good friends means that the agriculture, food, and forestry interests which are at the heart of USDA's responsibilities will have a strong voice in the inner circles of the incoming administration," Novaković says.
We produced a final profile of Vilsack just before he left office in 2017, you can download it using the link below:
Subscribe to receive top agriculture news
Be informed daily with these free e-newsletters
You May Also Like
---