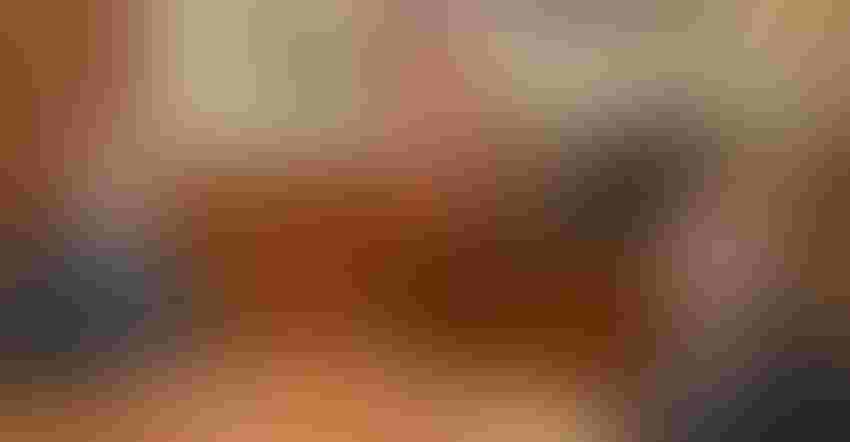 Policy editor Jacqui Fatka sat down for an exit interview with Secretary of Agriculture Tom Vilsack in February 2016 at the end of this nearly eight years with the Obama administration. He has been nominated to return to USDA under the Biden administration.
Bob Burgdorfer
Farmers like predictability, and we may see that at USDA. But it may not be exactly what you expect.
With the official word (finally) Thursday that President-elect Joe Biden was asking his long-time friend Tom Vilsack to return to his post at the agriculture secretary, farmers have some comfort knowing they've got an advocate on their side heading into 2021. But I don't expect he'll do things the exact same as he left it four years ago, but Vilsack's actions do offer great insight.
Often over the past two years especially, Vilsack has found himself on calls hosted by Focus on Rural America with former Lt. Gov. Patty Judge. She may have summarized it best in saying Vilsack's reputation precedes him.
"I am confident he will do all he can to revitalize our communities and invest in our futures—from paying family farmers for climate change to adding a critical voice to the need for broadband. Rural economies can rely on his smarts and even keel to provide a stark contrast to the [President]Trump and [Secretary Sonny] Perdue years, and put us on the right path on day one," Judge says.
Ethanol champion
Vilsack is from Iowa. He understands ethanol. While at USDA he oversaw a revitalization of rural America that was ignited with good paying jobs that come from ethanol plants in rural America. And as Iowa's governor from 2000 to 2007, he saw a boom of the industry in his own state that also brought great prosperity for farmers and small towns.
Growth Energy's CEO Emily Skor  says: "He has been a tireless champion of the biofuels industry over his career and his advocacy has been crucial, including most recently during the Iowa caucuses, where we were proud to have had him join Growth Energy on tours with the president-elect and other candidates at our member plants."
When COVID stay-at-home orders nearly halted ethanol production, Vilsack used his pulpit to call for USDA action to help find ways to offer assistance to the processors similar to how he did for cottonseed. If the shuttering continued of half the ethanol plants, the ripples would be devastating.
His defense of the ethanol industry has been rock solid. Think of all the White House meetings over the past four years over the handling of the Renewable Fuel Standard, year-round E15 and biofuels support in general. I don't expect those same meetings to be needed, and if they did, you can guarantee Vilsack is going to stand up against any attempts to limit the intent of the law and derail ethanol demand.
Climate focus
I wrote ahead of the election that I thought climate legislation would be a key platform for Biden, and now we're seeing that play out with the naming of John Kerry as his "special presidential envoy for climate" on Biden's cabinet. Vilsack started to do some of the groundwork on agriculture's intersection with the changing climate with the launch of USDA's Climate Hubs when he held the roll during the Obama years, but he's poised to offer increased insight from his last four years in the dairy industry that has taken great strides in improving its environmental footprint and building on its sustainability initiatives and net zero emissions goals. Since 2017, Vilsack has served as President and CEO of the U.S. Dairy Export Council.  
Related: Climate change emerges as major 2020 election platform
The Renewable Fuels Association said they are "especially happy to have someone in the Biden administration who intimately understands the crucial role renewable fuels and agriculture can play in confronting climate change."
During an interview with me in August, Vilsack knew the Biden team was cognizant of the damage that threats like climate change could present to the country. Vilsack notes that Biden believes that "U.S. agriculture has the capacity to provide global leadership in this space but doing so in a way that creates not additional burdens for farmers, but additional income for farmers." He's going to stay at the table to make sure farmers get new income streams if climate requirements are required.
Speaking at a Farm Foundation Forum on Dec. 8, Darci Vetter former USTR chief agricultural negotiator and global lead of public affairs agriculture and food at Edelman, says she thinks the next agriculture secretary has an opportunity to have a "climate and" focus on the overall impact. As an example, "climate and rural development" in how do policies impact rural energy or rural housing programs or "climate and conservation" in how to evaluate how farm programs encourage incentives for better behaviors.
The Environmental Defense Fund – the leading environmental group that helped launch the Food and Agriculture Climate Alliance – said Vilsack's nomination is a "huge advantage for rebuilding a more resilient farm economy and driving fact action on climate," says EDF President Fred Krupp.
And we definitely could be seeing fast action.
Department of Nutrition?
Two thirds of USDA's annual budget funds programs addressing nutrition and hunger, and there have even been calls for the agency to be renamed the Department of Agriculture, Nutrition & Forestry. Secretary Sonny Perdue made his motto, "Do Right, Feed Everyone." Somehow that message didn't hit home with some of the USDA actions under his watch on relaxing school lunch standards or limiting Supplemental Nutrition Assistance Program (SNAP) payments.
National Farmers Union President Rob Larew is already urging Vilsack to expand "nutrition assistance programs in order to ensure that millions of individuals who are facing unemployment and food insecurity are able to meet their most basic needs through the pandemic."
At the same Farm Foundation Forum, former Secretary of Agriculture Ann Veneman, who served during the initial George W. Bush administration, says one of the first things this new administration may want to do is look at the authorities offered to USDA and expand the SNAP. She says the COVID-initiated food box program may not be a solution long-term, but also shared it was a unique way to support farmers and offer food to those who needed it.
Expanded broadband
COVID put a spotlight on the limitations within the rural health system and rural infrastructure including broadband that is required for distance learning, telehealth and precision agriculture -- everything needed for robust rural communities.
Former Secretary of Agriculture Dan Glickman says rural broadband is one of those issues that "everybody talks about, but nothing seems to happen."
With 30% of the population without broadband, Glickman states, "We need to do more than say we need more rural broadband. We need to do it. It's going to cost a lot of money, but we save big parts of rural American from going further and further in despair."
Some increased focused from this incoming administration on infrastructure, including broadband, could be an opportune time for Vilsack to push for the push for rural broadband similar to the rural electrification decades ago.
USDA reorganization
With a budget of about $150 billion, USDA comprises 29 agencies and offices and nearly 100,000 employees. Under Perdue's tenure, the undersecretary of rural development was eliminated to allow for the creation of the trade undersecretary and also reorganized the farmer-focused branches under one in the Farm Production and Conservation (FPAC) mission areas.
Can the rural development division be brought back to life? Veneman says it's worth reevaluating. Another area for change could be whether there needs to be a chief of USDA's Forest Service and an undersecretary for natural resources and environment.
Perdue did some shifting as well with moving the Economic Research Service (ERS) out of DC to the countryside with headquarters in Kansas City. The question will be whether the feared brain drain occurred, and whether Vilsack will want to evaluate those moves that have occurred over the last four years.
Judge adds, "No one knows USDA and rural development programs better, and I am confident he will do all he can to revitalize our communities and invest in our futures."
Subscribe to receive top agriculture news
Be informed daily with these free e-newsletters
You May Also Like
---