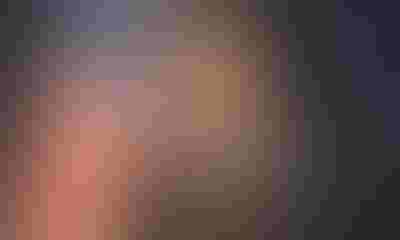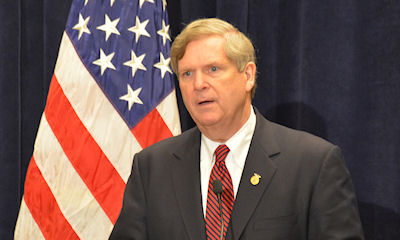 Today marked the final day in office for Secretary of Agriculture Tom Vilsack. He left the agency after what many considered a very successful stint as the country's top ag leader, serving longer than any other present-day ag secretary.
Contrary to the storyline about the Obama administration and Congress, Vilsack has been able to oversee and direct positive, and in some ways historic work, including passage of the 2014 Farm Bill. He also broadened USDA's outreach and expanded the agency's marketing message, leading to a greater sense of inclusion for the vast types of agriculture at work in the United States.
Here is an exit memo written by Vilsack, but our discussions with him showed he's so much more than just a DC suite.
He's championed the farmer, not the production type, commonly saying when asked if he preferred organic versus conventional was like asking him which of his two sons he loves more.  
In an exclusive interview with Farm Futures, Vilsack shared his highlights and lowlights from the past eight years.
Measuring success is never easy, but in taking the definition offered by President Obama, Vilsack said if you measure it by judging whether you've left a place better than you found it, than he can make the case that indeed rural America is better than it was eight years ago when he came into office.
"Every mission area we're focused on, we're leaving better than we found it," Vilsack said.
In meeting with the food safety administrator, who has been with the agency for 30 years, he complimented Vilsack's team for taking not just one significant step in food safety, but accomplishing five. Vilsack shared those successes include actions to make ground beef safer from adulterants such as E. coli O157:H7, modernizing poultry food safety inspections, and the testing and holding policy requiring meat and poultry companies to hold product that is undergoing lab tests for microbial and chemical tests.
"When they write the history books about this administration, they will find we accomplished a great deal on food safety," Vilsack shared.
He highlighted successes including unemployment numbers and food insecurity rates coming down, median farm household income at record levels and record ag exports. He also cited the success of leaving American's children in a better, healthier place as obesity rates are coming down thanks to improved school feeding programs and the Women, Infant and Children (WIC) program.
As secretary he has also been able to successfully leverage government resources through public-private partnerships. Most notably is the Regional Conservation Partnership Program which matches public with private funding to enhance conservation implementation. He's also made a strong case for increased agricultural research funding and established the research foundation to catalyze investments. He's also been faced with a dwindling budget to do more with less, and has stepped up to the plate to do so.
Vilsack touted he's been able to save 315,000 hours of time and $65 million in additional expenses saved by streamlining and improving efficiencies during the recent years of lower budget allocations for the department.
Vilsack did admit USDA was unable to convince Congress to rethink how funding addresses U.S. Forest Service's needs. They're now spending half to two-thirds of the forest budget on putting out fires, rather than helping make healthier forests.
"Sincerely, I hope this is an early win for the next administration," he said.
Rural America's spokesman
Vilsack nearly left his post a year ago. But at the request of President Obama was offered the opportunity to devote additional time on the drug epidemic in rural America. For Vilsack it's personal, as his mother battled addiction with painkillers. He shared he has seen a far greater awareness and appreciation of the extent of the epidemic and number of lives impacted.
Under Vilsack's direction, USDA has mobilized a series of grant programs to help communities, hospitals and local housing better address treatment and recovery in rural areas. He also has held town hall meetings around the country to hear from rural Americans themselves on the impact.
He shared there is a more open discussion about addiction as a disease, and not written off as a character flaw. "Progress has been made, but it's a long battle." 
Vilsack has also spent a considerable amount of time during his tenure building bridges, but also trying to bring truth into rhetoric-filled conversations.
"I think there needs to be a consistency of messages throughout the supply chain from farm to fork so that we don't have food companies saying one thing and producers saying something different," Vilsack shared.
He noted that the consumer isn't always right, but rather an "informed consumer." He regularly cites the increased cost and lack of communication with producers in the cage-free decision pushed by many in the food service industry. "Companies should understand costs before they advocate for a significant change."
Vilsack said the leader of the USDA has the "responsibility to carry that voice" and be one to encourage unity within agriculture, the food production system and consumers.
A key concept Vilsack tends to stress at USDA is not just putting out policies, but also figuring out how you message the policy.
"Marketing what we do is important because most people have no idea what USDA does," he says.
And some of that messaging is catching on with organizations, as well as with members on both sides of the aisle on Capitol Hill. With the current attacks on farming practices, Vilsack says USDA's role of building on solid messages will help create a healthier conversation about agriculture.
"At the end of the day it should create a greater confidence in our agriculture systems and people will be more likely to support them," he says.
Vilsack was confirmed by the Senate on Jan. 20, 2009, the same day that President Obama took office, and was sworn in the following day. Today (Jan. 13), he left the USDA office building for the last time as the one in charge of the 90,000 employees.
And as for the next adventure? Vilsack has plans to take over the role of president and CEO of the U.S. Dairy Export Council. Expect to continue to hear Vilsack standing up firm on behalf of U.S. farmers both domestically and abroad.
Subscribe to receive top agriculture news
Be informed daily with these free e-newsletters
You May Also Like
---