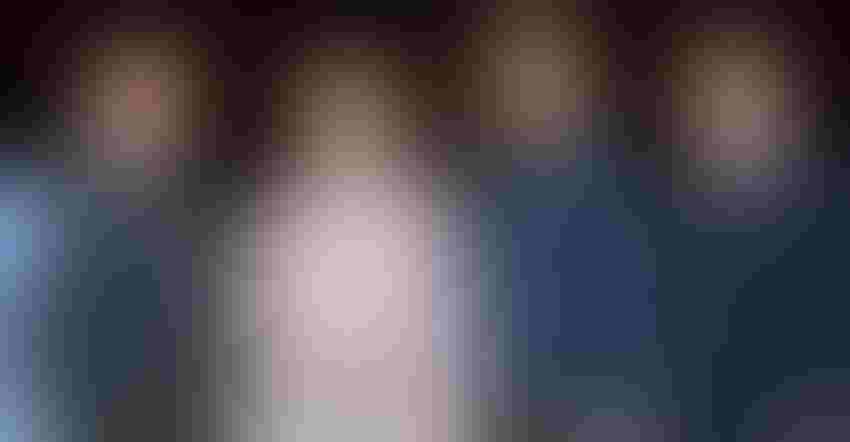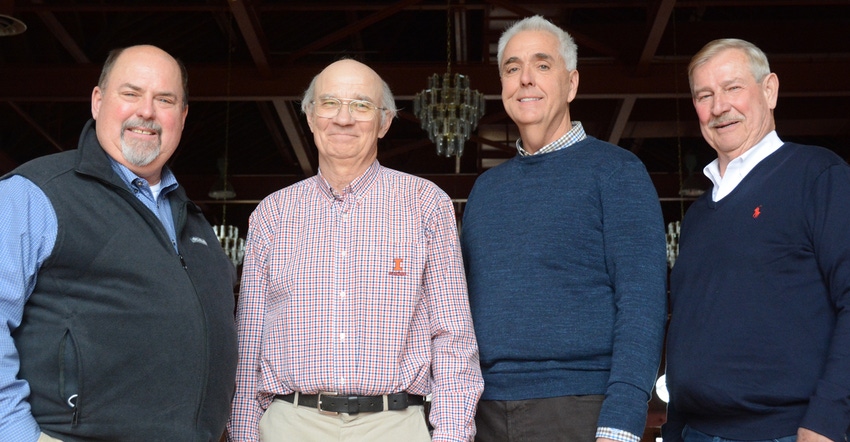 MASTERS: The 2022 Prairie Farmer Master Farmers are (from left) Curt Zehr, Washington, Ill.; Darryl Brinkmann, Carlyle, Ill.; Doug Schroeder, Ill., Mahomet; and Jim Raben, Ridgway, Ill.
Holly Spangler
Prairie Farmer is honoring four Illinois producers as 2022 Master Farmers today at its annual event, held in Springfield, Ill., at the Crowne Plaza. The award recognizes exceptional agricultural production skills, commitment to family and service to community.
"The Master Farmer award is Illinois agriculture's lifetime achievement award," says Holly Spangler, Prairie Farmer editor. "These farmers are at the top of their game, and they've received this award because they raise good crops and even better families, and they've built their communities along the way."
The 2022 Master Farmers are:
• Darryl Brinkmann, Carlyle
• Jim Raben, Ridgway
• Doug Schroeder, Mahomet
• Curt Zehr, Washington
Prairie Farmer will present plaques to each Master Farmer that bear a bronze medallion, which is an exact replica of the gold medals presented to the original Master Farmers in 1925. All past Master Farmers are invited to attend and welcome the new class into the fold, and Illinois Director of Agriculture Jerry Costello will offer up the keynote address for the day.
Prairie Farmer first offered the Master Farmer award 97 years ago, in 1925. Editors have continued the tradition annually since 1968, following a pause initially caused by the Depression. When Editor Clifford Gregory established the Master Farmer program, he felt the award would help give farm people a greater sense of "pride and permanence." Nearly 350 Illinois producers have been inducted as Master Farmers or Honorary Master Farmers over the program's history.
Candidates are nominated by farmers, neighbors, agribusiness leaders and farm organizations throughout the state. Judges for the 2022 awards were Karen Corrigan, McGillicuddy Corrigan Agronomics; Ed McMillan, former University of Illinois board of trustees; Linnea Kooistra, 2011 Master Farmer; Dwight Raab, First Midwest Bank agribusiness vice president; Steve Carson, Farm Credit Illinois; and Holly Spangler, Prairie Farmer editor.
Some Master Farmers serve in state and national farm leadership positions. Others chair prestigious boards or serve with honor at the highest levels of government. Still others build their farms or businesses to regional or national prominence.
However, all serve their communities — building churches, chairing little-known but important committees, raising money for children's organizations — and continue the service-minded commitment that earned them the Master Farmer distinction in the first place.
"There's a saying that if you want something done, ask a busy person to do it – because they'll get it done," Spangler says. "These four Master Farmers are busy people who just keep finding more capacity to give back and work hard. They're leveraging every ounce of skill they have for the greater good."
Growmark is the financial sponsor of the Master Farmer award. To nominate a farmer for the 2023 Master Farmer award, email [email protected] for a nomination form or download one online.
Subscribe to receive top agriculture news
Be informed daily with these free e-newsletters
You May Also Like
---