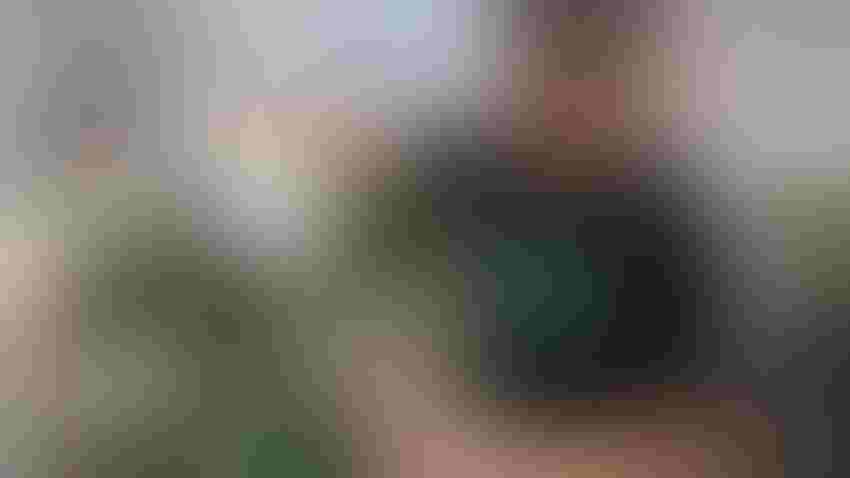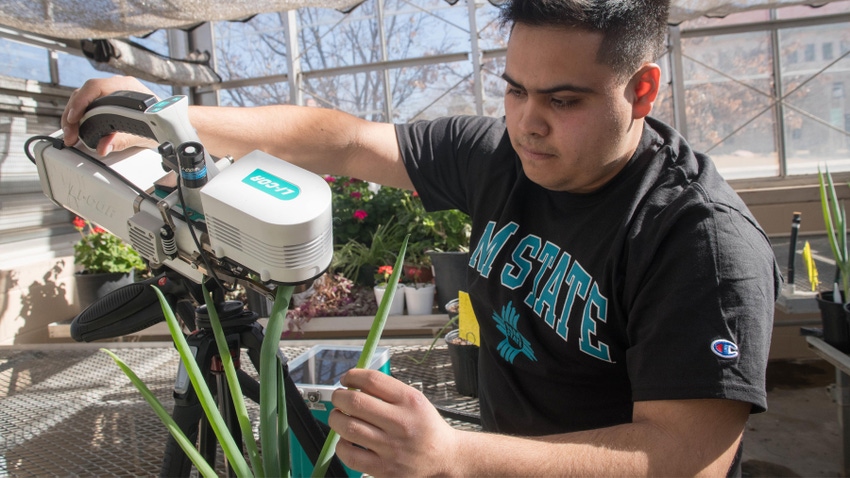 Chris Gomez, a member of the Ysleta del Sur Pueblo, El Paso, Texas, focuses his research on restoring large-scale agriculture production to his pueblo and other reservations.
Josh Bachman
The onions growing in a greenhouse at New Mexico State University may hold the keys to unlocking critical knowledge about varieties that could thrive in the Southwest. But for Chris Gomez, they're part of a much more personal journey to combine traditional knowledge and modern agriculture on Native American lands.
Gomez grew up on the only federally recognized pueblo in Texas – Ysleta del Sur Pueblo in El Paso – and came to NMSU on a mission to become the first member of his family to earn a science degree.
A long-held interest in food production guided Gomez through his time at NMSU. It's an area he believes has the potential to bring real change to Indigenous communities at home and beyond.
"Food production is a real critical thing right now in the world," said Gomez, who recently graduated with a bachelor's degree in horticultural and general agriculture from the College of Agricultural, Consumer and Environmental Sciences. "Indigenous populations worldwide lack access to fresh water and food. I'm hoping to find solutions that will make it possible to bring back large-scale agriculture production to my pueblo and other reservations."
Gomez believes the path to accomplish this and perhaps more begins with a research project examining photosynthetic rates of onions grown under harsh conditions.
Two years ago, the doors opened for Gomez to participate in a multiyear research training opportunity for underrepresented students through the Maximizing Access to Research Careers program. The MARC program supports diverse undergraduate students like Gomez who aspire to complete higher degrees and become well-trained biomedical scientists.
Gomez teamed up with a faculty mentor, Ivette Guzmán, on a project to understand the effects of treating different onion varieties with high-salinity water. Guzmán, an associate professor of horticulture and co-director of the MARC program, focuses much of her research on understanding plant physiology in response to environmental stressors like drought and high-saline water sources. Her goal is to discover innovative ways to obtain crop yields that have increased nutritional and medicinal value to enhance human health and well-being.
"We have a lot of water problems in the Southwest – lack of fresh water and an abundance of high-saline brackish water," Guzmán said. "One of my interests is growing plants under stress, and I thought it would be interesting to grow plants under stressful water conditions and look at their physiology to see if we can find crops that can grow under those conditions."
For their project, Guzmán and Gomez homed in on onions, one of New Mexico's top commodities. Gomez first developed a baseline study using about six dozen bulbing and bunching onions grown in a climate-controlled greenhouse on campus. His goal was to establish peak photosynthesis times for the onions.
He determined that the onions reached maximum photosynthesis at 10 a.m. From there, he began treating half of the onions with regular tap water and the other half with a 50-millimolar saline solution. Then, using an Li-6800 photosynthesis gas exchange instrument, he took photosynthetic measurements of each plant's leaves, looking closely at carbon assimilation, transpiration and fluorescence.
He concluded the project this spring by conducting two experiment replications to ensure accurate results. His preliminary findings show that the 'He Shi Ko' bunching onions, commonly known as scallions, had the highest assimilation compared to bulbing onions and other types of bunching onions. In addition, the results indicate that this high level of salinity did not affect photosynthesis in any of the four onion varieties tested.
"His work will provide growers with critical information on what onion varieties would do best in the Southwest," Guzmán said. "It will also provide a method to further evaluate vegetable varieties and their photosynthesis response to irrigation with saline water."
Guzmán said the project will help inform future projects examining the effects of water stress on vegetables and greenhouse experiments.
Guzmán added that she saw a "big confidence boost" in Gomez as he progressed through the MARC program, which Gomez praised for expanding his knowledge of the research process and preparing him for graduate school.
"Being able to participate in the MARC program has changed my life," he said.
This fall, Gomez will begin a Ph.D. program in Agronomy at Texas A&M University, bringing him much closer to realizing his dream of serving Native American communities through research and education. He envisions a future where he can help his pueblo establish a modern cropping system and teach farmers on Native lands how to grow crops using the latest techniques.
"Ultimately," he said, "I want to combine community involvement, scientific research and traditional knowledge to increase food and agricultural sovereignty in marginalized communities like my pueblo."
Source: 2023 issue of ACES Magazine, New Mexico State University
Subscribe to receive top agriculture news
Be informed daily with these free e-newsletters
You May Also Like
---