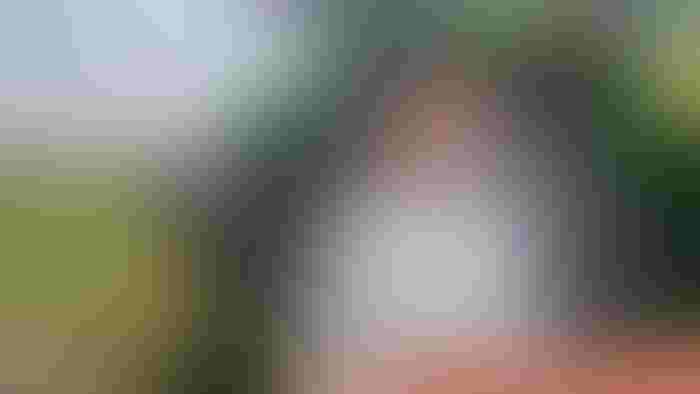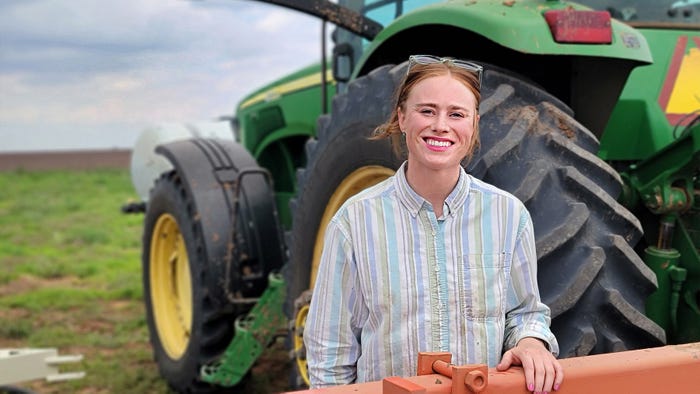 Producer Ciera Huffstutler grows cotton around Cone, Texas. "I love being a farmer."Shelley E. Huguley
Ciera Ware Huffstutler is 100% cotton. It's who she is, what she loves and all she grows. "Cotton means everything to me," she says.
She's drawn to the fiber's production complexities. "I like that it's something different every day. Sometimes that's frustrating but it's also exciting. It's neat to watch a crop all year long."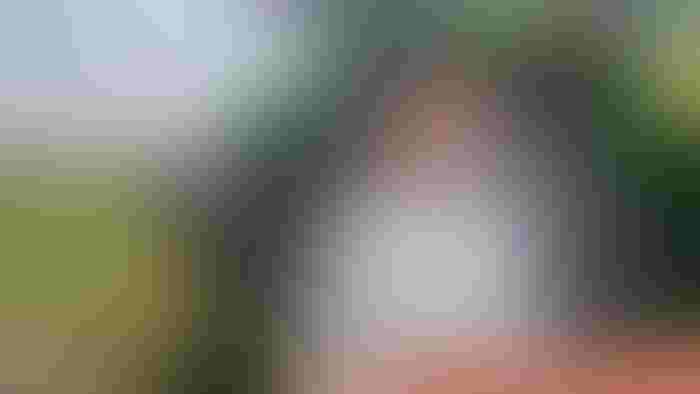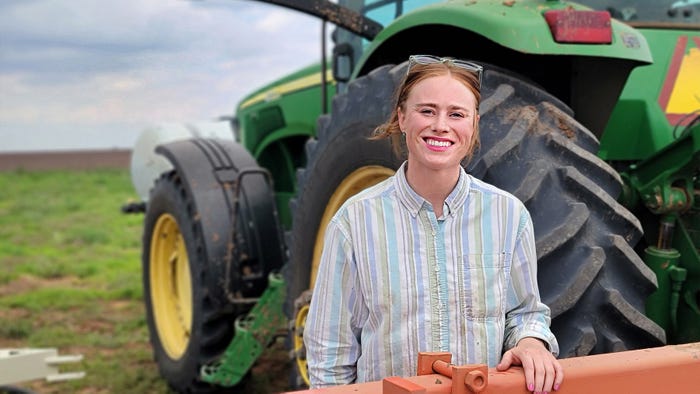 Ciera Huffstutler, Cone, Texas, cotton farmer. (Photo by Shelley E. Huguley)
Huffstutler grew up on her daddy's cotton farm near Ralls, Texas. Farming wasn't initially her childhood dream. When she left home at 18 years old, she was in pursuit of a plant and soil science degree from Texas Tech University, Lubbock. But attending college and working within the agricultural industry worked much like a soil test, revealing what was down deep. She didn't want to sell cotton. She wanted to grow it.  
"I don't know what I was thinking trying to do anything else because this is who I am. This is what I should be doing," she told Farm Press. "It's so suited to my personality and what I like to do… I love being a farmer."
Upon her decision to farm, she lacked one necessary resource… land. With her father's ear to the ground, a family friend extended her an offer.
"She (the landowner) gave me a chance to rent her and her sister's land," Huffstutler says. "I'm grateful they thought I could do it. It's worked out well." That was five years ago.
The "why"
Huffstutler grows irrigated and dryland cotton around Cone, and up until a year ago, farmed by herself – still drawing from her dad's experience and expertise – but farming alone.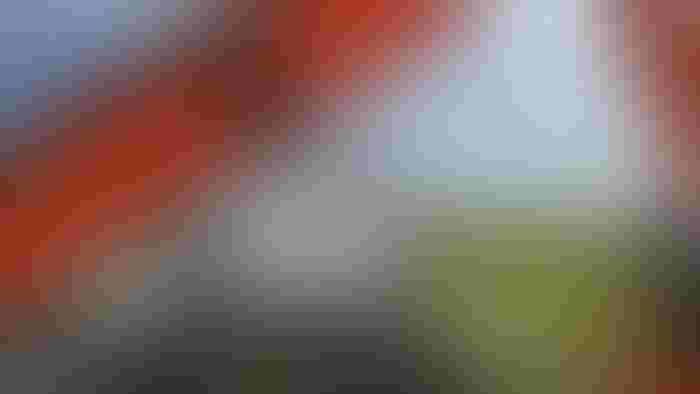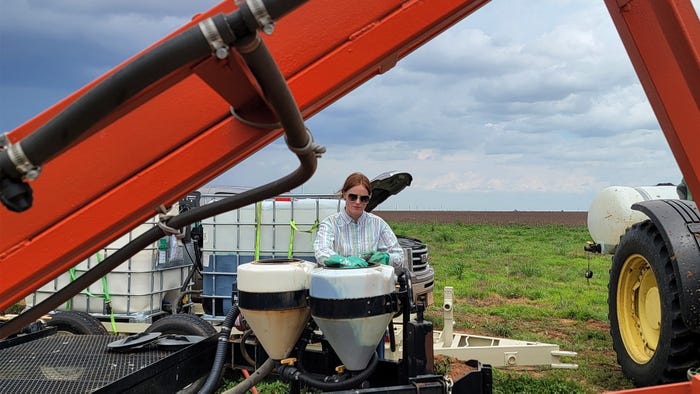 Ciera Huffstutler realized while attending college and working ag-industry jobs that deep down all she wanted to do was farm. (Photo by Shelley E. Huguley)
As fate would have it, two years ago, while attending an antique tractor show with her father Regan Ware, (a show he's attended since he was 10) she met Allen Huffstutler. They married last year.
No one in Allen's family has farmed since his great grandfather. Ciera says what he lacks in "hands-on" experience, he makes up with hard work and fresh perspective.
"He's mechanically minded and persistent. Very persistent," she says. "I have more of the agronomic knowledge and knowledge about growing cotton, but he has helped me a lot with things I can't do physically."
The couple pushes each other. "He's made me think about why we do certain things. He'll often ask, 'Why do you do this or why do you do that?' He's come up with new ideas, too. So, it's helped us both to stop and think why we are doing things and to make sure that what we're doing is the best way to do it."
Ciera appreciates Allen's untainted perspective. "It's cool to see it through his eyes and how much he's learned and how much he loves it now, too."
Improving farms
When evaluating a farm and determining how much cotton to plant, the Huffstutlers focus on the most productive or "best" acres, a stewardship principle Ciera learned from her father.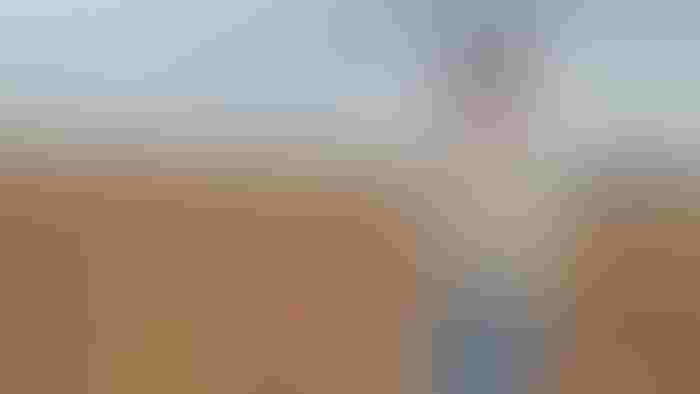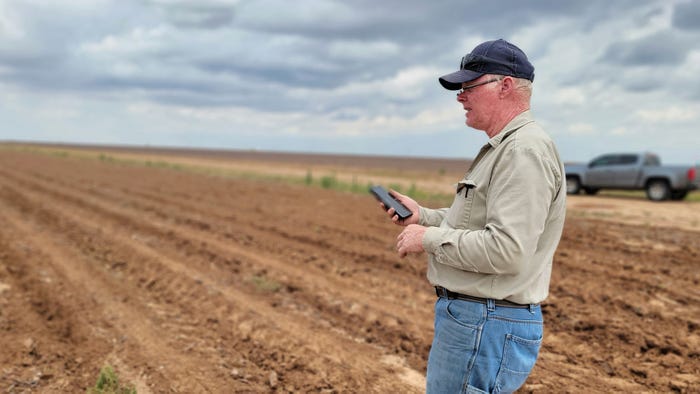 Ciera Huffstutler says her father, Regan Ware, is always looking for ways to be more efficient on the farm, something that impacts her operation today. (Photo by Shelley E. Huguley)
"Maybe there's parts of a farm that don't necessarily need to be farmed," she says. "Like on one farm I rent, there's grass on a big chunk of it, a caliche hill, that a pivot used to be on. The south half is no longer farmed, and we put drip irrigation on the north side."
The Huffstutlers, with the help of NRCS EQIP grants, have begun installing drip irrigation on farms with limited irrigation capacity and plant haygrazer on the acres that don't produce. "It's more beneficial to farm the best part, improve what you can and then give the rest back to the buffalo, if you can financially manage that."
The drip system is also advantageous with fertilizer applications. "In terms of getting nitrogen out in a timely fashion, like 32-0-0, it's a lot quicker and it gets down to the root zone," Ciera adds.
The couple also looks for ways to reduce trips across the field. "Dad is a mastermind on coming up with ways to make as few trips as possible like building plows or taking toolbars and making different things."
She calls him a "plow-builder extraordinaire.
"Me and Allen have learned a lot from him. My whole life, I've watched him try to become as efficient as possible."
And it's not always big things, she adds. "It's finding those little ways. It's finding margin places where we can improve or be quicker, more timely with less trips."
2023 season
This time last year, Ciera was facing drought. This year, she is waiting for conditions to dry so they can plant. "The season started pretty depressing," she said. "The 1st of May, we were waiting on a rain and trying to figure out what we could get done. Now, that we've gotten some rain, it's a circus."  Since mid-May, they've received 5 to 7 inches of rain.
To prep for planting, the Huffstutlers are running a stalk puller Regan designed. "The individual pieces of the plow are nothing new to farming, but the way he put them together and designed it as a one-pass plow is unique to our style of farming.
"It's basically a stalk cutter with stalk puller disks behind it and shanks in each middle forming a short bed. It has a lot more chopping action and there are rollers on the back to ensure a uniform bed to plant on," Ciera says.
They minimum till. "We don't do cover crops. We just leave our stalks standing as long as we can, so that's why we're behind," she says. "We've been waiting since April because we noticed last year it [the stalk puller] didn't do good without moisture. It just doesn't form the beds as good and chop up the stalks as well, so we wait as long as we can and then run the stalk puller. It's like a one-pass plow. Then we're ready to plant."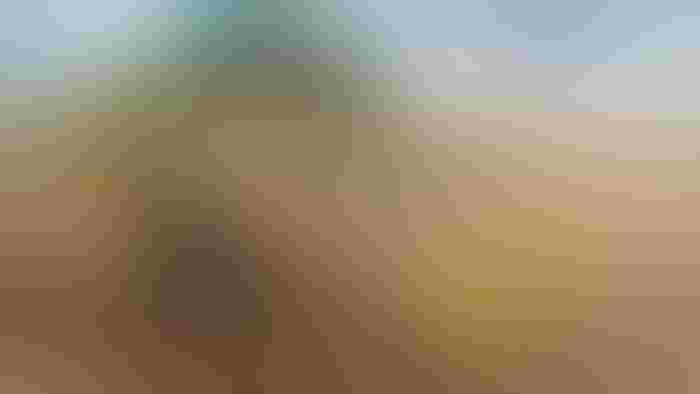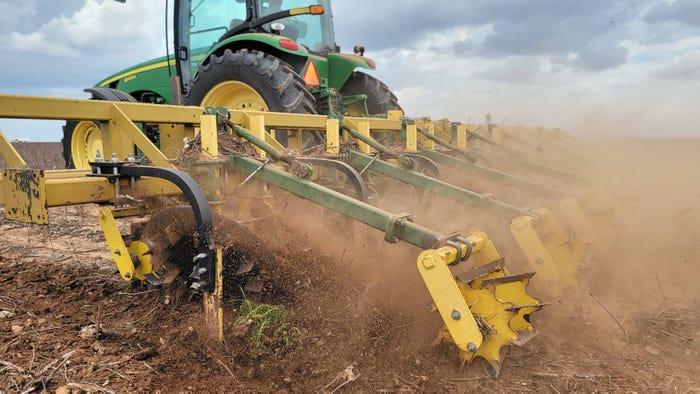 Running the stalk puller prior to planting their drip-irrigated cotton. (Photo by Shelley E. Huguley)
Ciera admits that while rotating cotton might be beneficial, in terms of what works on their operation, cotton works best. "I've seen what dad's tried throughout the years and it just seems like he, and us now, always come back to cotton."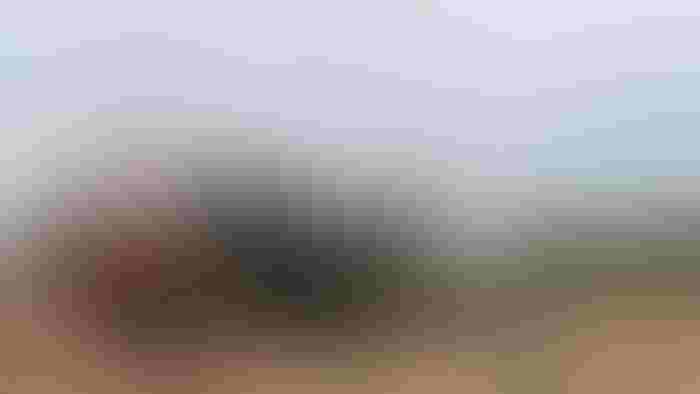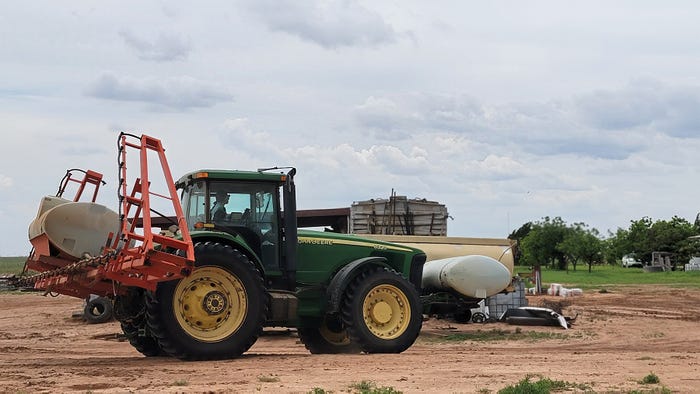 The sprayer is loaded and Ciera Huffstutler is headed to another field. Normally, she farms on her own. But due to the recent moisture, it's an all-out team effort to help each other get planted. While her dad and husband plant, she sprays and her sister Mesa Ware runs the stalk puller. (Photo by Shelley E. Huguley)
As Ciera begins her fifth season, she continues to live out her passion, gleaning from her dad's experience, her husband's fresh outlook and her own knowledge to produce another cotton crop. "I wouldn't want to do anything else."
Take a look at this gallery to catch a glimpse of the Huffstutlers and Wares as they pool resources and equipment to plant the 2023 cotton crop.
Subscribe to receive top agriculture news
Be informed daily with these free e-newsletters
You May Also Like
---