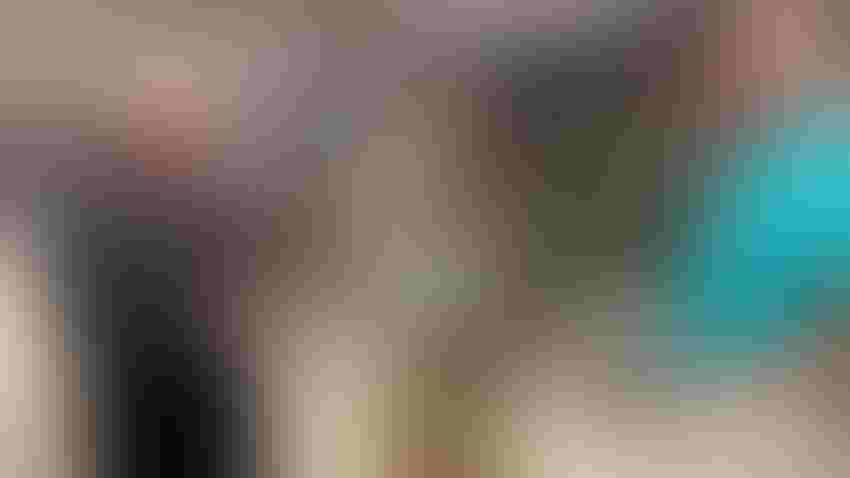 Marshall Lamb, left, chats with Jay Williams, University of Georgia, and Steve Brown, The Peanut Foundation at the recent American Peanut Research and Education Society meeting in Savannah.
Ron Smith
Persistently increasing production costs, mandates to improve peanut quality, and demands to incorporate sustainability measures throughout the production and manufacturing process pose challenges to the peanut industry.
Marshall Lamb, research leader and location coordinator at the USDA-ARS National Peanut Research Laboratory in Dawson, Ga., says those are critical issues confronting USDA, University, and industry scientists.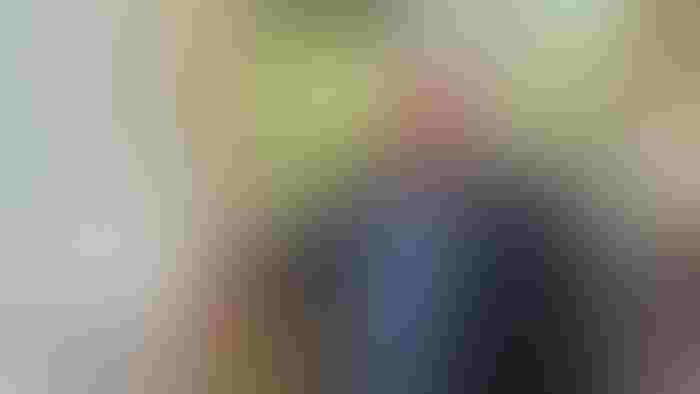 Marshall Lamb, research leader and location coordinator at the USDA-ARS National Peanut Research Laboratory in Dawson, Ga. (Photo by Shelley E. Huguley)
Lamb spoke with Farm Press at the recent American Peanut Research and Education Society (APRES) annual meeting in Savannah.
He says new technologies are making a difference. "Dr. Corley Holbrook just gave a presentation on how the genomic initiative is leading to new varieties that are almost totally disease resistant."
That could be a game-changer.
"If a farmer doesn't have to spray on a regular schedule for leaf spot or other diseases, he saves a tremendous amount of money and time and contributes to our sustainability initiative.
"We're putting fewer pesticides out; we're making fewer trips across the field. The results Dr.  Holbrook and all of the peanut genome team are seeing will be huge for growers in the next several years."
Sustainability initiative
Sustainability, he adds, applies to all aspects of peanut production, as well as across the board for agriculture. "Sustainability is big, not only in every crop but it also has become important in manufacturing agricultural commodities as well.
"Sustainability resonates with younger consumers. They want to know that the products they're buying are grown sustainably and are contributing toward the health of our planet and national and international ecosystems."
Lamb says a general session presentation on climate change "was eye-opening. The speaker [P.V. Vara Prasad, research geneticist, Kansas State University] is a world-renowned scientist, and he pointed out the challenge the peanut industry and the scientific community face. He said we have to be ahead of this curve and come up with production techniques and genetics to help adapt to a different climate."
Lamb said Prasad illustrated how the climate is changing and how it can affect the peanut industry.
"It is great to have an authority like Prasad to address the APRES meeting. An international authority lays out the climate change framework to fully established Ph.D.-level scientists, mid-level career scientists, and Ph.D. and Masters students at this meeting. For them to see that presentation and the horizon where we're headed can spur a lot of thinking from these young minds who may go into fields of research that will help address our needs for the future."
Aflatoxin
Lamb says aflatoxin is a significant peanut quality issue for the National Peanut Lab and others.
"Our scientists at the lab are working with researchers from the University of Georgia, the University of Florida, Fort Valley State University, Auburn University, and Mississippi State University.
"By collaborating with several universities on projects related to aflatoxin, we hope to leverage their expertise, and they can leverage some of our expertise to solve this problem much quicker."
Lamb says aflatoxin is not a consistent problem but sometimes occurs in periods of hot dry conditions toward the late season. "But when it becomes a problem, it costs our industry a tremendous amount of money to ensure that the final product quality specifications are met.
Promising research
"We are working in our lab from numerous approaches. Some are showing promise now, and we believe with this collaborative effort, working as a team, we will be able to solve this problem  much quicker."
Lamb says peanut production has seen significant, positive changes over the past few decades. In the late '70s, average yield stood at 2,800 to 3,000 pounds per acre. Producers now typically average three tons and push 8,000 pounds per acre.
Improved varieties make a difference, Lamb says, but improved production systems also play roles.
Improved technology
"Better varieties definitely contribute," he says. "But I think the whole basket of technology we have now —improved crop protectants, the ability to plant and dig with GPS, and improved irrigation scheduling techniques that are more conservation-oriented — has made a difference.
"The combination of all of the above moved the bar higher. The new genetics certainly are leading the way  to achieve the yield increases we've seen."
But it's still a systems approach, he says.
Subscribe to receive top agriculture news
Be informed daily with these free e-newsletters
You May Also Like
---