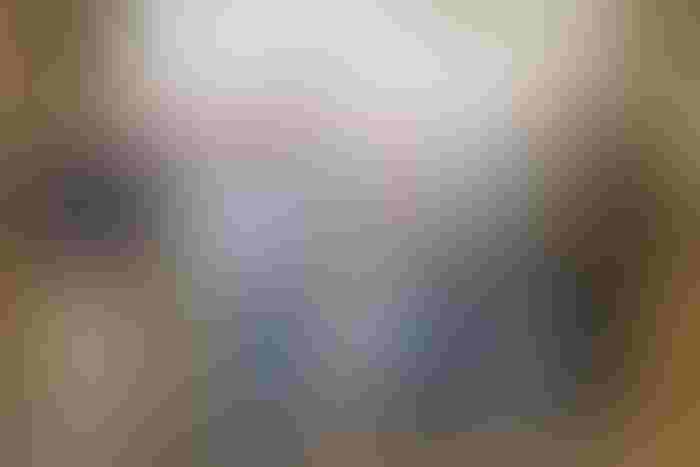 Peanut Efficiency Award winners, from left, Deane family, Bill, Clay, Mark, Matt and Hunter, Scott County, Mo.; John Reddecop, Seminole, Texas; Colt Woody, Brandon Woody (not pictured), Aiken County, S.C.; and Ryan Jenkins, Jay, Fla.Shelley E. Huguley
Farm Press and the National Peanut Board celebrated the 24th class of Peanut Efficiency Award winners at the annual PEA Breakfast during the Southern Peanut Growers Conference, Destin, Fla.
Greg Baltz, National Peanut Board vice chair, addressed the winners, their families and those gathered for the event and stressed the importance of sustainable peanut production.
"As costs on the farm continue to increase the sustainable production of high-quality peanuts that this award recognizes is essential. The National Peanut Award understands the need for your dollars to stretch and to work as hard as possible," Baltz said. "We've taken full advantage of opportunities like matching grant programs from the National Institute of Food and Agriculture, and we worked with NIFA and other industry groups to secure nearly $4 million additional dollars in funding for peanut research. In total, since 2001, the National Peanut Board has invested and secured more than $45 million in production research funding, and through our budget allocations as well as through industry matching funds. This investment has and will continue to have an amazing impact on our industry."
He also touched on the more than $36 million the board has invested in peanut allergy research, outreach and education. "Our message of early introduction to prevent peanut allergies is spreading and more organizations are taking up the banner of allergy prevention, which makes our resources go even further."
Brad Haire, Farm Press/Farm Progress senior content director, told the crowd the PEA program started with some people who were forward-looking to know two decades ago the industry was changing, from technology to policy changes and the end of the quota system. "It was a way to start building up a good sustainability message for the industry, what the growers are doing, and also bringing up what the industry does to promote agriculture around the regions."
"This marks the 24th class of winning growers and each class continues to impress with their innovative techniques and improving bottom-line profits," said Greg Frey, Farm Progress senior vice president of operations. "Since its inception in 2000, the peanut efficiency award has honored over 70 deserving winners from the upper and lower regions of the Southeast, the Delta region and Southwest region of the United States."
Before presenting the winners with their awards, Marshall Lamb, USDA National Research Laboratory research leader, said the award considers a nominee's production and economic efficiency as well as sustainability metrics.
"If we look back over the 24-year history of this program, not just looking at the winners of each year, but all the nominees that came in and look at what the cost of production was on an annual basis, it has really increased over time. And as these gentlemen and ladies who farm, know this year and last year was probably the most expensive crops you've ever grown with the inputs that you're facing. So, it's very important that within this program, we look at different metrics to try to decide the winners."
Sustainability "resonates with the people who have purchasing power," he told the crowd as he explained more about the award. "It's a good process that we go through because it's not just balanced on economics, it's balanced on the things that are important for growers, which is good production efficiency, managing costs and economic efficiency, but also a way that we can look at the sustainable footprint that we have in peanuts and use that to reach more and more consumers."
Take a look through this gallery to learn more about what each grower had to say about receiving their award. Learn more about their operations and the secret to their production success by following the links below.
2023 Peanut Efficiency Award winners:
Upper Southeast: Colt Woody and Brandon Woody, Aiken, South Carolina
Lower Southeast: Ryan Jenkins, Jay, Fla.
Delta: Triple D Farms, Sikeston, Mo.
Subscribe to receive top agriculture news
Be informed daily with these free e-newsletters
You May Also Like
---