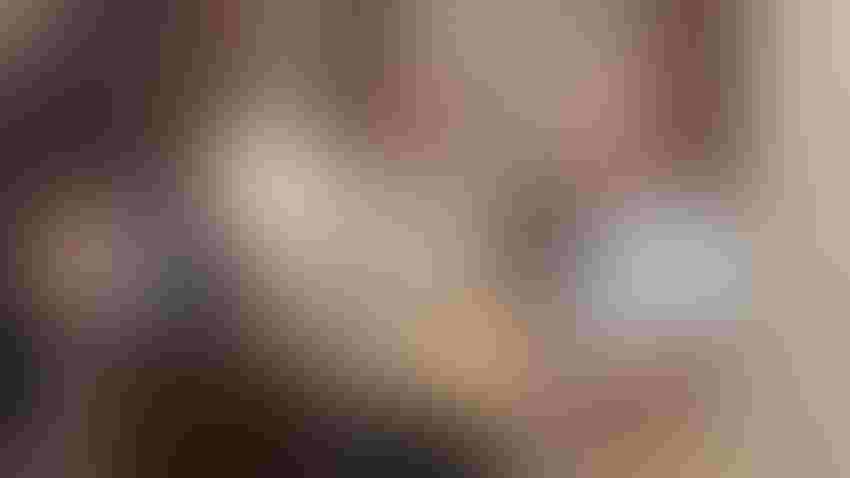 Craig Kvien, UGA professor of crop physiology (retired) accepts the APRES Fellow Award from UGA Extension Agronomist Eric Prostko, at the recent APRES annual meeting, Savannah, Ga..
Ron Smith
Craig Kvien was named Fellow by the American Peanut Research and Education Society during the Society's annual meeting July 13 in Savannah, Ga.
Fellow is the highest award bestowed by APRES and recognizes years of exceptional contributions to the Society.
Kvien served as University of Georgia professor of crop physiology, crop and soil sciences, from 1996 – 2021.
"It is an honor to be recognized by your peers, it's something special," Kvien said.
He said APRES meetings were at the top of his list when budget constraints limited how many conferences he could attend. "APRES was No. 1 on the list because of the camaraderie.  Also, APRES is always like a big family.
"I always learned something, too," he said. "It always amazes me how folks in APRES share information and help each other."
Accessing that information is easier than in some larger conferences, he added. "At other huge meetings, you have to pick and choose what talks you want to go to; it requires a logistical plan. It's also much harder to be an integral part of a
group of 15 thousand people.
"In APRES, it's not hard to get a committee appointment if you want one," Kvien said. "Members are always asked to be part of something. It's never hard to be involved."
His involvement has been significant, according to his peers.
Longtime service
In his nomination document, Corley Holbrook, USDA-ARS, Tifton, Ga., noted Kvien's 41-year support for APRES, including attending 32 annual meetings, serving on six APRES committees for a cumulative 22 years. He also served as a co-editor [with Holbrook] of Peanut Research newsletter for seven years. He served as an associate editor of Peanut Science for six years, and authored or co-authored 25 presentations at APRES meetings, two of which received the Bailey award.
" Craig's research has been documented in over 100 books and journal articles. He has made 182 scientific audience presentations and over 400 outreach presentations. His research has been supported by $22 million in extramural grant funding.  He has served on 47 graduate committees, 11 as chair.
 "APRES is fortunate to have benefited from Dr. Kvien's membership and tireless contributions," Holbrook wrote.
"Craig has helped recruit new members, helped form the National Peanut Foundation, and spent countless hours working behind the scenes to help the annual meetings run efficiently and cost-effectively.    
"The outstanding contributions he has made through his research, and his service to the industry make him richly deserving of the honor of Fellowship in APRES."
Ideas into reality
"I never met a more energetic person nor one who has so many brilliant ideas," wrote Keith S. Rucker, Bayer Crop Science Division, Tifton. "The big difference between Craig and so many of the other 'idea people' is that he has that rare ability to turn those ideas into reality.
"Over the years, his work as a scientist produced some of the most innovative research I have ever seen.
Craig's innovative research in the area of peanut physiology contributes greatly to what we know today about the way a peanut plant grows and develops."
Career boost
Rucker adds that Kvien was instrumental in developing his career.
"As an undergraduate student who realized that I did not have the experience I needed, I approached many faculty members to try and get a summer job and gain some real-world experience. When nobody else would hire me, Dr. Kvien took me on as a summer worker – a job that led to the opportunity to work in his program as a graduate student on an assistantship."
Work ethic
"Craig's ability, his work ethic, his pursuit of perfection, his tremendous effort, and his heart for service have allowed him to make many contributions to our industry, to UGA, and to APRES," wrote Albert Culbreath, University of Georgia professor of plant pathology, Tifton.
Culbreath has worked with Craig since 1989 and says his  "talents and contributions to UGA and the peanut industry ranged far beyond those focused on crop physiology of the peanut plant."
Culbreath praises Kvien as "an amazing idea person, the epitome of a team player who makes everyone around him better.
"Craig represents the very best of what our Fellow Award was intended to recognize, and I give him my strongest recommendation."
People skills
Scott Monfort, UGA Extension state peanut specialist, Tifton, writes, "The true success of a person is not always measured in awards or grant monies but rather the success of the people and the programs touched by that person.
"Dr. Kvien has put in countless hours behind the scenes supporting the efforts of others along with being an active part of several professional societies in the agricultural research community, especially the American Peanut Research and Education Society.
"Dr. Kvien has been a member of APRES for 41 years where he has served on numerous committees, has served on the editorial board for Peanut Science, and has provided audio/visual assistance to the APRES annual meeting for more than 10 years.
"I speak with confidence in stating that there is no one in the membership of the American Peanut Research and Education Society more deserving of this recognition and honor than Dr. Kvien."
Kvien said APRES is an industry-wide organization. "APRES enjoys unusually strong participation of support industries and growers. The whole industry is there."
He said that strong sponsor support helps hold costs down, making attendance an easier choice for members and families. "APRES is a family affair.
"It is nice to know that others appreciate your work," Kvien said.
Subscribe to receive top agriculture news
Be informed daily with these free e-newsletters
You May Also Like
---