Peanut Efficiency honorees: Strategic, inquisitive, passionate
Peanut Efficiency honorees: Strategic, inquisitive, passionate
Farm Press names its 24th Class of Peanut Efficiency Award winners. Producers and/or operations are selected from across the Peanut Belt for their sustainable production of high-quality peanuts.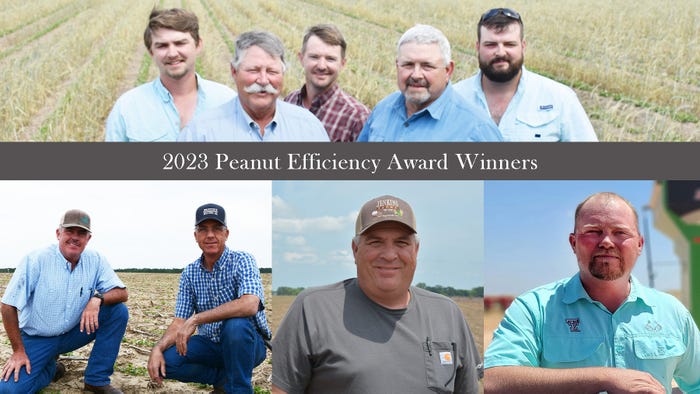 The 2023 Peanut Efficiency Award winners: top, Triple D Farms, Deane family, from left, Hunter, Mark, Matt, Bill and Clay, Delta; bottom, from left, bothers Colt and Brandon Woody, Upper Southeast; Ryan Jenkins, Lower Southeast; and John Reddecop, Southwest.Farm Press
Strategic, inquisitive, and passionate best describe the 24th class of Farm Press Peanut Efficiency Award winners.  
Whether learning from field trials or gleaning advice from other producers or through trial by fire, this PEA class proves top yields using regenerative practices begin with asking questions while also learning from mistakes. 
They also credit variety selection, crop rotation and cover crops as essential elements of their production success.   
Farm Press recognizes the following producers and operations as the 2023 PEA winners: brothers Colt and Brandon Woody, Upper Southeast; Ryan Jenkins, Lower Southeast; Triple D Farms, Delta; and John Reddecop, Southwest. 
Upper Southeast
For brothers Colt and Brandon Woody, timeliness, attention to detail and a good rotation program are keys to success.
In the first year they grew peanuts in Aiken County, S.C., in 2019, the brothers achieved an astonishing average yield of 7,235 pounds per acre on 560 acres winning the South Carolina peanut yield contest that year. They continued to win the peanut yield contest in 2020, 2021 and again in 2022 with an average yield of 6,523 pounds on 654 acres.
At first, the Woody brothers grew only corn in South Carolina. But their crop consultant, Tim Kelly with Southeastern Crop Consulting in Barney, Ga., told them they had good land for peanuts and encouraged them to give it a try. "Tim kept after us for two or three years. We stalled him, but he finally twisted our arm enough, so we thought well, we'll try it. And I'm glad we did," Brandon Woody says. Kelly said their success boils down to a good rotation program.
"They're not pushing their rotations like most farmers are doing. They are keeping their rotations fresh on the ground that they have. They have stuck with corn as their main crop and peanuts as their secondary crop. They know that those 6,000 pound plus yields are not going to come with rotations that are super tight," Kelly explained.
Lower Southeast
Ryan Jenkins, 49, is married to Debra, who works at the local hospital. They have two sons, Cole and Chase. In Jay, Fla., about 50 miles north of Pensacola, Jenkins farms in partnership with his dad, Rennie, who retired from the local school system many years ago. Ryan's son Chase works the farm with them. Cole recently graduated college and is beginning a career in real estate but also works on the farm.
"Both sets of grandparents were farmers, but both fell on hard times and had to give up farming. Even though they gave up the farming operations, they each kept their land and rented it out to other farmers," Jenkins said.
Jenkins remained active in farming, working through high school for local farmers. In the mid-1990s, he rented 16 acres of family land to start his farm. Today, the Jenkinses farm 2,000 non-irrigated acres of peanuts, cotton, soybeans, corn, wheat and oats.
For peanuts, he plants the AU-17, GA-12Y and FloRun 331 varieties on a typical two-to-three-year rotation with corn or cotton. In 2022, he averaged 5,195 pounds on 658 acres.
"We are always looking to try something and research to identify which varieties, techniques and crop protection products work best on our farms to run as efficiently as possible and those strategies are paying off and not just looking good," he said.
Delta
Triple D Farms began growing peanuts in Scott County, Mo., in 2015 as an alternative to their regular crops — cotton, soybean and corn — which were not giving the returns they needed in a down farm economy.
It was a new peanut growing environment at the time. They asked a lot of questions and received excellent advice from experts who grew peanuts in Alabama and Texas.
The partners turned a crop trial into profitable production in a short time. Their sandy soil and good irrigation make raising peanuts in the Sikeston area an excellent rotation for their operation at large.
"They tell us we're in the honeymoon phase and I think they are correct," said Clay Deane.
Clay is part of the enterprise, a Deane family partnership along with his father, Bill; uncle, Mark; and cousins, Matt and Hunter. The fifth-generation operation is almost 9,000 acres with roughly 900 acres of that now in high oleic peanuts.
"The boys have had to learn about peanuts basically by trial and error on their own," said Bill. "What works up here might not be the same as somewhere else."
The farm is an all-in operation with no major decisions resting on one person and all five partners having a say in what goes on in the process.
Their yields average about three tons to the acre and the grades are good, in the mid-70s.
They have helped to establish a trend in the Missouri Bootheel as more growers in their area are growing peanuts and have established a processing plant with local buying points.
Southwest
When it comes to organic and conventional peanut production, John Reddecop, Seminole, Texas, says resting his land not only increases his yields but quality as well.
"I've found out my yields go through the roof leaving my land out of production at least one year," Reddecop said. "That's where my biggest yields come from."
In 2022, Reddecop grew Virginia-type varieties. His Emerys yielded 5,600 pounds per acre pay weight and the Wynnes yielded 7,035 pounds — a career best.
Along with peanuts, Reddecop grows conventional and organic cotton with his brother Henry in Yoakum County, Texas. The brothers not only rest their land but sow a rye cover crop to prevent the region's sandy soil from blowing. They also plant rye on acres being converted from "old farm dirt" to organic, a process that takes three years.
The organics contract for more than double the conventional, increasing John's profitability, while also allowing him to plant less acres in a region where the "irrigation water is light" and drought is prevalent. Farms with grass issues remain conventional.
Testing peanut varieties and products also is important. The brothers conduct their own trials to find answers.
John credits his wife Lena for helping him keep his sanity and Henry for being the perfectionist in the operation. "I'm more the pusher, so I'll get a lot of things done, but he'll do it better… I wouldn't want to farm all this without him."
Subscribe to receive top agriculture news
Be informed daily with these free e-newsletters
You May Also Like
---