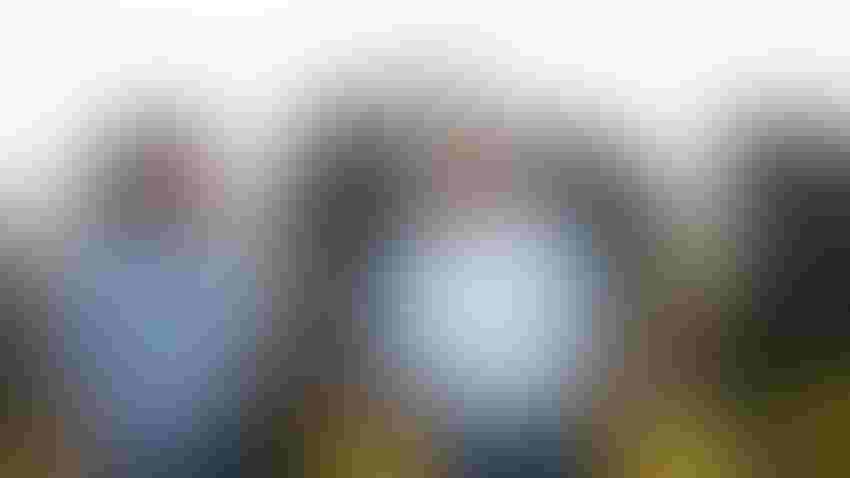 Colt and Brandon Woody, originally from Clovis, N.M, now farm in Aiken, S.C.
John Hart
At a Glance
Grew first peanut crop in 2019, achieving average yield of 7,235 pounds per acre on 560 acres.

Win South Carolina Peanut Yield Contest in 2020, 2021, and 2022.

Plant all of their peanut acreage to the variety Georgia 06-G.
It's a long, long way from Clovis, N.M., where Colt and Brandon Woody began their farming career some 35 years ago to Aiken County, S.C., where the brothers successfully grow peanuts and corn today.
In every step of their farming journey, the brothers have relied on a good crop rotation, timeliness, and attention to detail to achieve stellar yields and profitability. Colt and Brandon Woody are the 2023 Farm Press Peanut Efficiency Award winners for the Upper Southeast.
Indeed, the question arises, how did two brothers who farm together find their way from their home farm in Clovis, N.M to the Texas Panhandle to then settle currently in Aiken County, South Carolina. It's an interesting journey.
Migration begins
The Woodys' grandfather, Layton Woody, and father, Truman Woody produced grain on the family farm near Clovis. Colt and Brandon were farming along with their father, Truman, when a large dairy group from California looking to expand their dairy operation made them an offer they couldn't refuse. The Woodys then relocated near Channing in the Texas Panhandle in 1995 where they grew white food corn and seed milo for Pioneer Seed Company.
Once again, a big dairy group looking to expand their operation made them an offer for their Texas acreage they couldn't refuse. The Woodys took this opportunity to make a big change to relocate to South Carolina and eventually grow peanuts.
"We started looking for opportunities in four states and then we found South Carolina. We liked what we saw. We liked the sandy soil that drains well, so we decided to make the move," Brandon Woody explains.
Brandon and his family made the move to South Carolina in 2014. A company was hired to begin the process of having all the trees cleared from the land they had acquired to be able to have irrigation installed and begin farming the land in 2016. Long time employee, Jason Stevens made the move from Texas to South Carolina as well and the first corn crop in South Carolina was put in on acreage that the Woodys rotate ground with on another farm.
Colt stayed in Texas in 2014 and farmed silage corn for the dairy that had purchased their farmland as well as arranging for about thirty loads of their equipment to be trucked to Aiken County, South Carolina. Colt and his wife, Shannon then made the move to South Carolina in the Fall of 2015.
Recently, two of Brandon's sons, Levi and Lane have come to work for the farm as well. Both Colt and Brandon agree that Jason, Levi and Lane are an asset to the operation. Additional workers are essential for harvest time and the H2A program is utilized for that extra help on the farm.
Colt's son, Colton Woody, remained in Texas where he presently works for a feed yard in Olton. Colt's daughter, Caitlyn Bynum also stayed in Texas and works for a real estate company in Amarillo. Caitlyn and her husband Ty Bynum live in Dumas. Bynum and his family own Jack Oldham Oil Company as well as an aerial application and fertilizer spreading business.
Colt's wife, Shannon, is also essential to the farm operation for Colt on the bookkeeping side of the business for Colt Farms handling payables, payroll, H2A records, taxes, along with any and all office related duties and records. Brandon's wife, Vikki, handles the bookkeeping with Brandon for BC Farms as well as having interests of her own outside of the farm. 
Peanuts added to crop mix
At first, the Woody brothers grew only corn in South Carolina. But their crop consultant, Tim Kelly with Southeastern Crop Consulting in Barney, Ga., told them they had good land for peanuts and encouraged them to give it a try. "Tim kept after us for two or three years. We stalled him, but he finally twisted our arm enough, so we thought well, we'll try it. And I'm glad we did," Brandon says.
They grew their first peanut crop in 2019 and achieved an astonishing average yield of 7,235 pounds per acre on 560 acres winning the South Carolina peanut yield contest for their first year. They continued to win the peanut yield contest in 2020, 2021 and again in 2022 with an average yield of 6,523 pounds on 654 acres.
Of course, the question arises: how do they do it? Consultant Kelly says it is obvious that the Woody brothers are good and timely managers, but he says the key to their success boils down to a good rotation program.
"They're not pushing their rotations like most farmers are doing. They are keeping their rotations fresh on the ground that they have. They have stuck with corn as their main crop and peanuts as their secondary crop. They know that those 6,000 pound plus yields are not going to come with rotations that are super tight," Kelly explains.
"When they keep their rotations wide like that, it allows them to do a moderate fungicide program. The rotation is the key to everything. Of course, having good farming practices is important and being good overall farmers is a big part of their success. They do a good job of getting good stands and they use good quality seed."
Colt and Brandon go for a minimum four-year rotation with their corn. They would like to go to a five- or six-year rotation to help build yields even more. Both brothers say sticking to roughly 650 acres of peanuts with their total acreage of 3,000 allows them to have a good rotation program. They say they would consider increasing their peanut acreage, but they will need more harvest equipment to do so.
Good rotations are important, but the brothers also emphasize timeliness every step of the way from planting to digging to harvest.
"We just try to be timely with everything. We've had good yields from day one. If there's a silver bullet, I don't know what it is. We try to be timely with planting and spraying of fungicides. And then we water the crop and do everything that needs to be done. We do it on schedule," Brandon said.
The brothers plant all of their peanut acreage to the variety Georgia 06-G because it is a good yielder for them. They purchase their seed from Birdsong Peanuts, and Birdsong is also their peanut selling point.
A good spray program is vital for their stellar yields. They apply fungicides to their peanuts every 12 to 14 days. Leaf spot tends to be their biggest disease worry.
"Our crop consultant advises us what to do. We start out with a cheap fungicide, for maybe the first two applications. Then we get into the more expensive fungicides, which obviously are better quality. We hit the middle with some of the most expensive stuff and then at the tail end, we go back to the cheaper ones to finish the crop off," Brandon explains.
The use of cover crops and no-till on both their peanuts and corn is important. Brandon says water erosion is a challenge so both cover crops and no-till are a must. "I can't stand to see land wash. It drives me crazy, so we decided to go with the no-till and it's been working good for us."
Season runs May to October
The brothers rely on irrigation for all 3,000 acres of their land.
"We came here to grow corn, so we knew we had to have irrigation. When we decided to grow peanuts we knew it would be best to grow them under irrigation as well that way we could control everything except for the sunshine," Colt explains.
They like to begin planting peanuts by May 7 and wrap up by the end of May, if possible. Colt says he wants the soil temperature to be at least 65 degrees Fahrenheit before they put seed in the ground. "We try to plant 35 to 40 acres per day because that's what we can harvest in a day. We do this to try to keep our maturity in line as we harvest and if all works out be done with harvesting by the end of October."
As for fertility, crop consultant Kelly pulls soil samples and the Woodys fertilize according to his recommendations. Kelly grid samples on two-acre grids which is especially important for lime applications. They now average about one to one and a quarter ton of lime per acre.
As for work and management, the farm is a true partnership, or 50-50, right down the middle. Brothers, Colt, 56, and Brandon, 53, say they wouldn't have it any other way. Their success demonstrates that their approach clearly works.
"We both have the same goal in mind. And that's to grow the best crop with the least amount of money. That's what we're all after," Brandon says.
Subscribe to receive top agriculture news
Be informed daily with these free e-newsletters
You May Also Like
---