Ryan Jenkins is 2023 lower Southeast peanut efficiency winner
Ryan Jenkins is 2023 lower Southeast peanut efficiency winner
For being an excellent example of a successful peanut farmer, Ryan Jenkins — along with his family — is the 2023 Farm Press Peanut Efficiency Award winner for the lower Southeast.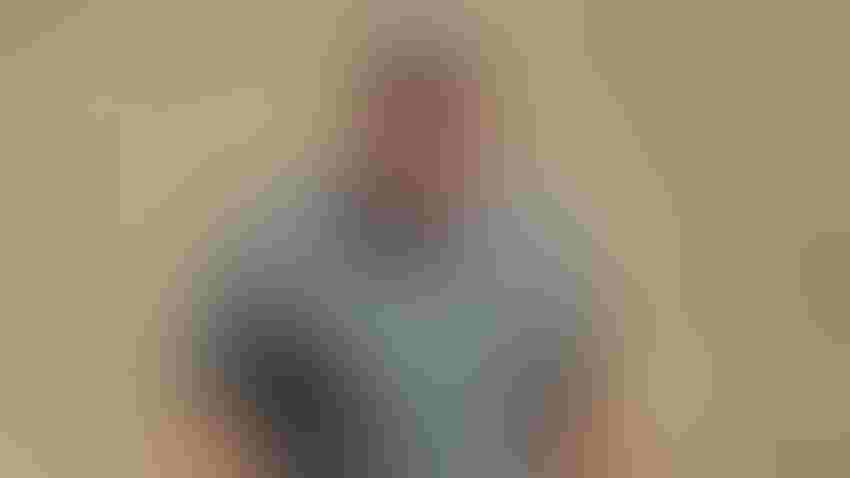 Ryan Jenkins and his family farm 2,000 non-irrigated acres of peanuts, cotton, soybeans, corn, wheat and oats in Jay, Fla.
Brad Haire
It's good when a plan comes together, but it's OK if it doesn't. Weather happens. Machines break. Ryan Jenkins plans for plans to go sideways. The detour sometimes brings better opportunities and management strategies. He likes that about farming. 
He also knows how to 'grow' peanut M&Ms straight out of his fields, but we'll get back to that. 
For being an excellent example of a successful peanut farmer, Jenkins — along with his family — is the 2023 Farm Press Peanut Efficiency Award winner for the lower Southeast. 
Ryan, 49, is married to Debra, who is the assistant administrator at the local hospital. They have two sons, Cole and Chase. In Jay, Fla., about 50 miles north of Pensacola, Jenkins farms in partnership with his dad, Rennie, who retired from the local school system many years ago. Ryan's son Chase works the farm with them. Chase is also making a name for himself regionally as an up-and-coming stock car driver. Cole recently graduated Florida State University and is beginning a career in real estate but also works on the farm. 
"Both sets of grandparents were farmers, but both fell on hard times and had to give up farming. Even though they gave up the farming operations, they each kept their land and rented it out to other farmers," Jenkins said. 
But Jenkins remained active in farming, working through high school for local farmers. In the mid-1990s, Jenkins rented 16 acres of family land and began his farming operation. Today, the Jenkinses farm 2,000 non-irrigated acres of peanuts, cotton, soybeans, corn, wheat and oats.  
Peanut land 
For peanuts, he plants the AU-17, GA-12Y and FloRun 331 varieties on a typical two-to-three-year rotation with corn or cotton. In 2022, he averaged 5,195 pounds on 658 acres. 
In 2000, the farm switched to all conservation tillage. They grow and store their wheat and oat seed each year to use for cover crops and try to spread the seed before peanut digging to reduce trips across field. 
They grid sample every acre every year and use their own variable rate spreader to apply their Lime, Phosphorus and Potassium using prescription applications. The Jenkinses inoculate every peanut acre every year and apply Thimet in furrow.  
Though flash droughts happen in this part of the world, excessive rain can be just as hampering. Whether from tropical storms or flash floods spurred by thunderstorms, the area yearly averages close to 70 inches of rain. And a few years ago, a prolonged rain spell hijacked his planned peanut fungicide program, but he turned it into an opportunity to do something different.  
Keep in mind, the Jenkinses farm in one of the disease heaviest parts of the peanut belt. Fungicides are essential, but three years ago he started experimenting to reduce fungicide applications, stretching out the intervals between them. In a region where six to seven fungicide applications are common, Jenkins' peanuts get three to four annual applications without sacrificing yields. 
In 2022, Alto, Miravis and Elatis was applied twice to all acres. Lucento and Abound was applied to all acres one time. Bravo and Folicur was only applied to 338 acres. 
"We are always looking to try something and research to identify which varieties, techniques and crop protection products work best on our farms to run as efficiently as possible and those strategies are paying off and not just looking good," he said. 
Another example, in recent years they started experimenting with the plant growth regulator Apogee for peanuts, 'and have seen a little over 700 pounds of increased yield depending on the variety. Now that we are confident of a consistent yield bump, we are researching application dates as well as rates and are improving the yields even more," he said. 
They are also currently working on a project to find a correlation between normal grid soil samples and peg zone samples for calcium. "The goal is to try to be able to make a prescription for calcium application using the grid soil samples that you would already have," he said. 
The influencer 
For Jenkins, telling the good story of agriculture, and using social media to do it, to the wider audience is important and there's nothing wrong with making the messages entertaining to learn. 
On one well-viewed social media video, Jenkins kneels in his nearly mature peanut field, looks in the camera and provides background on how peanuts are grown, and in the case of this particular video where peanut M&Ms come from.  
In the video, he digs up a vine, picks a few pods and after a creative jump edit, he cracks open a pod to reveal to the camera two candy-coated peanut M&Ms that had 'grown' inside the pod. The video is meant to be tongue-in-cheek, but it gets a lesson across to the viewer. (BTW, Jenkins' acting in the video is convincing. Even if you know peanut agronomics, you wonder if he did figure out a way to grow peanut M&Ms straight from the ground.) 
On his social media channels, Jenkins aims, "to show people what we do and explain why we do it.  I believe we have an awesome story to tell, and my goal is to tell it.  I believe it's extremely important for us to combat misinformation and fake news.  I really want to show people where their food and fiber comes from and the extreme measures we take to provide the safest, most sustainable product possible," he said. 
Libbie Johnson, former University of Florida Extension agent in Escambia County, nominated Jenkins for the PEA recognition. 
"Ryan understands the science of farming and that technology plays a huge part in improving productivity, but Ryan takes his knowledge and does something that we need in highly populated counties. He shares our farming story with the public.  He has become a social media presence and influencer just by telling his story, but it's a story all of our growers experience.  Well, maybe growing peanut M&Ms is a bit of fun stretch, but that video caught people's attention," said Johnson, who recently started as the executive director of the Alabama Peanut Producers Association. 
As he and his father built the farming operation, Jenkins also did other jobs, including working as a helicopter paramedic. From that experience, he recently organized training on his farm to help first responders better prepare for calls relating to farm injuries. He also organized and hosted on his farm a career day where local students heard from dozens of agricultural professionals on opportunities the industry provides. 
Jenkins is heavily involved in industry advisory roles, as well, including with the Santa Rosa County Farmer Bureau, the Florida Cotton Growers Association, University of Florida Extension, American Farm Bureau Tech Committee, Florida Farm Bureau Peanut and Cotton Committee, Florida's Peanut Advisory Council and the with the local United Bank.
Subscribe to receive top agriculture news
Be informed daily with these free e-newsletters
You May Also Like
---