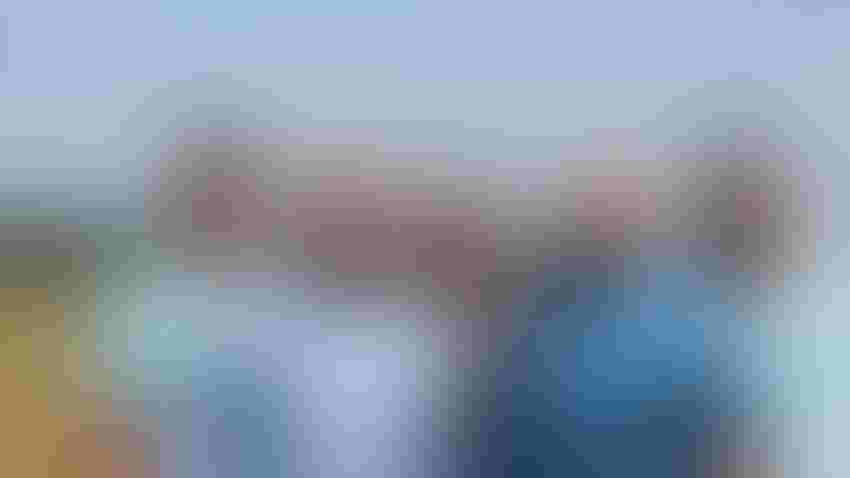 The Deanes, Hunter, Mark, Matt, Bill and Clay, farm close to 9,000 acres in in Scott County, Mo.
Brent Murphree
In the northern bootheel of Missouri peanuts are thriving. Normally confined to the Southeast U.S., the crop has taken hold in southern Missouri soil. Quality and lack of disease ensure peanuts are fully rooted in the area's crop culture.
"It's a newer peanut producing area, so our environment is not as exposed to many of the diseases they see in other places," said Clay Deane, a producer in Sikeston, Mo. "They tell us we're in the honeymoon phase and I think they are correct."
Clay is part of Triple D Farms, a Deane family partnership along with his father, Bill; uncle, Mark; and cousins, Matt and Hunter. They have been farming peanuts in Missouri since 2015 and are the winners of the 2023 Peanut Efficiency Award from the Delta.
The family has farmed in Scott County for five generations. Before farmers descended on the area, the Bootheel was home to a vast swampland along the Mississippi River that was drained in the early 1900s. Farmers moved onto the cleared land, and like the Deanes, began turning the rich soil.
The original farm was about 700 acres of leased ground south of Sikeston. Over the five generations it has increased to 9,000 acres and has extended within a 10-mile radius of the original site. Roughly 900 acres of that is now in peanuts.
Another one of Bill's sons, Will, works for the local Nutrien Ag Services in Sikeston. Clay notes that his brother is in the mix on the farm as much as he can be.
"The boys have had to learn about peanuts basically by trial and error on their own," said Bill. "What works up here might not be the same as somewhere else."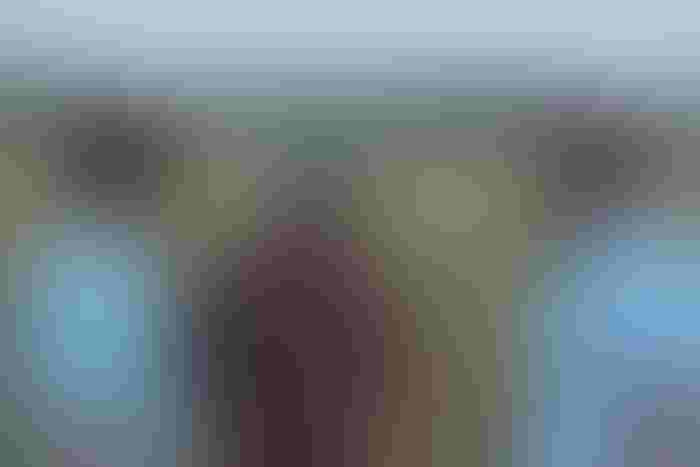 From left, brothers Hunter and Matt Deane, along with their cousin Clay Deane, work together to manage peanuts, cotton, corn and soybeans in the family operations. (Brent Murphree)
Cousin Matt concurs, "We are in a newer peanut producing area. We're much more inland and protected. We're not as exposed to disease, so we're saving money on fungicides, and we don't have gypsum costs."
New peanut region
But, they didn't know that in 2015, and planting peanuts in the area was a risk. Cooler temperatures, no infrastructure and no local advisors were factors to consider. Clay had returned to the farm after graduating from Mississippi State University where he had gotten interested in the possibilities of peanut production.
The farm economy was tough in 2015 and they were looking for options to their cotton, soybean and corn rotation. From that first crop they have learned a great deal and continue to find ways of enhancing their peanuts, in addition to their other crops.
They give a lot of credit to Alex Mayfield, a friend of Clay's from his days at Mississippi State who helped them put in the first crop.
They also give high praise to Gordon Drennan who worked for Golden Peanuts.
"He was instrumental in the first year, getting started," said Clay. "We knew nothing about peanut farming. And he had a lifetime experience in West Texas, south of Lubbock. He was valuable to us and took a lot of time, that he didn't have, to teach us about peanuts."
Since they started in peanuts, they have found that they need to pay close attention to the calendar since their growing season is shorter and they have a smaller window of opportunity to get peanuts in the ground.
"We know between April 20th and the end of April we need to be planting peanuts," said Matt. "Regardless of whether the forecast is perfect or not, in order for them to be mature enough to start digging - which is usually September 15th or September 20 – we need to be in the ground by the end of April."
They plant into a cover crop of three parts wheat, one part rye. The beds are raised and under pivot irrigation.
"We really prioritize cover crops on most of our peanut ground," said Matt. "It's soil conservation, because it is on sandy, lighter dirt. It prevents wind erosion. And we prioritize getting the cover crop sowed in the fall."
That sandy soil is also known to host root knot nematodes and they have found that rotating peanuts onto that ground, has factored into getting control of the pest.
"We do have root knot nematode problems up here on this sand," said Bill. "The peanuts seem to help get rid of that where we plant cotton behind the peanuts."
"We pulled samples on a field one year before peanuts and then pulled samples again after the peanuts," said Hunter. "We went from an extremely high threshold to basically none. So, they've helped us out a lot in that sense."
Soil conditions
Clay notes that their peanuts thrive in the sandy soil on the farm which is not always the optimum environment for their other crops.
Their water is fairly cheap and plentiful. They can pump water for the crop when needed. In addition to regular irrigation of the crop, as the peanuts are pegging, they are able to run a very light irrigation over the crop to help the pegs get started. The usage is minimal and an efficient use of the resource.
One nutrient they don't have to apply is gypsum. In some regions of peanut production, gypsum application is a necessary expense.
"We tried gypsum and ran some tests," said Bill. "I don't know if it's our soil that inherently has certain minerals in it or what, but it didn't make any difference."
They do get good nutrients from the chicken litter that they use.
"We have found to not put our chicken litter right before the peanut crop, but before a cotton crop, which is then rotated into peanuts," said Clay. "I think peanuts definitely benefit from that."
The chicken litter is equivalent to NPK 40-40-40, according to Matt. They use a ton to a ton and a half per acre. In addition to the nutrients, it also increases their organic matter.
"The peanuts pick up the nitrogen from that chicken litter," said Mark. "We get more vegetative growth, which covers the rows and the added value is that we are leaving that organic matter to benefit the sandy soil."
Weed control
While weeds can be an issue on the farm, they are able to manage them with preemergents and residuals applied in a preventative and timely manner. The cover crops also help with weed control.
"We can bypass a whole application of Strong Arm and Cadre," said Clay. "We're just not having to use some of the weed control products used in other places in the peanut industry because we don't know that they work in this area because of weed resistance and crop rotation."
He said that they are by no means raising organic peanuts on the operation, but by laying down residuals and then doing a lot of manual pulling and chopping they are able to stay ahead of weed problems. Matt added that in 2022 they only sprayed 50% of their total peanut acreage for weeds.
"We definitely have the pig weed problem that they have everywhere," said Mark. But they are able to keep it under control.
During harvest, the Bootheel is at the mercy of the weather, but dry conditions in the northern part of the Mississippi Delta led to a good harvest in 2022. They were able to harvest most of the crop without conditioners. Their quality grades were high.
The Deanes are cooperative owners in Delta Peanut, a peanut processing plant in Jonesboro, Ark., with several buying points in Missouri and Arkansas.
"Most of the growers for Delta Peanut are irrigated, which definitely increases the quality," Clay said. "That's kind of what we shoot for, mid-70s or higher."
"We shoot for a yield of three tons per acre," said Hunter.
"We budget for 2.7 tons," said Clay.
Since the Deanes started growing peanuts, other producers in Missouri have begun to include peanuts in their rotation. Estimates now place peanut production at around 25,000 acres according to some University of Missouri Extension sources.
In 2020 USDA included Missouri as a primary peanut producing state under the Peanut Promotion and Information Order. Clay currently represents Missouri on the National Peanut Board.
Subscribe to receive top agriculture news
Be informed daily with these free e-newsletters
You May Also Like
---