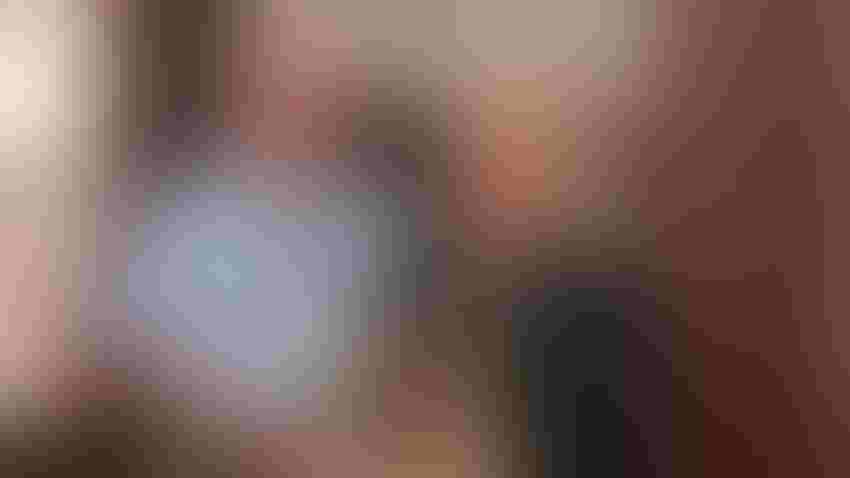 Pete Dotray, Texas A&M AgriLife weed specialist, presents the Baily Award to USDA-ARS peanut breeder Kelly Chamberlin at the recent APRES annual meeting in Savannah. The Baily Award recognizes the best research paper presented at the previous meeting.
Ron Smith
Making good peanut varieties even better is what USDA-ARS breeder Kelly Chamberlin, Stillwater, Okla., works for in ongoing trials.
"We're always trying to develop something better than what's out there. We're trying to improve them for farmers to lower their input costs. That's the bottom line. That's our goal."
Chamberlin, in a Farm Press interview at the recent American Peanut Research and Education Society annual meeting in Savannah, said sclerotinia blight resistance remains a target. "Right now, I haven't improved on the resistance we have in the cultivar Lariat. Farmers don't have to spray Lariat with a fungicide to control sclerotinia."
She says in most cases growers can plant Lariat and "forget it," as far as sclerotinia goes. "You just have to get it out at 140 days. It's an early line. If you go much past that, the peg strength is just a little weak. It's an early variety, so you can harvest at 135 to 140 days. The result is great yield and grade with lower input cost.
"I haven't developed one that has better resistance than Lariat. I probably don't need to unless that resistance breaks down but I would like to improve on Lariat, build in some other disease resistance."
She says she's making progress on that front. "I have some lines that have that sclerotinia resistance plus some leaf spot resistance. And I have some that I've crossed with a known source of drought tolerance. So, we're looking at drought tolerant, early maturing, disease resistant lines. That's our focus."
Improving efficiency
She says offering varieties with multiple advantages will improve grower efficiency.
"Using marker-assisted breeding, we have an opportunity to pyramid different disease packages, drought tolerance, and early maturity. A lot of that is in the early stages of development right now."
She's also working on what might seem an odd objective. "I am looking at developing small-seeded runners for the Spanish market because nothing that's out there right now has the disease package that will allow our farmers to grow it without having to treat for sclerotinia and other fungal diseases.
"The lines being grown now are very susceptible. The small-seeded runners will be just as susceptible to fungal disease, sclerotinia, and things like Southern blight, as regular runners."
The true Spanish varieties, she says, are more upright. "They're not as susceptible to those fungal diseases. But if we start marketing small-seeded runners as Spanish, we have to get disease resistance in those varieties. We're working on that.
Promising option
"We have one right now that Rebecca Bennett [USDA-ARS, Plant Pathologist, Stillwater] and I are looking at. It has the right seed size, good yield, and it has excellent resistance to sclerotinia blight. The only reason I didn't release it earlier is because the seed was too small to be a runner.
"We're reevaluating it. We might consider releasing it for the Spanish market if it looks good this year and next year."
Chamberlin says those efforts target primarily Oklahoma and Texas. "We have also made a lot of progress on peanut smut, which is not in the states yet, that we know of. But Rebecca and I, along with the rest of our team, have been working hard for the last five years to identify resistance to that disease, find the gene responsible for it, develop markers so we can screen for resistance, and then integrate that resistance into cultivated peanut.
"We have accomplished all of those things. Now, our team is developing resistant lines for the Southeast, the Southwest, the Virginia-Carolina region, New Mexico for Valencias, and then in Argentina. All those lines are high oleic as well. In the Southeast, our team member Corley Holbrook [USDA-ARS geneticist, Tifton, Ga.] is working with high oleic and non- high oleic because they have a need for both."
Chamberlin says breeding efforts include all four market types in all the regions in the U.S. and in Argentina to get smut resistance into cultivated peanut.
"That will be agronomically good for farmers in Argentina. This will help them economically right away. For us, we don't have the disease, but we will pyramid that disease resistance in with the diseases we do have so that if smut ever gets here, we will already have resistant cultivars being grown in the field. We shouldn't be threatened by it."
Matter of time
Chamberlin says although smut has not been identified in the U.S., it's likely only a matter of time before it gets here.
"We're not sure what caused the outbreak in Argentina," she says. "Smut was first identified in Brazil on wild peanut. Several decades later it was found in cultivated fields in Argentina and now it's in every cultivated field in Argentina."
She says the way peanut trade has evolved, spread is likely. "Global marketing, global back and forth importing, exporting of peanuts could be a factor. Weather events might also cause the disease to spread."
The goal of peanut breeders, Chamberlin says, is to have something in place when smut or other disease shows up in U.S. fields.
It's a key factor in helping growers produce high quality peanuts efficiently.
Subscribe to receive top agriculture news
Be informed daily with these free e-newsletters
You May Also Like
---