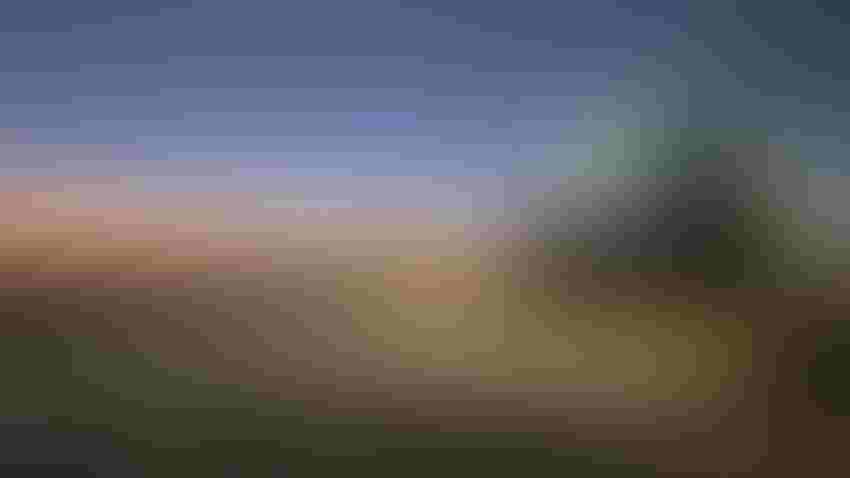 One important advantage of the Texas A&M AgriLife Master Marketer program is the potential to improve relationships with ag lenders.
Shelley E. Huguley
Part 3- Commodity market and production cost volatility make marketing and risk management more important than ever, say, economists, farmers and ag lenders. In a three-part series, those three entities show the value of marketing and risk management tools that are readily available through multiple resources, including the Texas A&M AgriLife Extension Master Marketer program.
One important advantage of the Texas A&M AgriLife Master Marketer program is the potential to improve relationships with ag lenders. 
Kenneth Hooper, Plains Land Bank, Plainview, Texas, says the program makes a difference. "I have seen changes in borrowers who have come through the Master Marketer program," Hooper says. "They have a better understanding of how to use marketing and other financial tools they didn't fully understand before. They are better able to mitigate risk, especially in times like today with such volatility."  
With over thirty years of experience in rural real estate lending in the Panhandle and South Plains of Texas, Hooper has a genuine appreciation for producers who take the time and effort to educate themselves on risk management and the financial side of a farming or ranching operation. 
Uncertainty  
He says the uncertain world our producers operate in includes interest rates. "Coming out of COVID, everyone knows that rates went up significantly. The increase has mitigated some; however, it's still likely to be volatile at least through next year, maybe longer. Everyone's crystal ball is broken." 
Hooper has participated in the Master Marketer course, offering guidance on what lenders want to see from potential borrowers. 
"In training sessions, I've been involved in, I talked in terms of what a lender looks for in a new application. What is the basic financial data needed, is there an in-depth business and marketing plan? Many Master Marketer participants, especially the younger ones who have been through the program, have the tools to develop that information. They know what a banker needs." 
Hooper says if a potential borrower comes in with a good marketing and business plan, "that tells me a lot. 
"If someone comes to me with a financial statement scribbled on a napkin, I have a lot of questions. I would not immediately turn down the loan, but I would be at a much higher comfort level in extending credit to individuals who know where they are, where they are going, and how they are going to get there." 
Hooper says lenders work with borrowers in different ways, depending on relationships built over years.  A new applicant does not have that advantage.  "It is important to have complete, accurate financial information to get the relationship off to a good start."  
Consider ROI 
He says producers need to look at more than just markets and operating costs. "They should ask: what does it cost me to operate and to live? Living expenses can be all over the place. They need to have a handle on that. 
"I see a lot of young operators who are willing to do whatever is necessary to build the operation.  Acquiring land in smaller tracts, building equity, then leveraging it to acquire more. Multiple sources of income are not only a good risk management tool, but they can allow the farm operation to stand on its own financially.  
"When a lender sees more than one cash flow mechanism, he feels better, even if the revenue source is just enough to cover living expense. Any time producers can mitigate risk it is important that they use all the tools available." 
Supplemental income 
An additional cash flow option such as custom farming could help mitigate the cost of equipment, Hooper says. 
Farmers today are working "in a different world from my dad with equipment costs," Hooper says. "Every new piece of technology has a dollar figure attached to it. 
"Borrowers should know how an investment in a spray rig, a picker baler, or a combine will result in a return. Looking at how that machine can make money and work in the personal operation is an important consideration. 
"That kind of business plan is crucial to the farm or ranch and is a critical part of the Master Marketer program." 
Hooper says the time and money producers invest in Master Marketer is well spent. 
"It's a good program. There is no such thing as too much education. These courses provide excellent tools for farmers in the first, second, third or 20thsession they go through.  
"Master marketer is a great place to get information from credible resources and can be used immediately on the farm or ranch back home.  It is presented in a classroom format without any pressure to purchase something.In volatile times like we are in today, it is vital for producers to be as confident in financial matters as they are in growing a crop or raising a calf." 
Subscribe to receive top agriculture news
Be informed daily with these free e-newsletters
You May Also Like
---