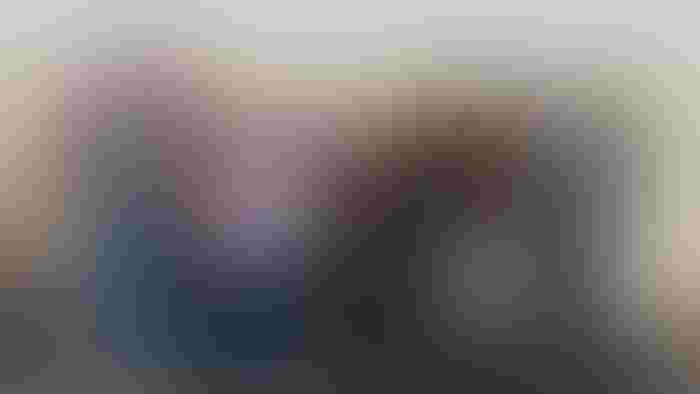 Gibson Family, from left, Katilyn, Braden, Audrey, Cutler, Brett, Paula and Lee Gibson, and the Strohmeier family, Everett, Katie (the Gibson's daughter), Ellie, and Tom — operate a diverse operation in Moore, Hartley and Lipscomb counties, Texas. Madison Stallwitz
When Paula Gibson took over marketing chores for the family farm following her father's illness in 2005, she knew she needed help. 
"In my previous life, I was a nurse," Gibson says. "Although I grew up on the farm, I did not know markets, seasonality, and budgets that change every year." 
She says her nursing career included administration and experience with budgets, which helped her adjust to helping manage a 5,000-acre diversified farm in Moore, Lipscomb, and Hartley counties in the Texas Panhandle. 
"I had to learn about farming and marketing. Every year is different. We have no cookie-cutter budget we can use every year. 
"My father was the one who did the marketing," she said. "My husband was in production, so I retired, and I had to learn. I didn't have a clue." 
She says a Texas A&M AgriLife Extension program was a good place to start. She enrolled in her first Master Marketer program in 2005. 
She's enrolled "four or five times. I can't remember exactly," she says.  
"I learned that first time that we did not have a marketing program. We were not doing any of the things Master Marketer was teaching.  We had been trying to get the best local price we could; we were not hedging or considering the seasonality of the markets, not trying to discover the best times to sell."  
Starting from scratch 
She says she had to learn everything. "The most important lesson was to know what our costs were and what our expenses were and then figure how much we had to make and what price we had to have. If we know that, the market will usually give it to us at some point. But we have to watch it; that price could come in the middle of the day and then go away."  
Risk management 
She says Master Marketer taught participants how to manage risk.  
"I have also learned a lot about insurance and how to use it as a hedge. I learned about weather. Master Marketer is in-depth learning; the reason I continue taking the class is that I always learn something new." 
She says Master Marketer has been a family affair. "My husband, Lee, has taken the Master Marketer course and so have our sons, Braden and Brett, and our and daughter Katie.  
"I'm the one responsible for watching markets, so I take advantage of other Texas AgriLife short courses to keep up with trends. I read Dr. Mark Welch's weekly newsletter. He's  wonderful." 
She says the complexity of dryland and irrigated corn, cotton, and wheat cropping system, (in addition to sunflowers last year), haygrazer, a seed wheat contract, and a cattle operation demands attention to details. She picked up some management strategies at Master Marketer sessions. She also works with Texas AgriLife Risk Management Specialist DeDe Jones, Amarillo. 
"DeDe helps with analysis," Gibson says. "She always checks several scenarios. This year we might look at backing off cotton; it doesn't look good right now. We're wondering what else to grow, maybe grain sorghum. We will use an Extension program to run an analysis."   
She says the program is extremely helpful and "very affordable. We've been using the service for 10 to 12 years or longer. DeDe works on five-year projections. Bankers are impressed with our risk analysis, which helps us to identify and address risk factors."   
Gibson Farms recently added another wrinkle, chopping silage for dairies. "They are building the biggest dairy in the world in Moore County," Gibson says. "Chopping silage adds another line of business to supplement the farm."  
Follow the process 
She says they have a process they follow each year to establish budgets and set market targets. 
"In December and January, we analyze our crop rotation. We're completing that now, deciding what to look at for 2023, determining what looks to be the best options.  
"We consider market prices and production. Then we decide on acres. This early, it's an estimate.  
"With that information, we develop a budget. We play with several scenarios and see what works. We use A&M budgets but also  consider local expenses, which vary."  
All that information goes into the final budget. "It's complex and includes the cost of production. We add in overhead and debt and that skews it a bit. We might see that we have to do a little better. 
"We have target prices in mind. I have one basis contract for corn so far this year. I have a wheat seed contract, looking at $2 over July. We hit that target price recently, $10 per bushel. Watching markets closely makes a big difference. 
"We take all of that information to a lender and anyone else who needs to see a budget." 
Next generations 
Gibson says their sons and daughter represent the fifth generation on the farm. "Our grandchildren will be sixth generation." 
She says keeping an eye on markets, managing risks, and looking for new opportunities is important to assure Gibson Farms will continue through many more generations. 
Subscribe to receive top agriculture news
Be informed daily with these free e-newsletters
You May Also Like
---