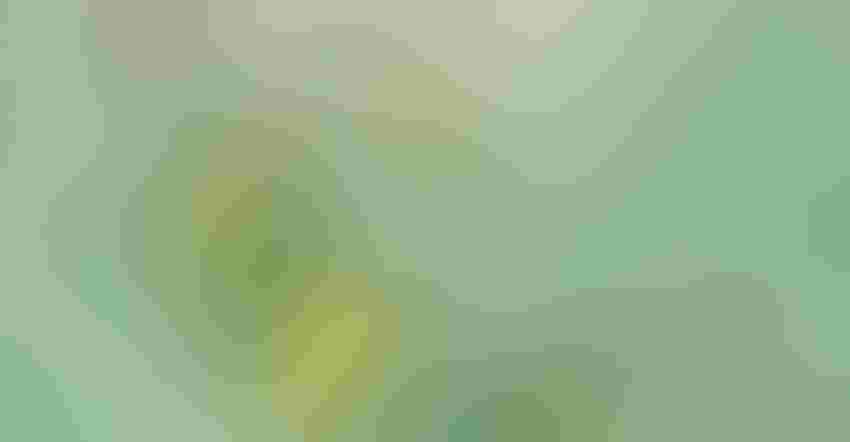 SOYBEAN APHID: This insect has become a serious pest of soybeans in the Midwest. These aphids are small, yellow insects and may be either winged or wingless. They are often found on the underside of soybean leaves.
The 2016 Yellow Book for Soybean Aphid, CROP 3109, is available as a free download through the Iowa State University Extension Store. The publication provides soybean aphid treatment recommendations and application rates based on research conducted at both the Iowa State University Northeast Research and Demonstration Farm, and the Northwest Research and Demonstration Farm in 2016. The report also includes insecticide effectiveness ratings on soybean aphid and yield results. It has information on the soybean aphid life cycle and scouting methods, too.
The Yellow Book has been published annually since 2005 with trial results and evaluations. Erin Hodgson, associate professor and Iowa State University Extension entomologist, has been writing the publication since 2009.
The soybean aphid, a native of Asia, has been in the Midwest since 2000 and has quickly become a serious pest of soybeans in Iowa and other states, she says. The aphids are small (less than 1/16 inches in length), yellow-bodied with distinct black cornicles, and may be winged or wingless. They are typically slow-moving and often found on the underside of the newest growth on a soybean plant.
Insecticide failure confirmed
For the first time during the 2016 growing season, insecticide failure was confirmed in Iowa. Pyrethroid insecticides are a common insecticide group, but did not have any knockdown in this commercial soybean production field, says Hodgson.
"This may force farmers to switch to a different kind of insecticide, most likely organophosphates," she says. "If pyrethroid resistance becomes more common, it will limit the tools that can be used and can increase input costs."
Checking to make sure insecticides are working now becomes a priority. "If you are going to apply a foliar insecticide, make sure to go back and scout the field after you apply the insecticide to make sure there are no survivors after application," she advises.
Learn more about aphid control
Hodgson is presenting much more information about the insecticide failure during the 2017 Iowa State University Extension and Outreach Crop Advantage Series of meetings being held at various Iowa locations this month.
To run the insecticide treatment tests on soybean aphid, ISU researchers used land in two sections of the state, getting dramatically different results in each area. Soybean aphid populations never reached their threshold at the Northeast Research Farm, while significantly exceeding that threshold at the Northwest Research Farm.
"Overall in my evaluations, treating with insecticides at the economic threshold provides a strong yield response," Hodgson says. "That tells me the threshold is still valid and farmers should adopt scouting to reduce input costs."
Subscribe to receive top agriculture news
Be informed daily with these free e-newsletters
You May Also Like
---