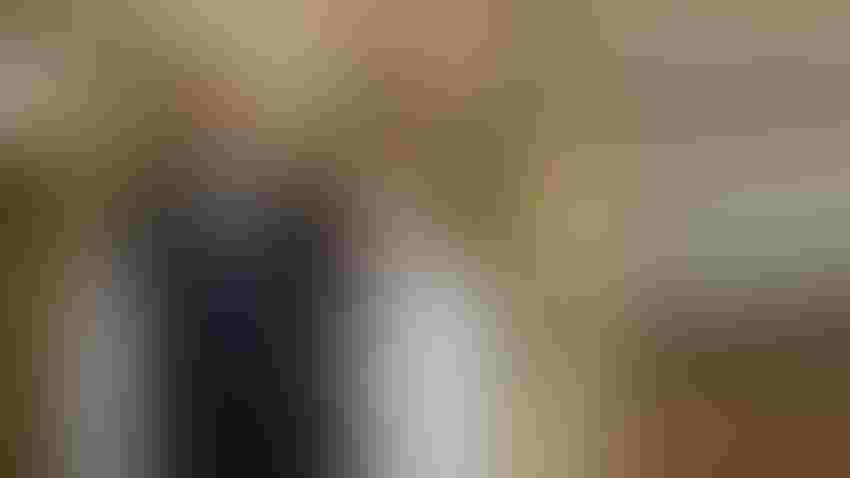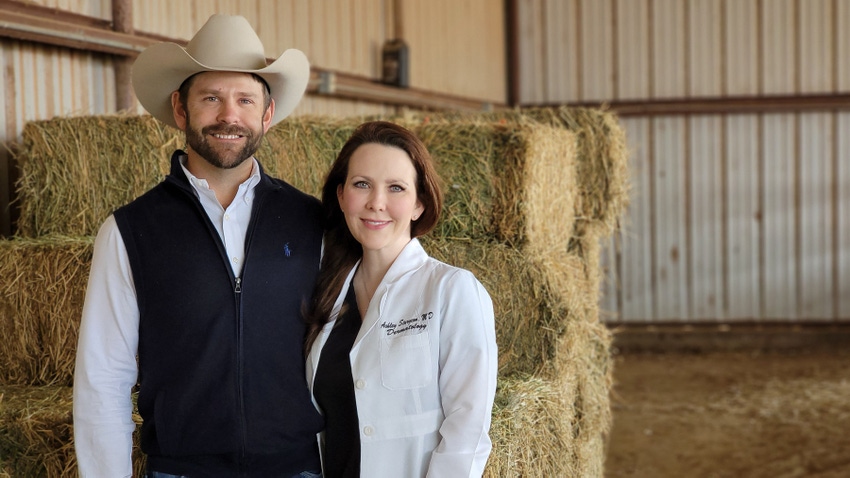 Lubbock County, Texas, cotton producer Jason Sturgeon with his wife and dermatologist, Dr. Ashley Sturgeon. Dr. Sturgeon stresses the importance of self-checks and reapplying sunscreen.
Shelley E. Huguley
May is Melanoma Awareness Month. And although it's June, it's never too late to talk about skin cancer and the importance of wearing sunscreen. As producers, their employees and all those who work outside on behalf of agriculture head to the fields, stop and apply before you drive.  
I often consult with Lubbock, Texas, dermatologist and farmer's wife, Ashley Sturgeon, Dermatology Associates of West Texas, formerly known as Paulger and Wisniewski Dermatolgy. Her husband farms in Lubbock County and while he's in the fields growing cotton, she's in the office evaluating people's skin.  
Dr. Sturgeon said it's important to apply sunscreen to obvious places like the face, neck, tops of arms… anywhere exposed to direct sunlight. But she also reminds producers to apply it to the tops of their hands and ears, tip and corners of the nose -- places that often get overlooked.  
"The sneakiest skin cancers happen behind the ears and surprisingly in the corners of the nose. I always check my farmers for scaly spots," Sturgeon said in a 2022 Farm Press interview.  
Dr. Sturgeon said reapplication, not necessarily SPF, is key. "A lot of the talk over SPF is marketing. What the American Academy of Dermatology said is you need an SPF 30 or better. So, I do 30. I don't think you need more. If you put on SPF 80, that doesn't mean you don't have to reapply." 
She recommends making an application first thing in the morning and then every two hours throughout the day for continuous protection. 
Long sleeve shirts also are beneficial. Jason and my farmer wear thin fishing/outdoor shirts. "They're moisture wicking and have an UPF of 50 woven in, so when you're wearing them not much sun is going to get through." 
Self-checks followed by annual skin-checks by a dermatologist are important as well. "An ounce of prevention is worth a pound of cure. You don't want to grow a big skin cancer on your arm and then I have to put stitches in, and you can't lift anything over 15 pounds for two weeks in the middle of planting or harvest." Take time now. It could save your life.   
"You hear about melanoma being deadly and horrible and it certainly is, but if you catch it early a simple procedure could cure it. Once a month, check over your skin to make sure nothing is growing or changing and report any unusual behavior to a dermatologist immediately." 
My farmer is red-headed and fair-skinned. He's been in the sun his whole life. In fact, the first tractor he drove didn't have a covered cab. After I first interviewed Dr. Sturgeon, he attended a free skin-check she held. He's been making bi-annual visits ever since. He's had several spots burned off and a couple removed and biopsied. I'm thankful these appointments are a priority.  
Producers spend a lot of time and resources protecting their crops. Don't you think your skin deserves the same attention? Scouting and treating your skin could save your life. 
Subscribe to receive top agriculture news
Be informed daily with these free e-newsletters
You May Also Like
---