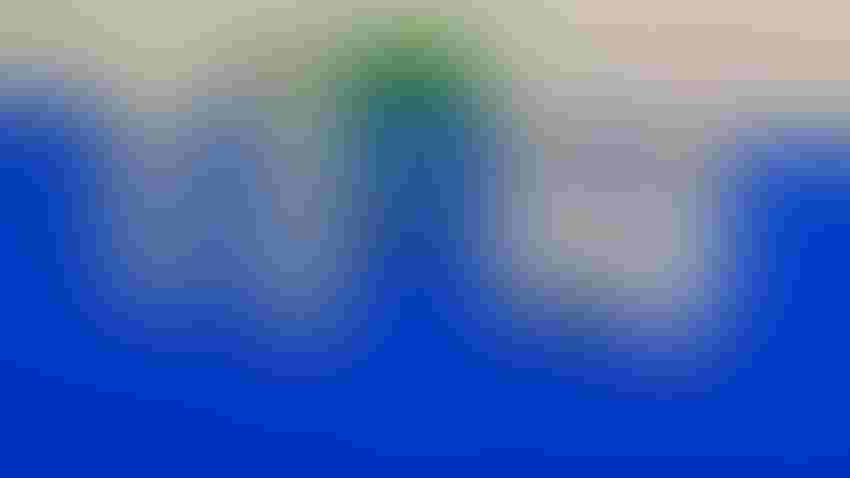 Biodegradable hydrogel beads are already commercially available for things like house plants. University of California researchers are studying whether they can be infused with small amounts of pesticides to control ants in orchards and vineyards.
Todd Fitchette
The same hydrogel technology in diapers that keeps toddlers dry is viewed as the next environmentally beneficial tool to control ants in cropping systems.
University of California Entomologist David Haviland is studying how hydrogels infused with as little as 1% of the label rate of approved pesticides can control ants in tree nuts and vineyards. Controlling sugar-feeding ants in citrus groves has already been shown to be effective in aiding biological control efforts, according to work by UC Riverside Entomologist Mark Hoddle.
Haviland is extending on Hoddle's work in citrus to give beneficial insects a fighting chance in their attack against the vine mealybug.
The goal: help farmers reduce their use of chemical pesticides for mealybug control. Controlling ants in almonds is critical at harvest when nuts are drying on the ground.
Hoddle's work to control ants where the Asian citrus psyllid is in citrus groves has shown to be effective when ants are controlled and the tiny parasitic wasps that attack the ACP are allowed to work.
Haviland believes the same could be true for controlling vine mealybug in vineyards for much the same reasons as Hoddle and other researchers have seen.
The sugar-feeding ants become highly protective of the honeydew excretions of insects like the vine mealybug and ACP. These sugar-laden excretions are preferred food for the ants, and any insects that challenge that source are quickly attacked by the ants. The ants typically win that fight.
Armed with grants from the California Department of Pesticide Regulation, researchers are testing a hypothesis surrounding the use of tiny hydrogel beads infused with small amounts of sugar, and even smaller amounts of approved pesticides. The pesticides being tested include those already labeled for application in vines, tree nuts, and citrus.
Timing must be managed
While the idea has merits and research work is promising, Haviland says the timing of these bead applications, if approved, will need to be carefully managed. The beads can work well in the spring, but once the vine mealybug begins producing honeydew in May and through the summer months, the ants will avoid the sugar baits in favor of the honeydew excretions.
The research studies continue as commercial availability of the technology remains blocked by regulatory restrictions. The pesticide infused hydrogel beads are not commercially available because they have not been approved by DPR or the EPA, Haviland said. Some of those in DPR seem agreeable to the technology, he said at an Extension meeting in Bakersfield recently. Others in DPR apparently view the hydrogels as an adjuvant and therefore must be approved by regulators before a label can be issued.
In his vineyard studies, Haviland soaked hydrogel beads in pesticide solutions at 0.1% and 0.01% of the field rate that these same insecticides could legally be applied to crops. Once infused with the pesticides. The beads were broadcast in fields.
Field trials included several active ingredients, including Abamectin, Pyriproxyfen, Spinosad, and Thiamethoxam. While all showed levels of success when compared to the scientific control, Haviland said the Thiamethoxam showed the highest level of success in his studies.
Haviland is optimistic that the technology can be safely employed on a commercial scale. He pointed to the use of pesticide-laced hydrogel beads in a controlled project in a nature preserve on San Clemente Island to eradicate the Argentine Ant.
"The bottom line is we're using 1% of the pesticide per acre that you're allowed to apply directly to the harvest crop within days of harvest, and we're not even applying to the crop," Haviland said.
This work by Extension researchers continues as growers had one of their more effective chemical tools – chlorpyrifos – eliminated by the EPA due to concerns about its safety. The loss of these products pushed farmers into other products that are less effective and more costly to employ. Researchers like Haviland and Hoddle continue to work on practical solutions for farmers to control problematic pests that will allow them to better rely upon beneficial insects.
Subscribe to receive top agriculture news
Be informed daily with these free e-newsletters
You May Also Like
---