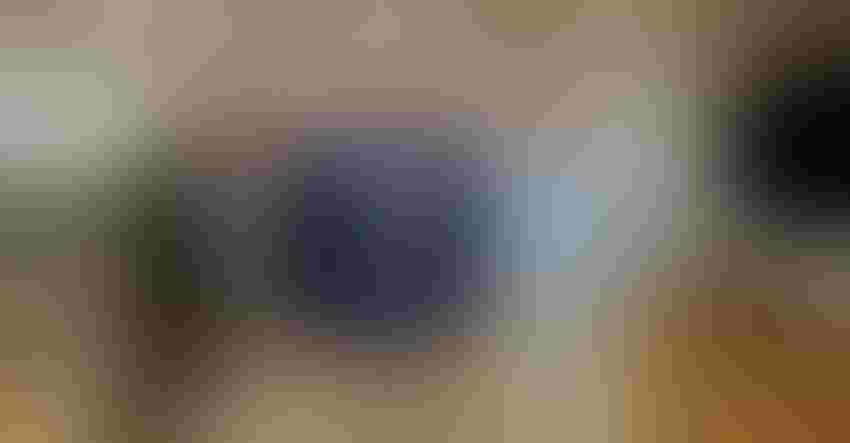 Blair Fannin, associate director of communications at Texas A&M AgriLife Extension Service, left, Alex Thomasson, professor and cotton chair, Department of Biological and Agricultural Engineering, Texas A&M University, center, and Ron Smith, content director, Delta Farm Press, at the 31st Texas Plant Protection Association Conference.
Precision agriculture. Big data. Artificial intelligence. What does it mean? How do they differ? And how do they affect agriculture?
Alex Thomasson, professor and cotton chair, Department of Biological and Agricultural Engineering, Texas A&M University, taught a crash course on ag technology at the 31st annual Texas Plant Protection Association at Bryan.
"Precision agriculture basically means applying inputs like seed, water, fertilizer, crop protectants, labor, fuel, et cetera, at the right location, at the right amount, at the right time," Thomasson says.
See, Smart machines make instant management decisions
Precision agriculture, he adds, requires three components:
Data about the field conditions. "Those can be things that are static, like soil texture, or they can be dynamic, like weed pressure or the response of plants to weather."

Analysis. "That's where artificial intelligence comes in. Historically, we've done analysis in different ways, but analysis includes artificial intelligence."

Smart machines. "This is the electronics and mechanics that go together to implement decisions your analysis is making: Where do I need to apply fertilizer or how much or at what time?"
Precision agriculture, Thomasson says, has been used for the last 25 years. Within that timeframe, technologies have been developed and adopted such as GPS, auto steer, grid soil sampling, yield monitors and sensing technologies.
See, Juan Landivar receives Norman Borlaug Lifetime Achievement Award
Big Data
But with technology comes lots of data. Big data.
"Big data is defined as data sets that are so large and complicated that they are beyond the ability of common software to deal with them. The difficulties presented by big data involve storage, analysis, transfer, etc.," Thomasson says.
A spray map requires little storage space, while data collected from drone images or video cameras on machinery "balloons," says Thomasson. "It's a problem."
But organizations are trying to deal with big data, including international soils libraries and general agricultural databases, such as the Ag Data Coalition, a grower oriented semi-public consortium that stores farm data and works to enable people to do some analysis on it to gain insight for their operations.  
Big Data Issues
With data coming from different sources, different machinery and different companies, data compatibility can be an issue as well. An international protocol, ISOBUS, helps ensure compatibility. "If you have a Case baler and a John Deere tractor and you want the John Deere tractor to know how much work the Case baler is doing in a particular location in the field so it can automatically speed up or slow down, both of those machines have to be ISOBUS compatible so they can speak to one another."
Other big data issues Thomasson says will need to be resolved:
Veracity- "I call it the problem of error. How much error do we have in our data?"

Accessibility- "What's the accessibility of the data? If things are difficult to use for the grower, the grower won't use them. The grower might rely on his agronomist or consultant but if the data are difficult for the consultant to use, they won't use it, so there's a lot of effort into making these data accessible for people to use in a meaningful way."

Data ownership and privacy.
Big Data's Impact
But how does big data relate to agriculture? Thomasson notes a lot of opportunities. "If you want to predict the yield on your fields early in the season based on things that have happened up to that point, big data is really useful. If you want to optimize inputs, whether it's fertilizer or herbicide, big data is also useful in that."
But he adds, "All of these issues need to be worked on to get us to a point where everybody's satisfied with where we are on big data."
Artificial Intelligence
So, what do we do with big data? How can all of this material be translated into usable information? Artificial intelligence. "Rather than developing data models based on science, AI is typically just looking at the data and finding the patterns," Thomasson says.
See, Microsoft offers AI for agriculture
AI uses big data as experience. Thomasson compared it to an older person. "You've got the experience and, therefore, people listen to you. That's the way artificial intelligence works. When a particular set of circumstances occurs, it decides what to do based on experience." With AI, an immense amount of data is gathered, scenarios run, and patterns created. Experience.
In farming, growers consider things like agronomic principles, plant physiology, soil science and economics. "All of these things are blended together in the artificial intelligence to automatically decide on things the way you would," Thomasson says. " Ultimately, we want AI to predict what might happen, prescribe what to do and then smart machines can implement the prescription."
Today, we have a lot of technologies we didn't have 20 years ago, Thomasson says. "AI is one that has a lot of promise. A lot of hype, a lot of good things are going on, but I think we'll see it slowly improve farm decision making."
Subscribe to receive top agriculture news
Be informed daily with these free e-newsletters
You May Also Like
---