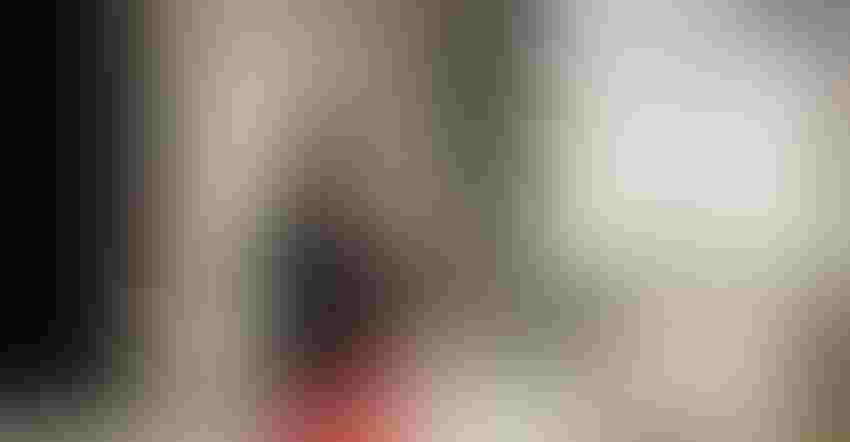 Claudia Roessler, director of agriculture strategic partnerships, Azure Global Engineering, Microsoft Corporation, explains how Microsoft is assisting agriculture with artificial intelligence platforms.
Ron Smith
"Who would have thought, just a few years back, that we would be talking about artificial intelligence at an ag conference?" asked the leadoff speaker for the 31st annual Texas Plant Protection Association Conference.
And who would have thought that a representative from Microsoft would travel to Bryan, Texas, in early December to address TPPA members?
See, Juan Landivar receives Norman Borlaug Lifetime Achievement Award
Claudia Roessler, director of agriculture strategic partnerships, Azure Global Engineering, Microsoft Corporation, did fly from Washington state, and she told the TPPA audience that artificial intelligence promises to revolutionize agriculture. "Farmers can produce more with fewer resources," she said.
Knowledge in agriculture is and always has been crucial to feeding individuals, families, tribes and now a global population. "A lot of know-how has been handed down from one generation to another since the beginning of agriculture," Roessler says.
Modern agriculture, equipped with sensors, satellite imagery and unmanned aerial vehicles, creates massive amounts of information and a massive quandary about what to do with it.
Artificial intelligence, Roessler says, offers a solution. "Artificial intelligence feeds off massive amounts of data. Human memory is limited. We have no way to access or manage all the data available in a technological world.
"Big data includes an enormous amount of information, including trends and patterns not visible to the human eye. Artificial intelligence looks for those patterns."
Roessler explains that information gathering tools such as moisture monitors, weather stations and GPS units, collect and store information but it takes AI to put it to work.
See, Smart machines make instant management decisions
"How will all that data help agriculture?" She says the next step is using that information to make farm management decisions. "We have to predict what will happen," she says.
Artificial intelligence, armed with the accumulated knowledge, considers environmental conditions, crop choices, field history and other factors to make decisions. "It's used across the agriculture value chain," she says.
The technology, she adds, works through variable rate seeding and fertility, irrigation timing and for sustainability issues.
Anticipate consumer preferences
In the future, Roessler says, artificial intelligence will help farmers and others in the food industry anticipate consumer demand. Technology could instruct plant breeders on what new products to develop.
Artificial intelligence could help reduce food waste by predicting food choices. "Currently, we can't predict demand," she says. "But consumers are showing preferences as the food industry becomes more complex."
She explains that AI technology senses and learns as it receives more data.
She notes some real-world applications already in effect. Livestock producers are using robotics to monitor animals; smart greenhouses are monitoring temperatures and anticipating what changes will be necessary in real time; precision irrigation systems anticipate the effects of coming weather on crop needs and placement of equipment to protect it from storm damage.
Combined technology
She says combining data from different technologies also offers a more accurate evaluation of field conditions.
Soil sensors, for instance, provide moisture evaluations for parts of a field. "No one can put sensors in every corner of a field," she says. But stitching the sensor information together with data from drone passes, provides producers a comprehensive look at the entire field.
Combined data, she adds, tracks what has been applied. "Artificial intelligence tools learn over time and provide analyses that allow producers to reduce the costs to apply inputs."
Fewer trips across fields with tractors, irrigation units or other machinery, Roessler says, enhance the assets' lifetime.
She cites current studies on a greenhouse operation that shows a 17 percent higher profit, partly from optimizing light by predicting when lighting will need to be adjusted before conditions demand it.
A vegetable farm, because of AI technology, uses 30 percent less water and 44 percent less time to manage soil pH. The system also helps identify and manage drainage issues.
See, AI will improve on-farm decision-making
he says a combination of precision moisture maps and drone imagery provides information useful in variable rate seeding. "We combine image data and sensor information to cover an entire farm. Drone imagery shows soil conditions in places with no sensors."
Other options include planting date decisions. Roessler cited a study in India that recommended a 10-day delay in planting, a recommendation that went against routine practices. Yields improved significantly.
Data rights
Roessler says data protection remains an issue, since, to be effective, data owners and managers need to share information to gain the greatest benefit.
"Data protection is important, so we have to make certain companies can share data without giving away data rights."
She says companies may bring different elements to the program. "One supplies the data; the other brings the model."
Artificial intelligence, by nature, will change as managers add more data, enhancing the system's knowledge base.
"AI will be widely used in the future," Roessler said.
Adoption by agriculture offers significant benefits. She says artificial intelligence helps farmers make more informed management decisions.
"A farmer may want to optimize return on investment for the next planting season. Planting advice and inputs would vary from where you optimize for highest yield."
She says farmers can evaluate best profit options. "How much money do we need to invest? We can use this for planning; we can use it in-season to change recommendations, based on how the crop is progressing and considering the environmental conditions. We can look at harvest to analyze how well you did."
Artificial intelligence, Roessler says, offers agriculture, throughout the value chain, opportunities to take all the data they collect from many sources, plug it into an AI system, and use information to make in-season and longer-term decisions.
As she said, who would have thought?
Subscribe to receive top agriculture news
Be informed daily with these free e-newsletters
You May Also Like
---