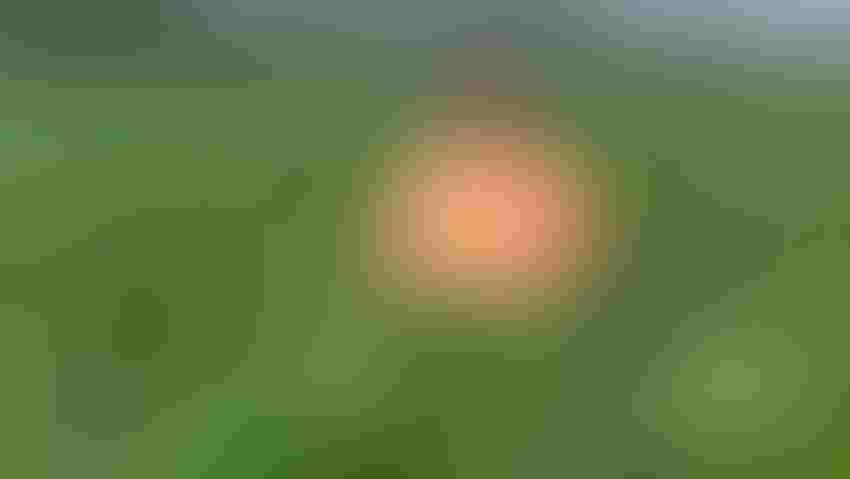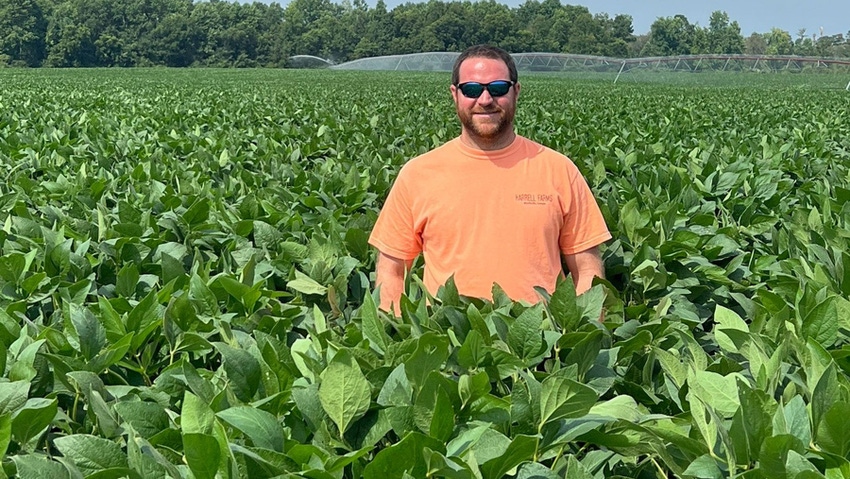 As the yield monitor steadily ticked, Alex Harrell realized the combine was in world-record soybeans, hitting a 206.7-bushel average in the Georgia field.
"Just seeing those numbers go across the yield monitor was pretty surreal, but also pretty neat to see and know," Harrel said, Aug. 24, standing in the spot in his field where the record soybeans were harvested.
The 2.5-acre soybean plot was official entered in the University of Georgia Extension soybean yield contest. UGA Extension Lee County coordinator Doug Collins was there to verify the massive accomplishment.
On April 5, Harrell, 33, planted Asgrow's AG48X9, an indeterminate group IV Roundup Ready 2 Xtend and SR stacked variety. The 60-acre pivot field where the contest plot nestled is a typical regional mix of loamy sand and clay. The field had corn on it last year. After corn harvest, he planted a cover mix of triticale, cereal rye, radish and oats.
"Then we pulled soil samples on one-acre grid to establish our trend line. We do that with every field. We variable-rate lime off of that, and we applied a gypsum land plaster to build base saturations. We came in March with our burn down. We ran a strip-till rig and made a seed bed," he said.
He planted 85,000 seed per acre on 30-inch rows. After planting, the field received a heavy rain that packed the soil. His final stand was 77,000 plants per acre, but the emergence was uniform.
At the V1 stage, he started pulling tissue samples every Monday to set a trendline for fertility needs.
"We were foliar feeding, we were injecting through the irrigation. We ran Y-drop rig through three times to band nutrients right over the row. Anything our trend line told us we were short on or lacking, we could spike those in and bring those levels up," he said.
He ran a preventive program, staying ahead of insect and fungicide pressure.
"If we found a worm or stink bug, it got sprayed. Just like we do our fungicides, we try not to wait until we see a problem," he said.
He applied a fungicide at planting and three more during the growing season, one application at vegetative stage, one at R1 and one at R3.
He didn't use irrigation monitors but kept the soybeans checked and watered ahead of wilt. In early June, the region received almost two weeks of heavy rain, as much as 10 inches in spots.
Planting the soybeans in April allowed Harrell to manage the beans during the best weather window in Georgia, where there's a chance for 60-degree nights during pollination, leading to a time to harvest the beans before the threat of tropical storms.
For his yield success, Harrell credits the Total Acre Program established by corn and soybean yield champions David Hula and Randy Dowdy. Dowdy set the previous soybean yield record of 190 bushels per acre in 2019.
Harrell farms with his father, Rodney. This year, they planted 3,000 acres of soybeans, corn, wheat and watermelons.
Dewey Lee, longtime UGA Extension small grains specialist now retired, has worked with the Harrell family for decades. He said Alex is a young farmer who tries new practices to push the edge. "And he certainly did with this incredible yield, showing what can be done with soybeans," he said.
Subscribe to receive top agriculture news
Be informed daily with these free e-newsletters
You May Also Like
---