Randy Dowdy breaks 400-bushel corn barrier in challenging year
Randy Dowdy breaks 400-bushel corn barrier in challenging year
South Georgia farmer Randy Dowdy broke the 400-bushel barrier in corn yields in 2013.Weather conditions caused a one-month delay in planting corn.This past year proved the importance of weather conditions during certain grain-fill periods.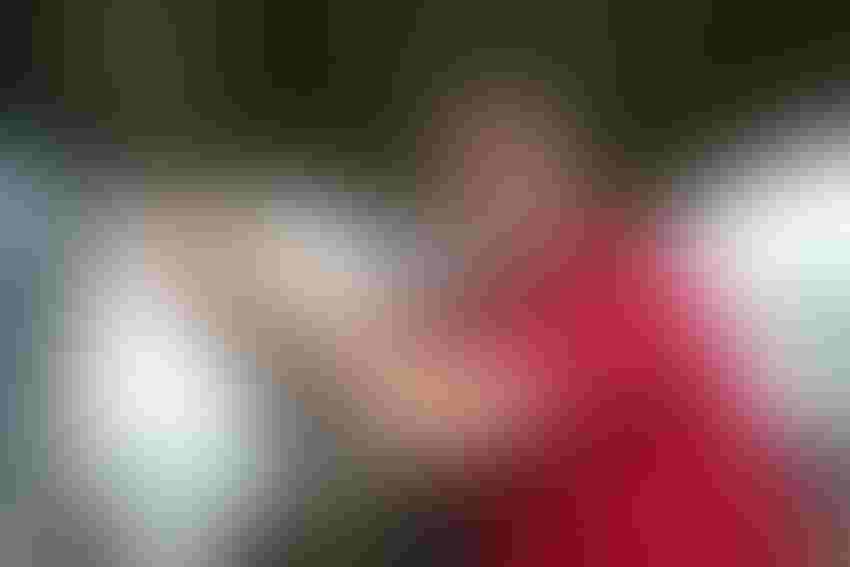 <p>SOUTH GEORGIA&rsquo;S RANDY Dowdy broke the 400-bushel-per-acre corn yield barrier in 2013, despite some of the worst weather conditions he has witnessed as a farmer.</p>
Editor's note: This is Part I of a two-part series focusing on perennial national corn yield contest winner Randy Dowdy of south Georgia, his 2013 crop, and his plans for next year.
There are thousands of entries in the National Corn Growers Association Yield Contest each year, so there's no sure thing when it comes placing among the top finishers. But south Georgia's Randy Dowdy probably would be disappointed if he didn't see a respectable finish for himself this year.
Despite some of the worst weather conditions he's ever seen, he broke the 400-bushel barrier in 2013. It's an achievement that's extremely rare on a national level and non-existent – until this year – in the lower Southeastern United States.
Dowdy says he's honored and thankful to have hit another plateau in growing corn. It's especially a good accomplishment for Georgia, considering some of the poor soils in the state, he adds.
"It was really a shock to see that some of those yields were as high as they were," says the Dixie, Ga., farmer. "It says something about the hybrid and its resilience. I knew the corn was going to be good, and I knew it was going to break 300 bushels, but I really didn't think it would go as high as it did. I didn't break 400 bushels once, but I broke it twice. When that happens, you start looking back at the year to see what was different."
When reflecting on the year just finished, Dowdy says he started realizing how important good weather is to certain parts of corn grain fill. "With those earlier maturing varieties and earlier planting dates, we were much better off. The lesson learned for the future for the people I advise and consult with is if you're going to be hell-bent on planting everything in a week to 10 days, you had better spread your risks across relative maturity and across hybrid selection.
"The variety that made me my best yields in 2011 and 2012 also made my worst yields this year. I didn't do anything different, but I had some of it planted 10 days earlier, and it was fantastic. It was all about planting date and what stage of growth it was in during that stress period of low sunlight and high rainfall," he says.
While Dowdy has always planted multiple hybrids over his acreage, he'll take that philosophy to another level next year.
For more on Randy Dowdy's operation, see Georgia yield champ is student of growing corn and Corn yield champ says challenge is to change.
Will spread risks in 2014
"For next year, I'm still planning on planting all of my acreage over a week to 10-day period, but I'm going to spread my risks even more, over relative maturities and with different plant populations. The greater the plant population, the more things that have to go right, such as sunlight being crucial to the success of the crop.
"It's something we could all do a better job with, so spreading my risks will be my major priority next year. We had 200 acres that were terrible, and it was nothing I did. The kernel count and the ear count were there. But the grain quality was terrible. It's tough when the grain rots on the ear."
This past year was literally the best of times and the worst of times, says Dowdy.
"It's one thing if the quality reduces yield. But if you can't sell it, and it's a total loss, that's something else altogether. I still haven't sold some of my corn, and I'm not sure what I'll do about it. It was truly a year of the haves and the have-nots."
In a word, this past year was tough, he adds. "I picked some of the best corn I've ever picked, and ended up picking some of the worst corn I've ever picked. It started out wet and cold, and we didn't think we'd ever get it planted – we were about one month late getting corn in the ground."
To make things even more interesting, Dowdy added acreage in 2013.
"I picked up about 600 to 700 acres of cropland this year, and about 10 percent of it was in pines and hardwoods that had to be cleared before we could set up a pivot. That was a little educational for me. I had some new ground to go under pivots, and that's always a challenge because there's no fertilizer in the soil and there lime and pH issues. It was exciting to get the opportunity to grow some new acres, but I had land that was 35 miles from my house. That was a different experience. I put a lot of miles on my truck and a lot of sweat equity into this new cropland."
Counting the double-cropped acreage, Dowdy is now farming about 1,800 to 2,000 acres. This past year, he had 470 acres of corn, 300 acres of peanuts, just under 200 acres of wheat and soybeans double-cropped behind wheat, and 400 acres of cowpeas behind corn.
Planting season started slow
"This year just started out slow," he says. "Normally, I'm finished planting corn by April 1. I started on March 12, planted 20 or 30 acres, and then planted about 100 acres March 18 through 22, including 80 acres in one day. Then, we changed farms and got 9 inches of rain in a two-week period on the corn that was planted early and lost part of our stand, but it turned out to be the best corn we had.
"Corn that was planted through April 14 was phenomenal until six weeks before harvest. During those last six weeks it rained every day, and the weather was cloudy. On Aug. 29 or Aug. 30, I picked my last acre of corn, and that was a full month later than normal."
From Jan. 1 through the end of August, the rainfall total here on Dowdy's farm was about 80 inches. He normally get about 50 inches, so he was 30 inches above the yearly average.
"It was wet, and it really took a toll on grain quality. The ears on the newer hybrids stand up, shucks are loose, and some are more susceptible to ear rot. It was all about planting date and the relative maturity of the hybrid that was planted. With these hybrids standing straight up, the shucks are loose and water goes down into the ear. Grain damage to some of these varieties was up to 50 to 60 percent. It was so bad that I don't even think I'll be able to sell it. But some of the earliest corn I planted was some of the best corn that I had."
Dowdy says he would rather have finished the season on a high note instead of a low one, but that's part of farming.
With peanuts and soybeans harvested, Dowdy was looking to harvest cowpeas around Thanksgiving. "We're planting cowpeas for seed behind corn. If we don't get an early frost, we'll be fine and hopefully make up for some of that bad corn."
Looking at his final corn yields, some entire fields made more than 300 bushels per acre, and others made much worse, he says.
"It's just hard to get a crop that close to the finish and then lose it. We had a wind storm that came through in July and blew 40 acres down flat. It even blew down 100-year-old oak trees and pine trees. It's disheartening, but it is what it is, so we lost some corn to that. We couldn't even pick up much of it to use for silage.
"It's disheartening when you get that close to harvest, and you do all that you can do, put a lot of hard work, time and money into it, and then the weather takes it out. It kind of hurts your soul, but God's in control, and I'm just along for the ride."
For more information about Dowdy's production practices and the services he offers to other growers, see www.growbigcorn.com
Next, Dowdy discusses plans for his 2014 crop.
Want the latest in ag news delivered daily to your inbox? Subscribe to Southeast Farm Press Daily. It's free!
Subscribe to receive top agriculture news
Be informed daily with these free e-newsletters
You May Also Like
---