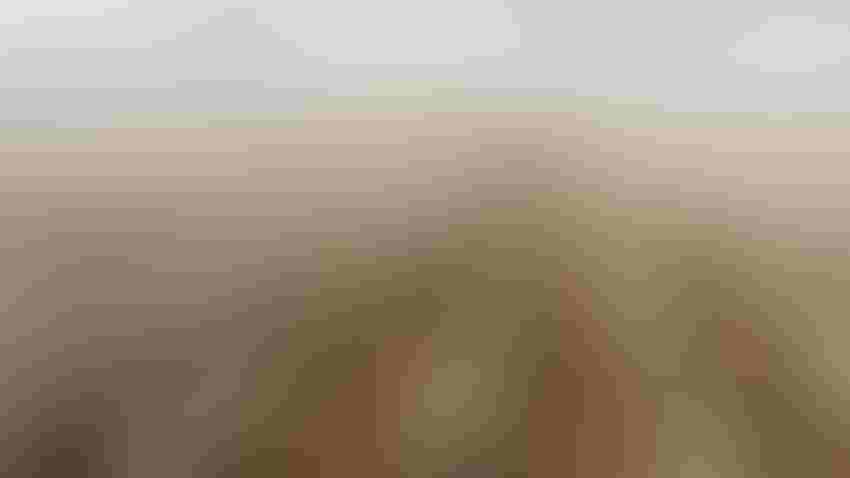 Submitted by Wilbur-Ellis Agribusiness
Cotton growers must balance impact of soil moisture and cropping practices to boost soil health, nutrient availability.
Cotton, like all crops, needs healthy soil for the best yields and top lint quality, but growers are dealing with varying soil moisture extremes this year, from drought to flooding, depending on geography. So how does moisture, or lack of it, impact soil health and cotton production?
Dry conditions suppress biological activity in the soil. These conditions have the domino effect of not breaking down crop residue or cycling nutrients in the soil. It also makes nutrients already in the soil unavailable to plants.
"Unfortunately, nutrients simply will not be available to plants in a dry environment," said Carl Bruice, Wilbur-Ellis national nutrition technical manager. "They absolutely must be in the soil solution, which is the liquid phase in the soil. Nutrients can then move into the plant when that water is taken up by the roots."
Too much rain can be equally detrimental to the soil and the nutrients available to plants. Nutrients can be leached through the soil by excess water and be lost. If too much water remains in the soil, it can also squeeze out the oxygen.
"Plants need oxygen as well as CO2," Bruice said. "Anaerobiosis creates a hypoxic environment where roots can't absorb oxygen. Plants can suffer from too much water, too little oxygen, lost soluble nutrients and the stress of being saturated for an extended period."
The impact on next year's crop
Aside from these direct impacts of moisture on the soil, another issue growers need to be aware of is how it can affect soil sample results. Soil sampling typically takes place after harvest, but if the soil is dry, it can skew the results and misrepresent the actual amount of nutrients in the soil. Soil sampling is a critical step in planning a nutrient program for the following year. If results are not accurate, that could lead to improper or over-fertilization.
"Growers should work with their local agronomist to ensure soil sampling is done at a point when the soil has some moisture," said Nathan Burson, Wilbur-Ellis branded products territory manager. "But the most important thing is to analyze year-over-year soil data to look at overall soil nutrient trends rather than focusing too much on that one moment in time."
Reframe tillage practices to maximize soil moisture
In non-irrigated acres, growers can't control the amount of moisture their crops receive, but there are ways to optimize soil to hold onto the water it does receive. If your farm is in an area that is prone to drought and you are looking to prioritize soil moisture in your cropping system, moving to reduced-till or no-till can help.
"If you operate a no-till environment, and have been doing that for some time, it will minimize moisture loss," explained Bruice. "However, if you disturb the soil with tillage practices, you expose that moisture to the environment, which can lead to rapid loss of soil moisture."
Contemplate cover crops
Cover crops are an important part of overall crop production and another means for improving soil health. They can provide an extra income boost, suppress weeds and keep soil in place in the off-season. Implementing cover crops also boosts the moisture-holding capacity of the soil.
"Planting cover crops improves both the physical and biological aspects of the soil. The soil aggregate stability and soil porosity are both improved by planting into a cover crop residue like wheat stubble," said Burson.
An added benefit of cover crops beyond soil improvement is the protection they provide for young cotton crops. Young plants are susceptible to damage from wind or blowing sand, and static electricity.
"Growers can plant a winter cover crop like wheat or rye between the rows of cotton and leave the stubble behind. This stubble slows the wind speed and traps loose sand so it cannot damage the young cotton crop," explained Burson.
One thing that growers should keep in mind is the financial viability of cover crops. Winter wheat is a common cover crop planted opposite of cotton, but drought conditions don't always allow for the wheat to develop grain for harvest, which leaves growers at a loss. Work with an agronomist to determine your operation's margins and pick the best cover crop for the moisture conditions in your area to ensure overall financial and environmental sustainability.
Balanced crop rotation
Crop rotation is another practice that greatly benefits the quality of soil. A diversity of crops provides a foundation for strong biological activity in the soil. Cotton is typically rotated with corn, sorghum, wheat and legumes.
"Providing your fields with a diversity of root systems helps promote a healthy microbial community in the soil," Bruice said. "This soil is then better prepared to break down organic matter, which will sustain crops through periods of drought by better holding moisture and nutrients."
Take advantage of technology
Burson explained the benefits of incorporating adjuvants or biological catalysts into crop production practices. "Growers can use soil adjuvants to enhance the benefits of agronomic practices. These products can help maintain soil moisture and soil water-holding capacity within the root zone to reduce both moisture and nutrient loss." Soil surfactants also are a great tool for growers looking to regulate soil moisture. They reduce plant stress during drought and prevent nutrient leaching when the soil has too much moisture.
Adding biological soil amendments and/or humic acids into your herbicide or nutrient application program can also go far toward boosting soil health. These soil amendments improve bacterial activity in the soil, which in turn boosts the plant's response to abiotic stressors.
"Biological catalysts improve soil biodiversity and allow for nutrient mineralization to make nutrients more available to plants," said Burson. "They build on the effects of a soil surfactant by further increasing nutrient retention in the root zone."
Working with a local agronomist who is knowledgeable about your area for recommendations that fit your farm and your needs can be the extra step to improve soil health for a successful season regardless of the moisture challenges provided by Mother Nature.
Reach out to your local Wilbur-Ellis location for more information.
Subscribe to receive top agriculture news
Be informed daily with these free e-newsletters
You May Also Like
---