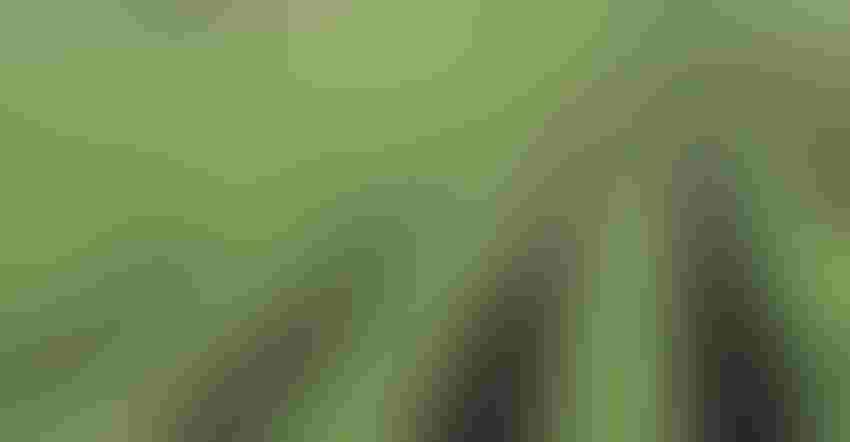 Arkansas soybean farmers should verify the quality of soybean seeds they intend to plant by having them tested.
Brad Robb
Arkansas soybean farmers should have seeds analyzed for both germination rate and seed vigor before planting the 2020 crop.
Jeremy Ross, Extension agronomist, Soybeans, Crop, Soil and Environmental Science, University of Arkansas System Division of Agriculture, encouraged growers to review germination and accelerated aging (AA) percentage tests comparisons at the recent Tri-State Soybean Forum, in Dumas, Ark.
Germination tests show seed's potential to emerge in favorable conditions. AA tests estimate seed vigor.
Soybean seed quality issues in 2019 carried over from bad harvest conditions in 2018, Ross says. Those low-quality seeds led to an increase in seedling diseases.
"Seed harvested in the fall of 2018 had an average germination rate of 77%, compared to 91% in 2017," Ross says. "Seed AA tests revealed a 57% average in 2018 compared to 84% in 2017."
So far this year, 268 seed samples tested by the Arkansas State Plant Board (ASPB) "reflect an average germination rate around 88%. The AA tests on those samples averaged around 73%," Ross says. "Those percentages are not much better than sample percentages from 2018, but much better than seed quality percentages we had in 2019."
Seed testing
Ross encourages all farmers who will be planting soybeans in 2020 to have their seeds analyzed for germination rate and AA.
Related:Arkansas farmers know what works on their operation
"Once you get your seed from your supplier, pull a 1-pound sample and send it to the ASPB," Ross says. "The germination test is $8, and the AA test is $12, but I think it's worth it to definitively know the quality of seed you intend to plant. I would also advise you to plant your better-quality seed later in the season when growing conditions may be more optimum."
Farmers wishing to submit seed for testing should go to the ASPB website at https://www.aad.arkansas.gov.
"Once you have logged on, click Plant Division at the top of the page. Scroll down the right side of the next page and click on Seed Laboratory," says Karen Finney, seed analyst, Arkansas Department of Agriculture. "At the bottom of that page are two files (Fees for Service Samples) and (Form for Submitting Service Samples). Download the form, complete it and send it to the address listed at the top of Form 101."
One pound of seed is needed to complete the germination and AA test. It usually takes two weeks to get results.
About the Author(s)
Subscribe to receive top agriculture news
Be informed daily with these free e-newsletters
You May Also Like
---