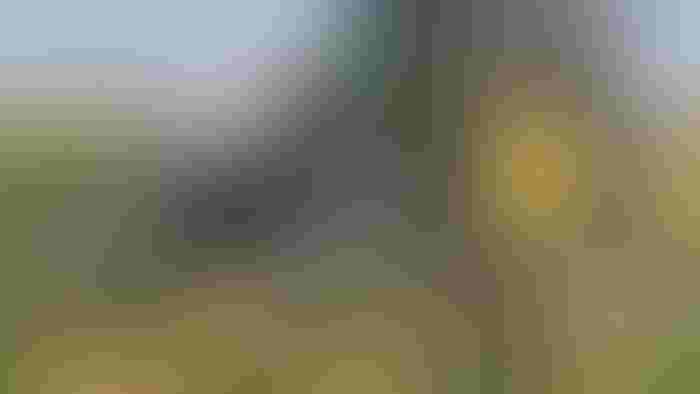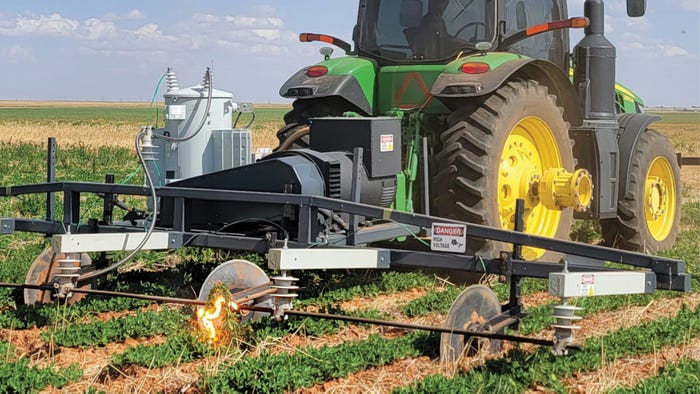 Brothers John and Henry Reddecop treat weeds using 24,000 volts of electricity in both organic and conventional cotton and peanut fields.Shelley E. Huguley
May rainfall created the "easiest planting," and "best" cotton and peanut stand of John Reddecop's farming career. Unfortunately, it also instigated weed flushes of marestail, pigweed, Russian thistle, and pine melon, to name a few.
Rather than only depending on herbicides and hand hoeing for weed management, John, the 2023 Farm Press Peanut Efficiency Award winner for the Southwest, and his brother Henry, are also using 24,000 volts of electricity to manage their weeds.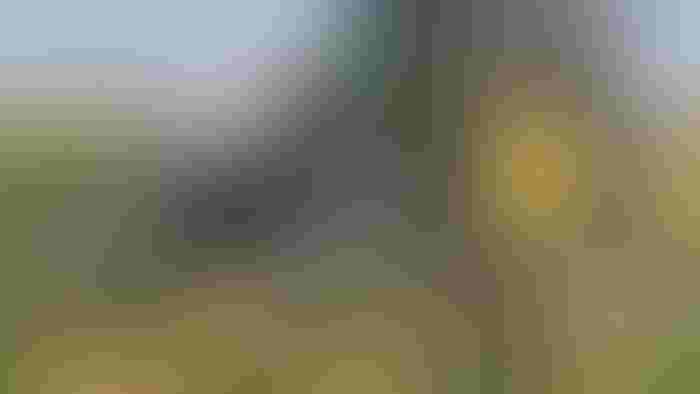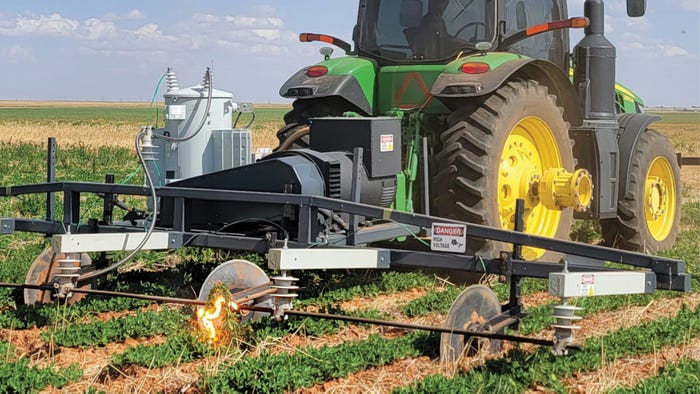 Henry Reddecop zaps marestail in his peanut field near Plains, Texas. See the weed zapper in action in the video below. (Photo by Shelley E. Huguley)
The Reddecops produce organic and conventional peanuts and cotton in Yoakum County, Texas. Every acre they farm is planted in a rye cover. Initially, the weed zapper was purchased for their organic fields but this year it's proving beneficial in the conventional as well.
"Most years we have marestail in peanuts. Right before they come up, we'll hit them with Gramoxone and Valor," John says. "The last few years, we've had 100% kill rate. This year, a little cooler, cloudier. I'm not sure what happened but it didn't work."
 "It got washed off by the rain," Henry says.
"Normally, we wouldn't have this," John adds. "Sometimes chemicals work and sometimes they don't."
In their organic fields, the weed zapper reduces hoe hand expenses, which has been as high as $400/acre. "It doesn't replace hoeing, it just helps," John says. Their hope is for similar savings in the conventional fields.
"In this field, we're trying to get rid of the marestail so when we send the hoe crew over, they can concentrate only on the pine melons and tumbleweeds. That will speed up the process." 
The weed zapper is pulled behind the tractor on a toolbar with rolling coulters, which ground the electrical currents powered by a generator. An adjustable copper bar dispenses the electricity, and as the tops of the weeds brush or hit the rod, they are electrocuted.
"The majority will be killed to the root," John says. "If it's a little wet or turned up too high, it will go halfway down the stem and won't hit the roots. But the majority of the time, if we adjust it to not being too hot, it will reach the roots and die."
Depending on weed density, the tractor can run about 3 mph. "Here, we're running about 1.5 mph," Henry says of the conventional peanut field.
The brothers admit it's a slow process. "If there's only one weed at a time, you can go about 3 mph. But as soon as there's more than one weed touching it, it takes too much ground out of it," John says. "In the pigweed, it works really well. We'll see with the marestail."
The Reddecops have been using the weed zapper since 2021. So far, maintenance is low and the only expense, outside the cost of the implement, is fuel. "It takes about a tank of gas on 60 acres," Henry says. "And that's on a super bad field," John adds.
The downside? Henry says, "it's not a tool that you can make one pass with." John agrees. "You have to work at it."
"On a field with careless weeds, about 90% will die on the first pass. But, if it gets thick, you have to go through twice," Henry says.
2023 season progress
For a season that began weighted down by drought, the Reddecops say, overall, it's going well. "When we started planting in May, we got about 7.5 inches of rain and that's been about the easiest planting I've ever had in my life," John says.
Hail threw a temporary wrinkle. "I had a circle of peanuts that got some hail. I didn't have to replant but it set them back about a good two weeks."
About 375 acres of cotton got hailed out. The Reddecops replanted. "We got some rains after that, so it (the cotton) came up naturally. I didn't even have to water it up," John says. "It was the best May I've ever seen -- rain makes growing cotton easy."
The Reddecops plant their crops into a rye cover, which keeps their sandy soil from blowing. In their peanut fields, the rye is spread prior to peanut digging. A wheat drill is used in the cotton. "I'll pick up the units on my 3-point hitch wheat drill and drive in the cotton and plant between the rows," John says. "That way when I harvest, it gives the rye a month in advance to grow. Once winter hits, rye tends to shrink and start blowing."
Grasshoppers are beginning to infiltrate their fields. "It's been a few years since we've dealt with those. If it's not the grasshopper, it's the stinkbug. The stinkbug will be here when the cotton starts fruiting," John adds.
Wild hogs also continue to be an issue. "They've been through the roof this year," John admits, adding that they have the potential to tear up about 5 acres a night.
Looking ahead, the Reddecops say they will diligently manage their weeds and insects but especially their irrigation. "Since May, we haven't had another drop of rain," John says. "We're dry again." Hopes are for more rain and a "best" finish, like it began.
Subscribe to receive top agriculture news
Be informed daily with these free e-newsletters
You May Also Like
---