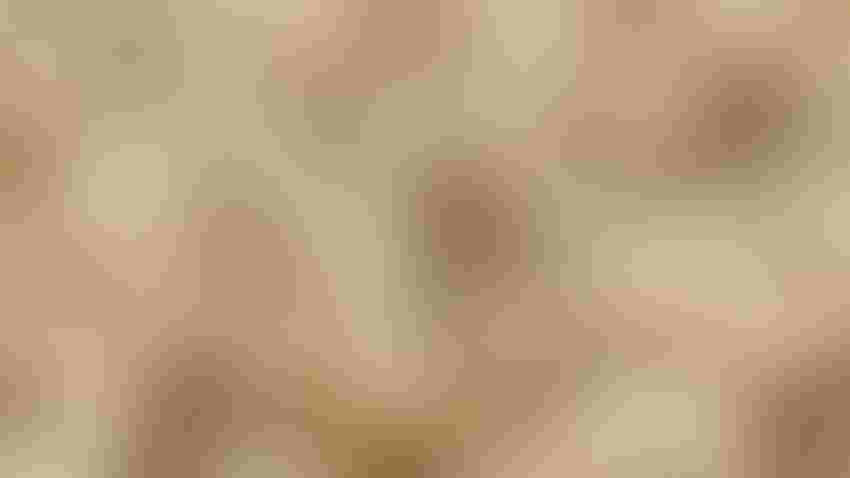 Michael Jacobs/Art in All of Us / Contributor
A highlight of each year's Farm Press Peanut Efficiency Awards breakfast is the question-and-answer panel of the winners facilitated by primary program adviser Marshall Lamb. 
Lamb, research leader at the USDA National Peanut Research Laboratory, has continually stressed that education is a key goal of the Peanut Efficiency Awards program. The goal is for other farmers to hear from these peanut farmers.
Tillage talk
At this year's breakfast held July 29 at the Sandestin Golf & Beach Resort in Miramar Beach, Fla., during the Southern Peanut Growers Conference, the 2023 Peanut Efficiency Award winners discussed what they do to achieve top yields and remain efficient in a time of escalating production costs and low peanut prices. 
A unique characteristic of this year's class is that each of the winners from the upper Southeast, the lower Southeast, the Midsouth, and the Southwest all use some form of conservation tillage. Lamb notes this is the first for the program. 
In the Q&A session, Donald Chase, a Macon County, Ga., peanut farmer and a member of the Georgia Peanut Commission Board of Directors, asked the PEA winners how conservation tillage is valuable to their peanut operations.  
Colt Woody, the PEA winner from the upper Southeast, who farms with his brother and fellow PEA winner Brandon Woody, in Aiken County, S.C., answered that water erosion is an issue on his farm, and no-till is a vital protection against that. He noted that in the part of South Carolina where they farm, bad storms are common, and a rainstorm could give them four to five inches of rain in a very short time. 
"We no till our peanuts. We're 100% no till on our peanuts. We plant a cover crop after the corn crop, which would either be wheat or rye. We'll grow that through the winter and then we'll desiccate that in early spring in hopes that that cover crop would be eight to 10 inches tall. We'll come in and we'll plant no till 100% on that," he explained.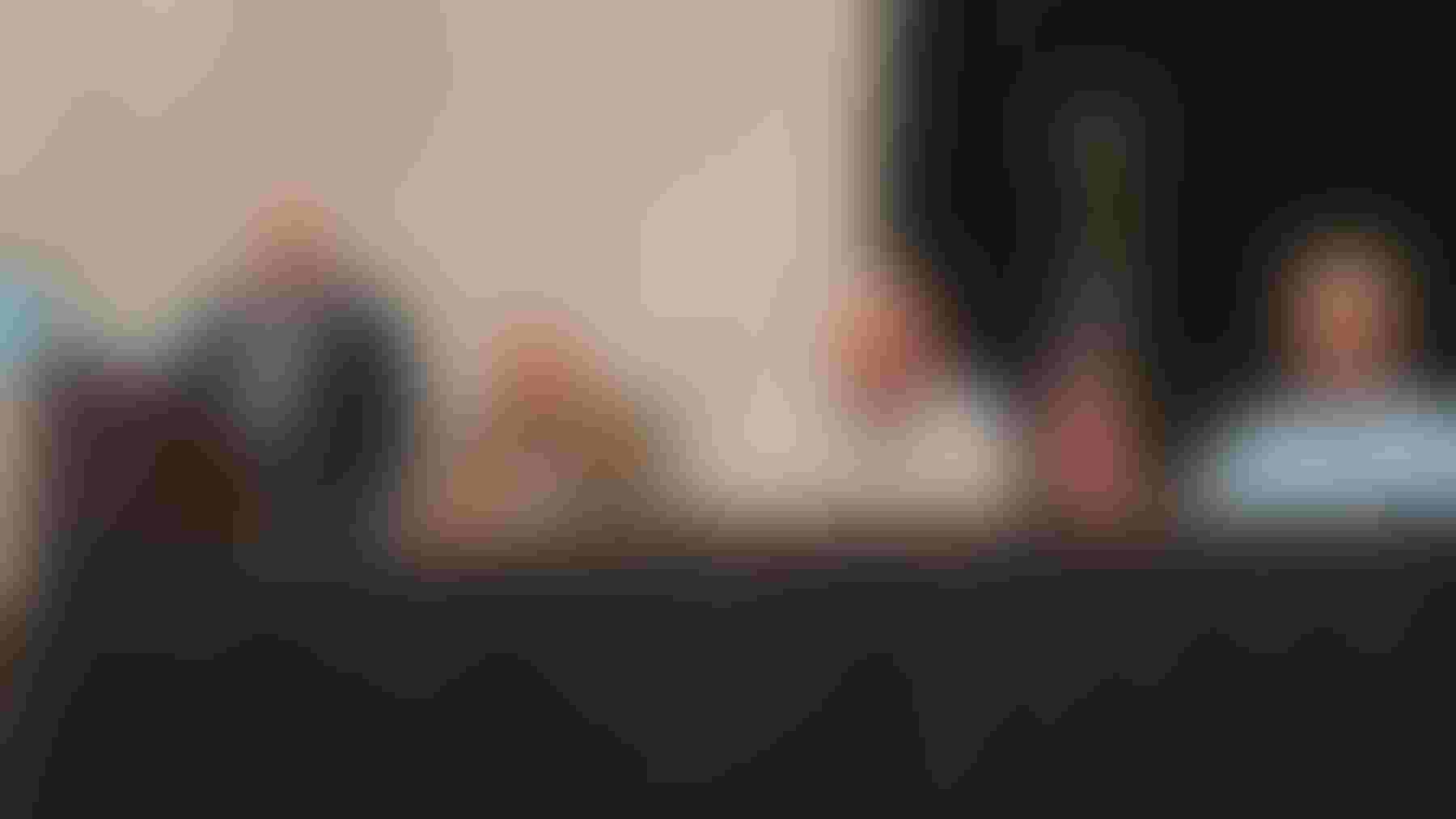 Marshall Lamb, far left, research leader at the USDA National Peanut Laboratory, facilitated a Q&A session of the 2024 Peanut Efficiency Award winners during the Farm Press Peanut Efficiency Awards breakfast July 29 during the Southern Peanut Growers Conference at the Sandestin Beach and Golf Resort in Miramar Beach, Fla. Peanut Efficiency Award winners, from Lamb's left, are Ryan Jenkins of Jay, Fla.; John Reddecop of Seminole, Texas; and Colt Woody of Aiken, S.C. (Photo by Shelley Huguley)
Ryan Jenkins of Jay, Fla., the Peanut Efficiency Award winner for the lower Southeast states, said he uses conservation tillage on his farm to avoid machinery trips across the field. He also plants a cover crop behind his peanuts each year. He emphasized that he is always trying to figure out how to reduce his inputs. 
"After the digging process, I always try to spread my cover crop seed ahead of the diggers and let the diggers plant the cover crop for me," he explained.  
"I think we get the mindset, we have the equipment, it's no big deal. Every time that sucker runs, and it goes across the field, it's costing you money, no matter what you think. No matter if it's paid for 100 times over, it's still costing you money to go across the field." 
John Reddecop, the PEA winner for the Southwest and a Seminole, Texas, farmer, said he does till his organic peanuts to control weeds because he can't use chemicals, but for his conventional peanuts, he uses minimum till to protect against water erosion. 
"It does help if you do get a thunderstorm, and you get a two-and-a-half-inch rain, it will keep the water in the field instead of just running off the field. For us, without minimum till, we would not be farming. It would be a dust bowl," he explained. 
Cover crop protection
Cousins Clay and Matt Deane, who farm with their family in Sikeston, Mo., and are the Peanut Efficiency Award winners for the Midsouth, represented their family in the Q&A discussion. The Deane family own and operate Triple D Farms, a partnership made up of brothers Mark and Bill Deane and their sons. Clay is Bill's son while Matt is Mark's son. Mark's son Hunter is also part of the operation.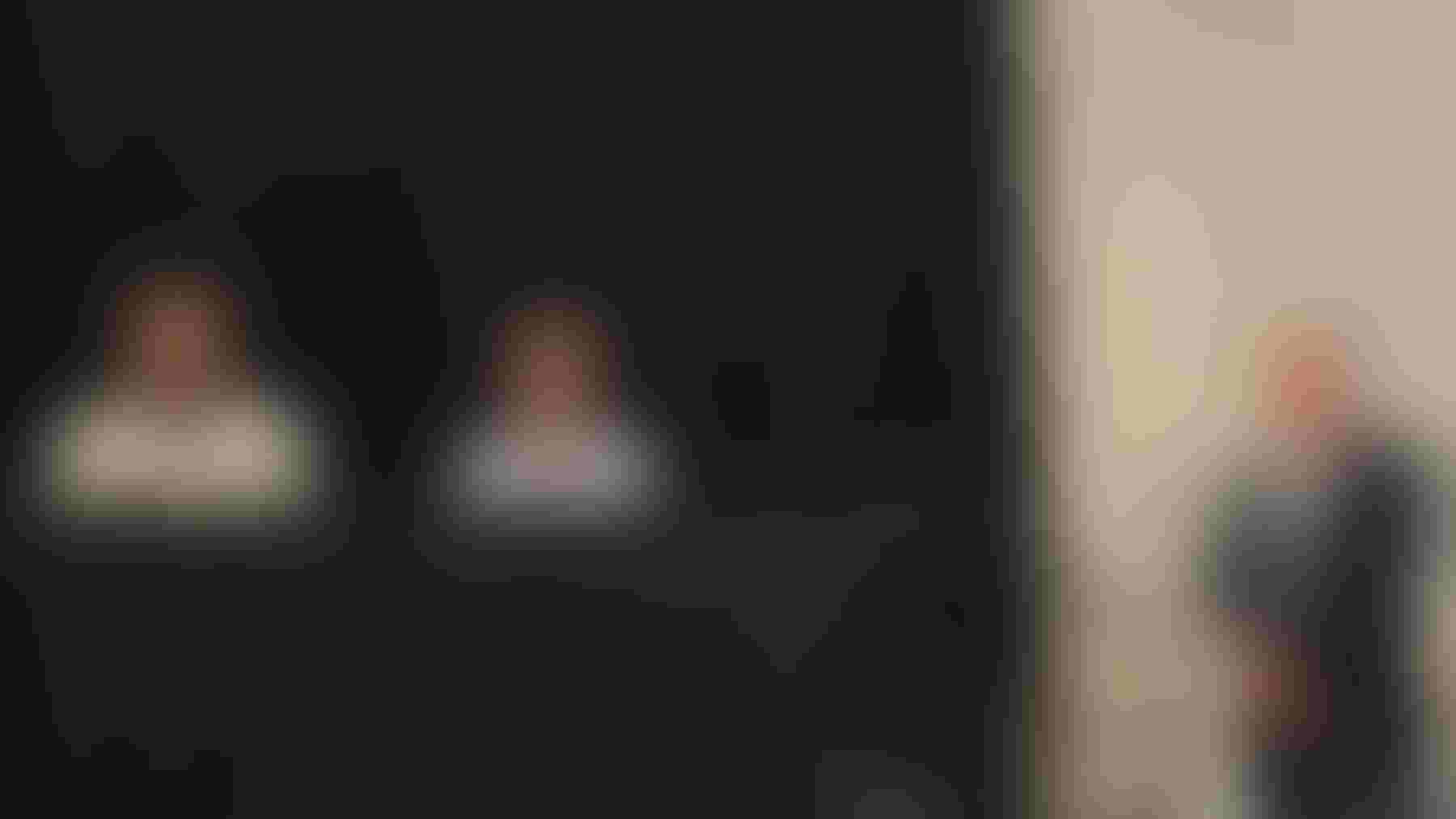 Cousins Clay Deane, left, and Matt Deane answer questions during the Q&A portion of the Farm Press Peanut Efficiency Awards breakfast, while Farm Press Director of Content Brad Haire looks on. Clay and Matt farm with their fathers Bill Deane and Mark Deane. Mark's son Hunter, Clay's brother, is also part of the operation, Triple D Farms, the Peanut Efficiency Award winner for the Midsouth. (Photo by Shelley Huguley)
In the discussion, Clay Deane said cover crops are vital for protection from wind erosion. "Most of our ground is pretty light sand, and we do see other benefits from it. I think it definitely helps to suppress pigweeds. Also, that mat on the ground holds moisture.  But our biggest reason we do it is wind erosion."  
As for challenges, Jenkins said urban sprawl is a big problem in his part of Florida that needs to be dealt with and navigated. He also said farmers will have to continue do more with less. 
"The input costs are killing us. With the input costs that we have right now, it's almost unsustainable at the current pace. We've got to continue to see what's working and really micromanage our farms. That's going to be the key to our survival," Jenkins said. 
"I think for the next five years we've got to continue to figure out how to do more with less and trim those input costs and not do a single thing that doesn't have to be done. I think we all have to understand and keep in mind that sometimes the highest yield doesn't make the most money." 
Woody said low pH soil and low pH water is a challenge on his farm. He said he and his brother Brandon work to manage input costs on a per-acre basis and noted that he would like to see some new varieties with disease resistance that will allow them to improve their yields.  
Cousins Clay and Matt Deane each said early maturing varieties are important to them because they farm so far north in the bootheel of Missouri. Reddecop said high irrigation costs are the biggest problem he faces in west Texas. 
"We will crank up all the wells in February, and they won't turn off until December. After the crops are out, we'll plant our cover crops. Of course, that has to be watered up, so we water all year round," Reddecop said. 
Doing more with less
Clay Deane said their family tends to water more frequently with lesser amounts of water. 
"I would say in most cases we probably put out about half an inch to seven-tenths. As far as determining when to water, we honestly still go out in the field and check for moisture by hand, and we typically check in the root zone. We plant on raised beds, and we found out that usually they'll dry out right there on top of the bed in the root zone quicker than anywhere else," he explained.  "Our fields, some of them are inconsistent as far as soil types. You need to check several places to have a good idea on how much to water or whether or not to water."  
Woody said they plant flat on 30-inch rows, and their farm is 100% irrigated. 
"We go by a chart, days after planting. We know what the water usage is for the number of days after planting so we will go by that along with going out in the field and checking it by hand. We also have variable soils, so we will check numerous places." 
And what is Jenkins' irrigation strategy? 
"For my irrigation decisions I go out there and see how dry it is, and then I know how hard I need to pray. We're 100% dryland. I have nothing to say on this other than to thank the Lord when it rains," Jenkins said. 
Subscribe to receive top agriculture news
Be informed daily with these free e-newsletters
You May Also Like
---