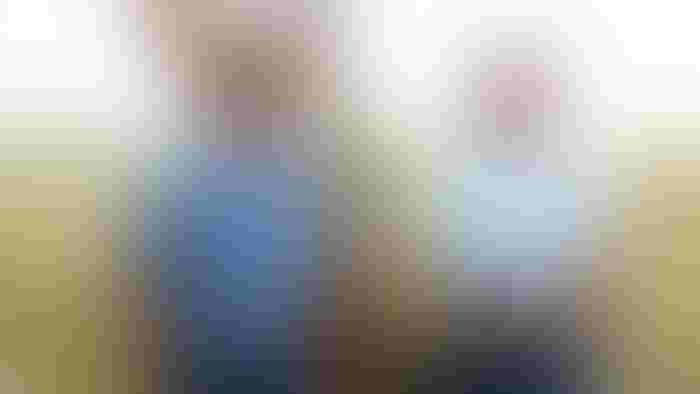 Colt and Brandon Woody of Aiken, S.C. are the Peanut Efficiency Award winners for the Upper SoutheastJohn Hart
For Colt and Brandon Woody of Aiken County, S.C., the 2023 Peanut Efficiency Award winners for the Upper Southeast, timeliness, attention to detail and a good rotation program are keys to success.
Their success is quite remarkable in that they are relatively new to both peanuts and South Carolina. The brothers and their families moved to Aiken County to farm in 2014 from the Panhandle of Texas. They didn't produce their first peanut crop until 2019.
That first year, in 2019, the brothers achieved an astonishing average yield of 7,235 pounds per acre on 560 acres winning the South Carolina peanut yield contest that year. They continued to win the peanut yield contest in 2020, 2021 and again in 2022 with an average yield of 6,523 pounds on 654 acres.
At first, the Woody brothers grew only corn in South Carolina. But their crop consultant, Tim Kelly with Southeastern Crop Consulting in Barney, Ga., told them they had good land for peanuts and encouraged them to give it a try. "Tim kept after us for two or three years. We stalled him, but he finally twisted our arm enough, so we thought well, we'll try it. And I'm glad we did," Brandon says.
The question arises: how do they do it? Consultant Kelly says it is obvious that the Woody brothers are good and timely managers, but he says the key to their success boils down to a good rotation program.
"They're not pushing their rotations like most farmers are doing. They are keeping their rotations fresh on the ground that they have. They have stuck with corn as their main crop and peanuts as their secondary crop. They know that those 6,000 pound plus yields are not going to come with rotations that are super tight," Kelly explains.
"When they keep their rotations wide like that, it allows them to do a moderate fungicide program. The rotation is the key to everything. Of course, having good farming practices is important and being good overall farmers is a big part of their success. They do a good job of getting good stands and they use good quality seed."
Good rotations are important, but the brothers also emphasize timeliness every step of the way from planting to digging to harvest.
"We just try to be timely with everything. We've had good yields from day one. If there's a silver bullet, I don't know what it is. We try to be timely with planting and spraying of fungicides. And then we water the crop and do everything that needs to be done. We do it on schedule," Brandon said.
Subscribe to receive top agriculture news
Be informed daily with these free e-newsletters
You May Also Like
---