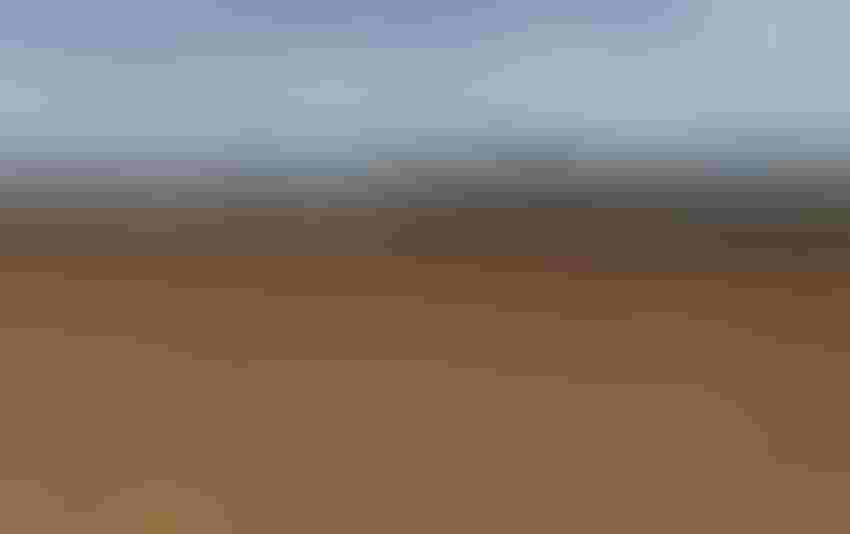 Wheat gets ready for what might be another light rain in southwest Georgia.
Brad Haire
It's May 12, and rain falls again. Not bragging or complaining. Just stating fact.
Spring has been spring this year in the lower Southeast – for good and for bad. The region is used to extremes, really any time of year. Frost early in April turned to near-record heat in some locations. April brought widespread flooding with some places getting more than 10 inches of rain for the month, causing a mess for planting and field prep for cotton and peanuts, and knocking back vegetables and orchards, too. I spoke to one Alabama farmer a few days ago. He said he'd received well over 16 inches of rain on his corn since planting in mid-March, for a near 2-inches-a-week average. That's a lot of rain to manage around. He wasn't complaining or bragging, either. Just stating fact. But other than the rain, the temperatures and humidity conditions have been excellent for corn growth. And I bet many wheat growers will be cutting some personal best yields.
I have the good pleasure of knowing agricultural experts across the country. None more expert in their respected regions than the Farm Press editors I work with daily, who collectively cover the Southern and Western regions of the diverse country. I asked them for their take on weather in their regions this spring. It's a mixed bag, as you'd expect, and it's personal. Like me, they all live in the region's they cover. Some like me have lived in the region their whole lives.
Brent Murphree is the editor of our Delta Farm Press. In mid-May from his home in Memphis, he said, "Despite a very cold February, it warmed up enough to start planting some corn in March and other crops as it warmed and dried. Then it turned wet again. Today, growers are waiting for it to dry out from the last bout of three to four inches of rain."
Murphree grew up on a farm. He said he spent the better part of his life in the ag industry hearing farmers say, 'I wish we would have a normal year.'
In the Midsouth, he said, the normal for the last few springs has been mostly wet and cool. "This year, arguably, has been better than the previous two with larger windows of opportunity to get the seed in the ground. Growers in the Midsouth manage the fluctuations of weather and climate as necessary. As the waters recede along the river and spring rains subside, they're ready to jump into their fields and get the job done when they can," he said.
(During the week of May 17, parts of the lower Delta received more than a foot of rain.)
Shelley Huguley is the editor of our Southwest Farm Press. She and her husband, Preston, farm near Olton, Texas, not far from the New Mexico line. The first week of May, they received a half-inch of rain on a few farms, but other than that, the prolonged drought has grown severe in the region.
"A week ago, Preston decided to forego corn on most of our farms. He's considering grain sorghum and cotton, but we've got wheat we are trying to keep alive. When will he pre-water to prepare for the other crops? I'm not sure," she said. "Our wells and sprinklers are weary — our sprinkler repairmen a familiar guest. The wells have been running nonstop since last spring, with a slight reprieve in December and January."
"Drought is hard. You can see it in his face, hear it in his voice. It's visible in our rural community.  It affects everyone. On the one hand, we're encouraged that prices are higher for most commodities but if you can't grow the crop to market it, that's a problem," she said.
The tune rings similar for the Western region. Tim Hearden is the editor of Western Farm Press and lives in California.
"In the Western half of the U.S., it's all about the drought. You've heard of things happening 'gradually, then suddenly?' That sums up our dry conditions. We've had two straight drier-than-normal winters, and now we're in what the federal government calls the worst spring drought since 2013. They estimate it's affecting 74 million people, and it's certainly affecting farmers, many of whom are deciding what – or whether – to plant," Hearden said, in mid-May.
It just stopped raining here. Sun's out now.
Subscribe to receive top agriculture news
Be informed daily with these free e-newsletters
You May Also Like
---