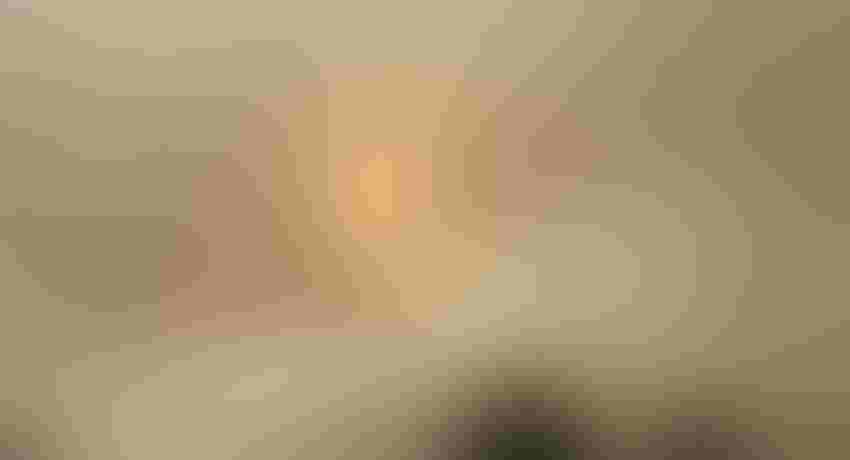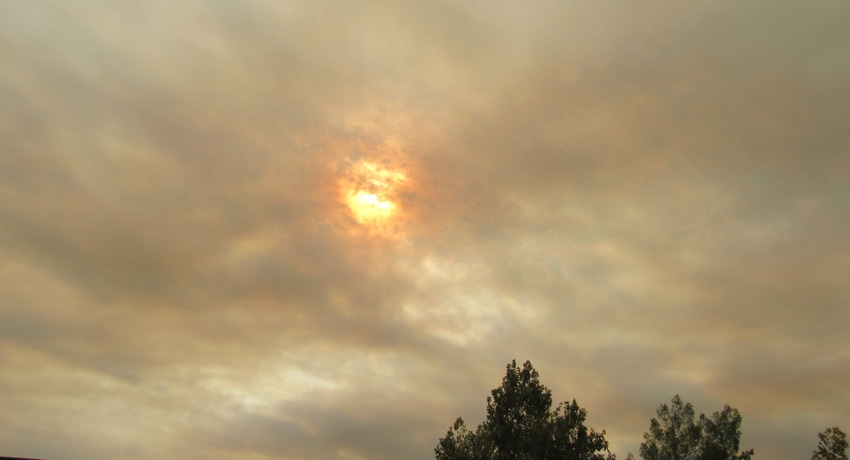 The sun is shrouded in smoke in Northern California on Aug. 19.
Tim Hearden
A blistering heat wave throughout California this week is causing damage to coastal crops while fueling dozens of wildfires that have blanketed much of the state in thick smoke and ash.
Thousands of residents in the greater San Francisco Bay Area have been ordered to evacuate, including Vacaville residents who were awakened early this morning as police and firefighters frantically went door to door to warn them, The Associated Press reports.
Among the largest is the August Complex, a cluster of some 35 fires across the Mendocino National Forest, which grew to 30,000 acres overnight due to low humidity and wind gusts up to 25 mph, according to the InciWeb interagency fire information website.
The fires are burning mostly timber, brush and grass, although evacuation orders are in place for Elk Creek, Grindstone Rancheria and Chome. 
"Throughout the state of California right now, we are stretched thin for crews" because of the fires, state fire spokesman Will Powers told the AP. "Air resources have been stretched thin throughout the whole state."
The North Bay's wine country is again under threat after a series of devastating fires in the region in the last three years. The state Department of Forestry and Fire Protection reported about 31,500 acres blackened in Napa County — from the Hennessey, Gamble, 15-10, Spanish and Markley fires — as of 8:15 p.m. Tuesday, with zero containment and 1,900 structures threatened, according to the Napa Valley Register. Some 1,900 Pacific Gas & Electric Co. customers in Napa County were without power, according to the newspaper.
Other blazes have engulfed rural and forest areas near Salinas, around Oroville Dam north of Sacramento, west of Silicon Valley and near the Nevada state line north of Lake Tahoe, the AP reports.
Heat, smoke and harvests
The wildfires come amid a blistering hot summer that has seen temperatures soar above 110 degrees in inland valleys and even along the coast, notes the National Agricultural Statistics Service.
In Red Bluff, Tuesday's high of 108 degrees marked the 13th day in August that afternoon temperatures reached 100 or higher, according to the National Weather Service. Fresno has seen 12 triple-digit days in August, including Tuesday's high of 107 degrees.
The heat and smoke are causing no shortage of complications as workers are harvesting a multitude of crops, including early-variety almonds, table grapes, plums, apricots, oranges and numerous summer vegetables.
Smoke in the North Bay threatens the quality of wine grapes that are close to harvest. In 2018, smoke from the Mendocino Complex Fires destroyed the market for an estimated $41 million in wine grapes grown in vineyards near burned areas.
In other areas, thick smoke can hamper honey bee activity.
Coastal crop damage
Harvests are also still in high gear for strawberries on the Central Coast, where periods of unusually high temperatures are causing damage, according to a University of California Cooperative Extension advisor.
"Bottom line is that the heat is really killing the berries," blogged Mark Bolda, the UCCE's Santa Cruz County director.
Fruit softened by heat is susceptible to vinegar flies and other pests, he wrote. Bolda urges pickers to look closely at berries, because fruit that looks sound on one side can be damaged on the other. Hot weather also worsens existing problems with root disease, he advised.
"Seriously, the problems from this heat wave are pretty bad," he wrote.
With other cool-weather vegetables on the coast, irrigation will be critical for supplying enough moisture to meet their water needs, urges Michael Cahn, a UCCE irrigation and water resources advisor in Monterey County. Avocado growers are also urged to take precautions, including harvesting their crop early in the day before the temperature reaches 90 degrees.
Fire weather to persist
Critical fire weather conditions will continue today and tonight with breezy conditions and low relative humidity values, according to the National Weather Service in Sacramento. These conditions can cause any new and/or existing wildfires to rapidly spread, the agency warns.
High temperatures will remain hot today with upper 90s to 100s in the Central Valley, while overnight temperatures are forecast to cool. A renewed warming trend is anticipated over the weekend and into next week.
The federal Climate Prediction Center expects hotter-than-normal temperatures throughout the West to persist through the remainder of summer and into fall, particularly in California and the U.S. Southwest.
Subscribe to receive top agriculture news
Be informed daily with these free e-newsletters
You May Also Like
---