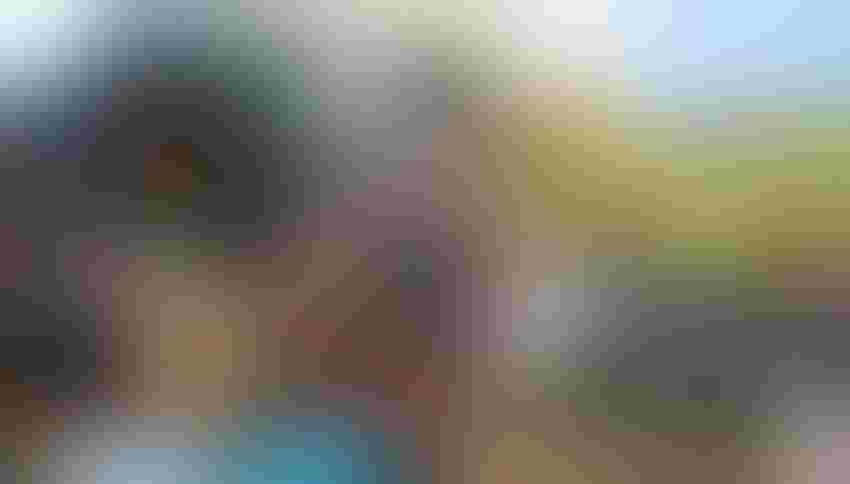 Karen Mills of R&K Orchards in Corning, Calif., sorts peaches at a farmers' market in Redding, Calif. She says the family has been getting an earlier start at picking this week because of the heat.
Tim Hearden
This week's triple-digit afternoons could be the start of a blistering summer in California's Central Valley and throughout the West, as long-range forecasts favor above-average temperatures lingering through September.
The federal Climate Prediction Center foresees at least a 60 percent chance that average temperatures will be hotter than normal over the next three months.
"This is the time of year when it's hot and dry, but it's just a matter of how hot it will be," said Michelle Mead, a National Weather Service warning coordinator in Sacramento. "This doesn't mean that every single day will be above average, but the trend for July is … that above-average temperatures will continue."
Mead's analysis, which she shared Monday during a video conference with reporters, came as highs were expected to soar well into the 100s throughout the Central Valley this week.
The current heat wave is expected to hit its peak on Friday and Saturday, when afternoon temperatures are forecast to top out at 112 in Redding, 109 in Red Bluff and 105 in Fresno and Bakersfield.
After a relatively cool spell in June, the heat arrives as harvests are ongoing for numerous crops, including cherries, nectarines, plums, peaches, navel and Valencia oranges, apricots, lemons, blueberries, cucumbers, zucchini, squash and tomatoes, according to the National Agricultural Statistics Service's weekly crop progress report.
The heat was already affecting the development of some crops, as damage was reported last week in the quality of leafy vegetables in Central California, according to NASS. Hot weather is expected to hasten hull split in almonds within the next few weeks, the agency reports.
In 2018, a seemingly endless string of triple-digit afternoons in California's inland valleys took its toll on crops as growers sought to minimize the damage. For instance, Fresno saw 28 triple-digit days in July alone.
In recent summers, prolonged heat has caused blue prune, in which plums for prunes drop prematurely; caused sunburn in tree nuts; damaged avocados; deteriorated the quality of forage; and caused a re-greening of Valencia oranges, forcing growers to treat them and divert them to domestic markets because some foreign trading partners don't accept chemically treated fruit.
Weather issues
R & K Orchards in Corning, Calif., has dealt with no shortage of weather issues in recent seasons. Late spring rains in 2017 and again last year affected the farm's apricot and early-ripening peach yields, while high heat and humidity in 2018 increased brown rot pressures on peaches and caused excessive bird damage to fruit as the weather diminished other food sources.
This year, the cool spring left the trees "a little stressed," said Karen Mills, the farm's co-owner. Then the heat arrived.
"It makes it harder to pick because you're picking earlier," Mills said. "We have to use more water to keep the trees and the size."
For now, the family is also picking by themselves rather than using a picking crew because of the COVID-19 pandemic, she said.
California's Division of Occupational Safety and Health reminds employers with outdoor workers that state regulations require them to take the following four steps to prevent heat illness:
Plan – Develop and implement an effective written heat illness prevention plan that includes emergency response procedures.
Training – Train all employees and supervisors on heat illness prevention.
Water – Provide drinking water that is fresh, pure, suitably cool and free of charge so that each worker can drink at least 1 quart per hour, and encourage workers to do so.
Shade – Provide shade when workers request it and when temperatures exceed 80 degrees. Encourage workers to take a cool-down rest in the shade for at least five minutes. They should not wait until they feel sick to cool down.
CalOSHA is also advising employers to provide cloth masks and allow additional breaks to allow the workers to cool off, although the masks should be removed in outdoor high heat as long as physical distancing can be maintained.
About the Author(s)
Subscribe to receive top agriculture news
Be informed daily with these free e-newsletters
You May Also Like
---