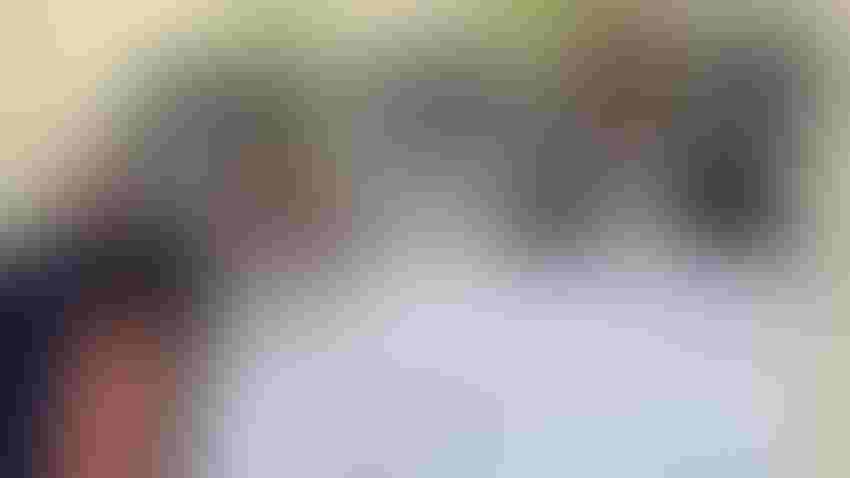 From left, Leanne Dillard, Auburn University forage specialist, Steve Mitchell, co-owner of Mountainside Farms, and Matt LeCroq, Massey Ferguson hay and forage marketing director, at the Sunbelt Ag Expo opening day ceremonies Oct. 17.
Brad Haire
The top prize for the highest-quality hay in the Southeast went to North Carolina's Mountainside Farms, producing an alfalfa hay with an impressive relative forage quality, or RFQ, of 298.
Based in Taylorsville, Mountainside Farms is owned by Steve and Carol Mitchell. The results of the 2023 Southeastern Hay Contest were announced during opening-day ceremonies for the Sunbelt Ag Expo in Moultrie, Ga., Oct. 17.
The contest started 19 years ago and has evolved into a partnership between industry, farmers and Extension from Georgia, Florida, Virginia, North Carolina, South Carolina, Mississippi, Alabama, Arkansas and Tennessee.
This year, the program was managed by Extension forage specialists Leanne Dillard from Auburn University, Katie Payne from Virginia Tech, and Lisa Baxter from the University of Georgia.
"Like many recent years, 2023 had many challenges for our hay and baleage producers. From higher-than-average rainfall during the spring to drought conditions in the summer, all while fertilizer and other input costs continue to be high," Dillard said.
The highest-scored hay entered in 2023 wasn't produced by Mountainside Farms. Beeson Farms from Climax, NC, managed by Josh Beeson, scored an index-breaking 327 RFQ with an alfalfa entry. Beeson Farms won the top prize last year. Sticking to contest rules, last year's win rendered Beeson Farms ineligible to take the top honors this year. That led the way to Mountainside Farms landing the grand prize.
As overall winner, the Mitchells received a choice of the use of a new Massey Ferguson DM Series disc mower or RK Series rotary rake for the 2024 hay production season, plus $2,000.
The contest received 468 entries in 2023 from eight Southeastern states. With that many entries, according to Dillard, the Southeastern Hay Contest is now the largest forage quality contest in the country. 
The RFQ score measures different forages relative to the forages' overall nutritive value, or their total digestible nutrients, and predicted dry matter intake. Developed by the University of Florida and the University of Wisconsin, it is a means to compare forages, especially Southern forages. RFQ helps producers categorize and price hay lots based on the relative quality. Livestock producers can use the value to balance supplemental diet based on the quality of the hay.
Contest Tidbit: The top RFG score in 2006, the first year of the contest, was 215, which was a legume baleage produced by Troy Platt of Madison County, Fla.
Subscribe to receive top agriculture news
Be informed daily with these free e-newsletters
You May Also Like
---