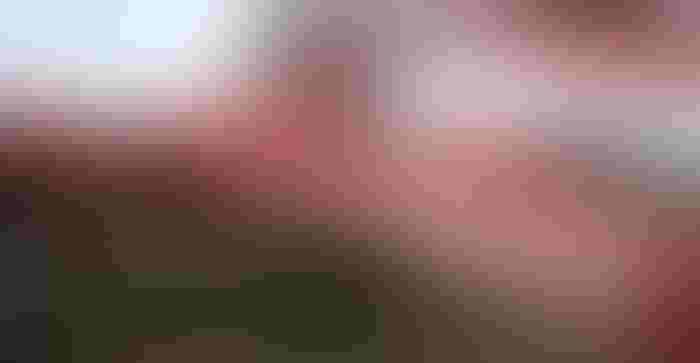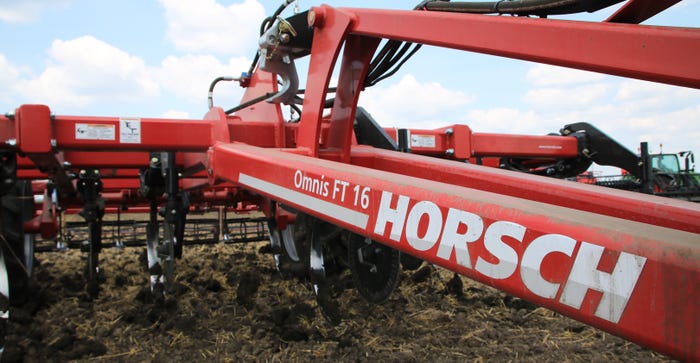 Horsch is growing its offerings for primary tillage in the Midwest by releasing a handful of its new Omnis FT deep rippers to growers this fall.
At a July field day in Downs, Ill., Horsch demonstrated the 16-foot-wide Omnis alongside a 21-foot-wide Terrano MT, another of the company's European-inspired deep rippers. Both aim for horizontally fracturing the soil at about 10 inches in depth, but the Omnis is more customizable.
The Omnis is a shank-only machine with cutting coulters in front of each shank as an option. The rolling basket finishing system of the Terrano can be added to an Omnis, or the rear could be fitted with a hitch for anhydrous and other towables. Other options include adding harrows and leveling pilots.
Farmers have the option to go from 15- to 30-inch rows with the Omnis, but narrower rows allow the four gangs to produce a more thorough fracture across the 16-foot-wide implement. This ensures no vertical strips are left behind to challenge root growth in-season.
"The Terrano MT concept comes from more of what I would call a winter wheat environment," says Jeremy Hughes, product manager at Horsch. "We're doing summer deep tillage, and we need consolidation in order to preserve soil moisture for a fall-planted crop.
"If you look at the Omnis, it would be for a fall tillage application that's immediately going over the wintertime, and you'd come back and put a spring crop on." He adds that deep ripping could help remedy compaction issues.
The Omnis leaves behind bigger clumps of soil than the Terrano, which is important for keeping soil from eroding over the winter. By spring, the moist clumps will largely break down.
"Sometimes, a real fine soil structure isn't quite desirable," Hughes says. "It'll go through the winter. It might catch snow, or blow if it gets dry. The Omnis will leave more of a coarse soil structure in the field, because we're not having the weight of the heavier Terrano."
While Terranos require 550- to 600-hp tracked tractors, Omnis users can go with lower-horsepower tractors.
"We say for the Omnis, it's anywhere between 20 to 25 hp per foot," Hughes says, concluding the basket add-on they used during field demonstrations added a little more raft.
Horsch also offers the Joker for shallow tillage at 3 to 6 inches in depth with a high-speed compact disk.
Tillage helps farmers gain GDUs
Horsch's Downs farm manager Daniel Fulton is wrapping up the company's second growing season at the site since moving there in January 2018. Horsch researchers are using part of the plot to compare no-till against the Joker's 3-inch tillage.
Land that was "Jokered" with one pass in the fall and another in the spring had soybeans emerge a day and a half before no-till test plots after a May 20 planting this year.
"No-till [soil] generally ranges 5 to 10 degrees [F] cooler than conventional practices, and if conventional tillage is implemented, you can add about 30 to 60 growing degree units. On a year like this, it pays off," Fulton says.
The no-till ground still had all its corn residue chopped during harvest, readying the stover for quicker consumption by microbes. But by unearthing soil to wrap microbes around more surface area of chopped residue over the winter, the Jokering practice warmed up the soil as residue decomposed.
See photos from the field day in Downs in the slideshow.
Subscribe to receive top agriculture news
Be informed daily with these free e-newsletters
You May Also Like
---