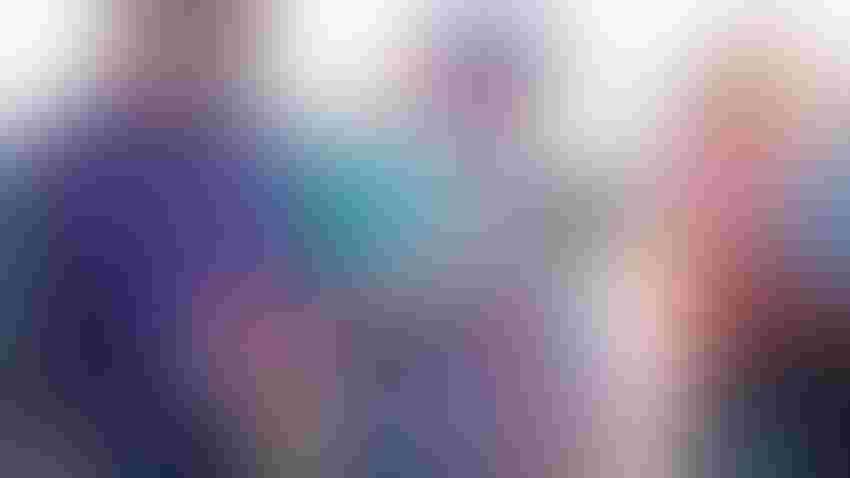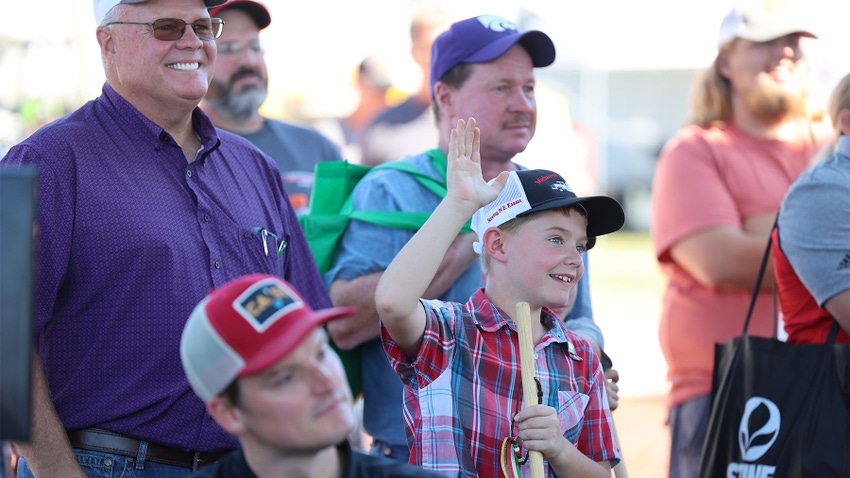 GET EXCITED: Raise your hand if you're coming to the Farm Progress Show! Farm Progress National Events Director Matt Jungmann says you'll want to check out the new autonomy products and the sprayer drones just north of the exhibit field, close to the field demos.
Betty Haynes
The Farm Progress Show opens today in Decatur, Ill., beginning its three-day run that continues through Aug. 31.
"The show just continues to grow, and it's because of the work the exhibitors do to keep the show fresh," says Matt Jungmann, Farm Progress national events director. "They are the ones that bring the new Big Bud, and the North American debut of the Nexat, and the new 1500cc Polaris Ranger that's being introduced, and the new Kawasaki Mule that's being introduced, and new products from all your favorite colors of paint."
You get the feeling that Jungmann could go on and on with that list — because he can.
Jungmann's family farms in western Illinois, and if you ask him to put on his farmer hat, he'll tell you he's most excited to see what other companies are bringing to the autonomy space.
"I've seen all this Raven autonomy, and I'm looking forward to what their competitors are going to bring that's different, like Sabanto and Mojow," he says.
Jungmann says visitors will find all those autonomy products in the Autonomy Zone, located just north of the exhibit field, near tram loading. Autonomy exhibitors include Raven, Sabanto, Mojow, Ryse and Ag Leader.
Another category that's filled up fast? Sprayer drones. Look for flight zones just south of the exhibit field, and in the Autonomy Zone on the north end. Jungmann says there are lots of different companies ready to show off their capabilities.
Be sure to check out the biggest-ever Varied Industry Tent, stretching from West Avenue to Central Avenue. Even better: Underneath the VIT, you'll find soybean asphalt, a new soy-based product sponsored by the Illinois Soybean Association.
Best of all, the weather looks to be ideal, a welcome feature following last week's blazing heat. The high temperatures forecast for Decatur this week are in the low 80s and upper 70s.
A few daily events you'll want to see:
Field demos. Corn combining begins at 11 a.m. daily in fields north of the exhibit grounds. Tillage demonstrations follow at 2 p.m. in fields where corn was combined earlier in the morning.
Ride 'n' Drive. The Ride 'n' Drive areas just north of the exhibit field are perennial favorites where visitors can try out everything from tractors to new pickups.
Tiling demos. Look for 30 acres' worth of tiling demonstrations again this year, all northeast of the exhibit field.
Dogs and Big Bud. Don't miss the fun stuff, like the Grinnell Mutual Canine Stars show, at Lot 1210 on 12th Street in the northeast quadrant. Head to the Titan Tires exhibit, also in the northeast quadrant on Central Avenue between Eighth and Ninth streets, to check out the latest and biggest Big Bud tractor, along with a few YouTube personalities like Cole the Corn Star.
The Farm Progress Show runs daily, Aug. 29-31, from 8 a.m. to 5 p.m. on Tuesday and Wednesday, and from 8 a.m. to 4 p.m. on Thursday. Tickets are $20 for adults and $10 for ages 13 to 17; 12 and under are free. Discounted advance tickets for $15 are available at FarmProgressShow.com. Follow along on social media with the official Farm Progress Show hashtag: #FPS23.
Subscribe to receive top agriculture news
Be informed daily with these free e-newsletters
You May Also Like
---