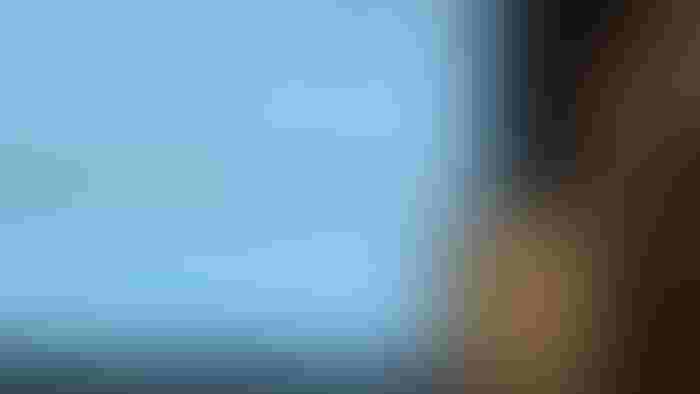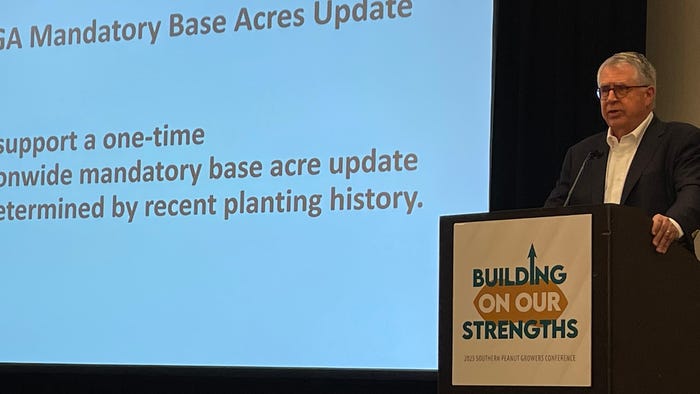 Federal lobbyist Bob Redding reported the impact of a mandatory base update, as supported by The National Corn Growers Association. The peanut and rice industries support a voluntary base update.Pam Caraway
At a Glance
Reference prices haven't changed since 2014

Base acres have little value at current reference prices

Risk management costs are about one-fourth of 1% of federal spending
Effective reference prices are the knots in the safety net woven by the 2014 Farm Bill. Commodity leaders say those prices, which were based on 2012 production costs, were tight in 2014. They held steady in the 2018 Farm Bill, which included an escalator clause that went unused. 
But a new farm bill in 2023 that includes 10-year-old reference prices will unravel that safety net, according to commodity leaders.  
"Rice farmers really need the stability of having a reference price and a PLC [price loss coverage] program that provides a safety net," said Jamison Cruce, senior director of government affairs at USA Rice. "We're truly hopeful that Congress will stay supportive of production agriculture." 
However, that flatline is foundational at this point to the Congressional Budget Office (CBO) estimate for a 2023 Farm Bill with a price tag near $1.5 trillion. An increase in the reference price for any commodity drives that cost higher. 
Ag leaders question CBO projections 
The reason for that is what commodity leaders believe are flawed market projections. Lobbyist Bob Redding, of The Redding Firm, pointed out at the recent Southern Peanut Growers Conference that commodity leaders must overcome Congressional Budget Office estimates that show market price averages for the next 10 years that are below the current reference price for some commodities.  
"The CBO numbers are just not accurate. They're not taking into account the reality of what rice prices will be over the next 10 years," Cruce said. 
Consider peanuts, one of those commodities showing market-year average prices below the reference price for that crop. Stanley Fletcher, a professor of policy at the Center for Rural Prosperity and Innovation at Georgia's Abraham Baldwin Agricultural College, who also spoke at the Southern Peanut Growers Conference, laid out the situation: 
The national average cost to produce a farmer-stock ton of peanuts is $668, according to 20 years of research Fletcher has gathered and analyzed using representative farms across the country. 

The current reference price for peanuts is $535 a farmer-stock ton, more than $100 below the cost of production. 
The CBO forecasts a market year average (MYA) price hovering around $450 per farmer-stock ton. 
"That's where you have the problems with getting something changed on the peanut side," Fletcher said. He explained further that an MYA below the reference price for each of the 10 years included in the Farm Bill budget estimate would trigger a government payment each year and drive up the cost of the legislation. Increasing the reference price drives that cost up further, given the CBO's forecast MYA. 
If the CBO's forecast is accurate, and the reference price holds as a result, Fletcher asked peanut farmers this question: "How are you going to survive on $454 peanuts?" 
Without a viable safety net, Georgia farmer Daniel Timothy McMillian figures he wouldn't be on a farm. McMillian addressed the situation in testimony before the U.S. House Committee on Agriculture in April. 
"While the 2018 Farm Bill's Price Lost Coverage program has worked for peanut growers, the rise in input costs and cost of production necessitates a reference price increase if this program is to remain relevant as a farm safety net," McMillian said. "The safety net is one of the many tools that made it possible for me to have a future on our farm after I finished college. Quite frankly, without it there might not have been a farm for me to come back to." 
Rice farmers also are at risk, Cruce said, noting that a 2022 study by the Agricultural and Food Policy Center at Texas A&M University showed rice farms faced a $442 per acre drop in net cash farm income, a loss of $880,000 per farm. 
While many focus on the overall cost of a Farm Bill that largely funds food assistance programs, Cruce noted that about one-quarter of 1% of the federal budget goes to risk management policies to support agriculture.  
"Our peril is price. We're at the will of the world when it comes to price," Cruce said, noting that India over-subsidizes its rice farmers, which lowers their export price below the cost of production. 
"We really need the price support side of the safety net," Cruce said. "That's the rice farmer's true safety net." 
Base acres correlate to reference prices 
If the reference prices stay flat, a contentious debate over a base acre update will be moot. Without a viable reference price, Fletcher said, base acres have little value. 
That said, the debate is over whether to enact a voluntary or mandatory base acreage update. When the safety net is well-woven, base is key to risk management and highly valuable.  
A mandatory base acreage update may benefit farmers who don't own base – especially young farmers. However, it could decimate the economic viability of farmers who own base. Corn was the only commodity that supported a mandatory base acreage update as of early August. 
"The question is how do you invest in younger farmers without harming older farmers who have invested in base for years," Redding said. "A mandatory base update is not the way to do it." 
For peanuts, Redding said, one alternative is simply to add base. Adding fewer than 200,000 base acres in non-traditional peanut production areas would meet that challenge. The non-traditional areas with significant acreage increases are north-central Florida, Mississippi and the upper Midsouth/Delta region that includes Missouri. 
"Adding base in those areas will not skew our market," Redding said. "It will provide farmers – particularly young farmers – with a safety net. Right now, they have no safety net." 
Flip through this photo gallery to catch a glimpse of this year's 2023 Southern Peanut Growers Conference. 
Subscribe to receive top agriculture news
Be informed daily with these free e-newsletters
You May Also Like
---