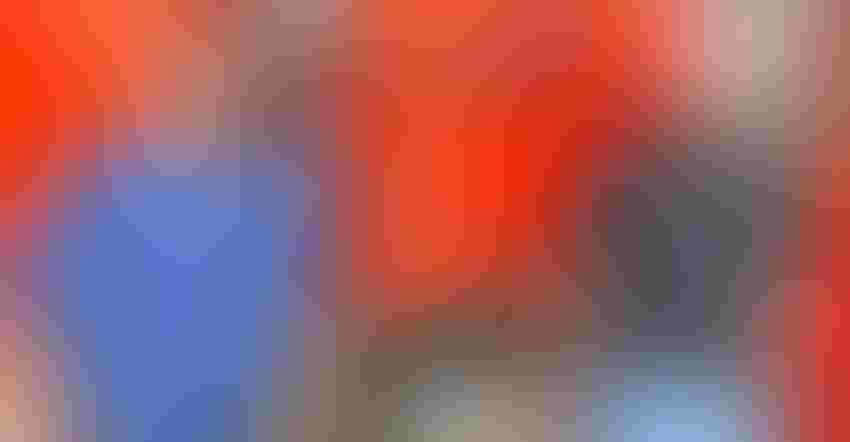 "If we get a boost in corn prices from these prevented plant acres we're going to plant more corn next year," said Illinois farmers Eric (l) and Denny Schoolman.
Photo courtesy Eric Schoolman
Farmers see a Prevent Plant payment as a poor option, but better than nothing. It goes against their most basic instinct – to grow crops.
For some impacted by flash flood it was an obvious choice. Jeff Jorgenson, who farms in Sidney, Iowa, will take Prevent Plant insurance payment on 700 acres of bottom ground covered by flood waters with no chance of planting. He farms on shares, not cash rent; plus, he had no inputs on fields other than $50 per acre in manure fertilizer. He and his landlord will split the spring price of $3.97 per bu., which was better than the $3.40 cash price when he declared PP. So instead of losing money he'll make around $100 per acre.
"Things could be worse, but it's not good for decent profitability," he said.
Eric Schoolman, who grows corn and soybeans with his dad Denny on 2,900 acres near Sheldon, IL, put 800 of 1,500 expected corn acres into Prevent Plant on June 5, the day we interviewed him.
And he was feeling pretty good about the decision, for several reasons.
"This spring I only sprayed what I could plant that day," he said. "A lot of guys who sprayed and put nitrogen on every acre - they had to plant corn. The guys who didn't had options. We have plow down on from last fall, but other than that we can send seed back and concentrate on getting beans in."
Schoolman's Prevent Plant insurance policy offers him 55% of expected revenue. He has no on-farm storage or drying capacity. "In my situation I'm money ahead," he said. "With reasonable cash rents and APH of 185 t0 210 bpa, it guarantees me $150 to $200 per corn acre. I don't have to plant, run the combine, haul it to town, or worry about $30 to $50 per acre commercial drying costs for high moisture corn. It removes a lot of risk."
On June 5 fields in his area looked wildly inconsistent. "In good tiled fields that are planted the fields look phenomenal," he said. But on other planted fields there was no emergence – the ground is too hard.
"There's a lot of guys who are mudding in corn, probably for three reasons: high cash rent, low APH or they had money invested in the soils already. They're pretty much committed to planting corn."
The unusual circumstances surrounding this planting season could provide an opportunity for reduced land costs, said Schoolman. "Go to your landlords and explain the situation. Some will lower the lease cost, and some won't, but it's worth having good communication with your landlord and explaining the options."
Schoolman said he would normally have quite a bit of corn pre-sold by now, but instead, he's waiting on rallies.
"There's just so much uncertainty," he adds. "Everybody's a basket case, at least around here. "I'm just happy I don't have anything sold this year in corn or soybeans because I'm confident prices will go higher."
On June 5 Schoolman had less than 10% of his expected soybean acres planted. And with that late planting he's not sure where yields or prices are headed. Rain was still in the forecast when we spoke.
"I see bean prices going higher," he said. "It might be one of those years when you make your most money selling cash beans across the scale."
Schoolman is already looking ahead to 2020.
"If we get a boost in corn prices from these prevented plant acres we're going to plant more corn next year," he said. "A lot of it revolves around Trump."
Subscribe to receive top agriculture news
Be informed daily with these free e-newsletters
You May Also Like
---