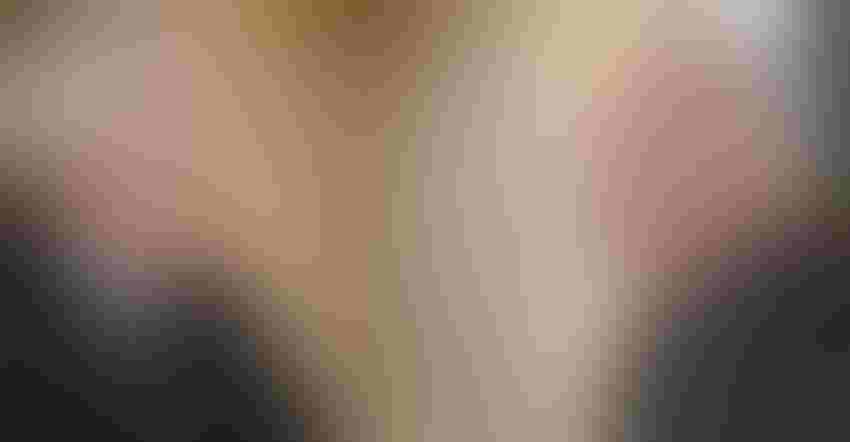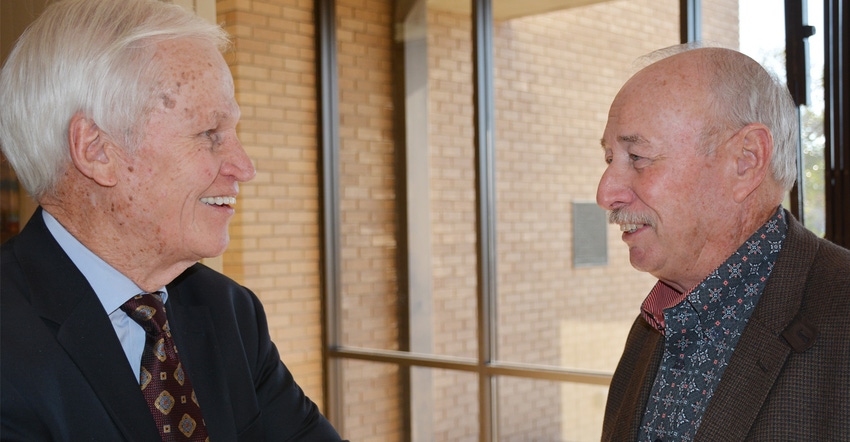 Former U.S. Representative Charlie Stenholm (D-Texas) visits with Texas wheat producer Ben Scholtz at a Texas Plant Protection Association Conference.
Ron Smith
Even in what is arguably the most unsettled time in recent American history, former U.S. Representative Charlie Stenholm (D-Texas) sees hope.
Stenholm, who served 13 terms, 26 years, in the U.S. House of Representatives, says it's a scary time in the United States with the specters of a global pandemic, a deep recession and profound ideological political divisions in the country.
The January 6 insurrection into the U.S. capitol is a harsh example of just how dangerous those divisions can be.
"We have National guardsmen sleeping in the capitol," he said. He added that members of the U.S. Congress have talked about their grandchildren being bullied at school because of parent and grandparent party affiliations.
"Congressmen have had their lives threatened. People have gotten angry. It's a scary time."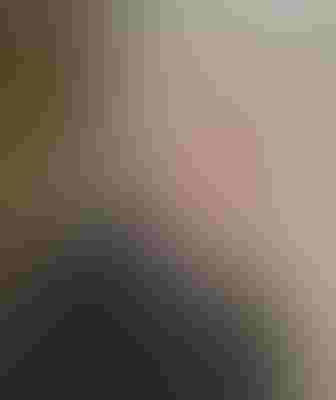 Former U.S. Representative Charlie Stenholm (D-Texas) (Photo by Ron Smith)
On top of but also part and parcel of the political divide, the Covid-19 pandemic persists as both the worst health threat in 100 years and the catalyst for the most serious economic catastrophe since the Great Depression.
Leadership lacking on COVID
"Hindsight is always 2020," Stenholm says. "But leadership should have been more prepared for Covid. In agriculture, we always prepare for various animal diseases and have been pretty successful in preventing or limiting problems.  We had forewarnings for Covid. It was ignored by leadership for way too long. They said we had it under control. We did not. This will not be the last pandemic we will face."
See, Representative Lucas sees 'windows of opportunity' 
Delays and misinformation resulted in nearly 400,000 and counting U.S. fatalities and an economy in freefall.
"We will spend another $2 trillion that we don't have," Stenholm says, to shore up the economy.  "If we don't spend it, the economy craters and we will see what a real depression looks like."
During his 26 years in the U.S. House of Representatives Stenholm was well known for his moderate views, his fiscal conservativism and his ability to work across the aisle to get things done.
He says he and other former congressmen are now working together to help leadership find ways to bridge some of the divides.
He's optimistic.
"The partisan divide is extremely concerning," he says.
"We have a house divided. But if Congress will actually debate, find some common ground, something that will be good for the country, we can make a start."
He says if congress can pick some low hanging fruit early, they may be in a better position to handle the bigger issues, like budgets, later on.
Teetering economy
"We know the economy is teetering on the brink," he says. "We have to do something now.  If we don't, we will look back and wish we had."
It will take a two-pronged effort, Stenholm says, including taxes and hard budget cuts. "We have to look forward, and agriculture will be a big part of it. We all have to look at future policies and what can we afford. That's where it gets really cloudy."
He says everything must be on the table, every government program's budget up for discussion.
"I recommend that Congress look at every single program, bar none. Is it worth spending money on? We will have to cut somewhere.
"We have to get over Covid and then think about taxation. And that must be bipartisan," he says.
In spite of the post-election distrust of many of President Trump's supporters, Stenholm believes President Biden is the right person at the right time in history to begin healing the country.
"Joe Biden is the right president, in the right place, at right time," he says. "He has a record of extending a hand to the other side of the aisle. But progress will require the other side taking the hand once in a while and not biting it."
Partisan Issues likely to fail
He expects partisanship to be somewhat less in the new administration because of Biden's ability to reach across to Republicans. He doesn't expect, in a closely divided
Senate and House, that much will pass without bipartisan support.
"Efforts to get rid of guns and more socialistic programs will not get through moderate Democrats," he says.
Any bill that is 100 percent Democrat or 100 percent Republican likely will die, he adds. He says incoming Ag Committee Chairman, David Scott, of Georgia, and the Senate Chairman, Debbie Stabenow, Michigan, will be good for agriculture. "But we will miss Colin Peterson and Pat Robertson."
Stenholm says President Biden's long tenure in the U.S. Senate and as Vice President offers advantages.
He says in President Biden's (and his own) experience, "everyone had to compromise. That's just the way it was. We can get back to that. We have enough optimist in us, but we have to have that belief. We also have a constitution to be thankful for."
He's optimistic about leadership going forward. "We couldn't have picked a better president for the times we're in," he says.
He adds that Secretary of Agriculture nominee Tom Vilsack will be a good pick. "He has a lot of experience."
(Vilsack served as secretary of agriculture in the Obama administration.)
"For the rest of us, we're looking at ways we can be the most helpful."
Priorities
Given the times, he says, the country has to prioritize.  "A lot of things, we can't do. We have to get over it."
Stenholm says he gives Trump some credit for appointing conservative judges, which he refers to as a "leveling precedent."
He says agriculture has been hard hit with many depending on the billions in aid over the last few last years. A big chunk of that, he says, went to the top 20 percent of farm income. "A lot of small farmers, a lot of cotton farmers, are still struggling."
The country faces many challenges, Stenholm says, and partisanship will not help.
He says he learned from his 8th grade English teacher that folks always have options. "She said the only thing we have to do is die. Everything else is optional."
Stenholm teaches an ag policy class at Tarleton State University and says he impresses on his students that facts come from science. "Politics is opinion," he says, and only important if you can get others to vote for it. "Not everyone will agree with you."
Compromise is necessary
Stenholm's opinions were strong enough to earn 13 terms in the U.S. House of Representatives. He's remained involved in agriculture and politics following his congressional service.
As a moderate Democrat, he understands the power of compromise. And despite the threats of a deadly pandemic, a deep economic recession and a sharply divided country, Charlie Stenholm remains optimistic.
"Our national weather forecast calls for storm clouds," he says. "But we have an environment where we can get things done if we get over the idea that if it comes from the other side the idea it's bad. We need to find some American ideas. I'm optimistic that we can do that."
Next, hear from Representative Frank Lucas, R-Oklahoma, about key issues facing agriculture and his outlook on the new administration. 
Subscribe to receive top agriculture news
Be informed daily with these free e-newsletters
You May Also Like
---