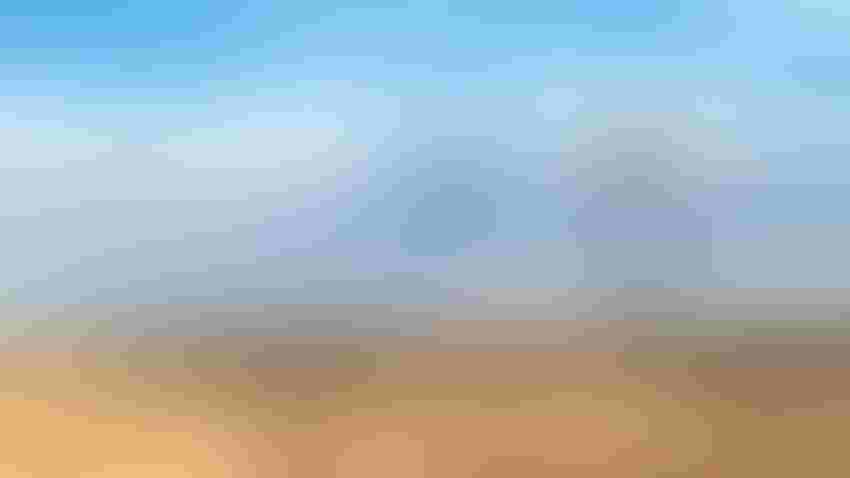 This is Part 1 of a three-part series about rural real estate values and sales.
The annual USDA land values summary released earlier this fall indicated a continued upward trend in farm real estate. 
Across the United States, farm real estate value increased to $4,080 per acre, up 7.4 % over 2022. Those figures account for the value of land and buildings on farms.  
Cropland value increased 8.1% to $5,460 per acre.  Pastureland value increased to $1,760 per acre, up 6.7% from last year. 
In Texas, farm real estate value increased to $2,900 per acre, according to the USDA report. That's a 9.4 % increase over 2022. Cropland, at $2,590 per acre is up 7%, with irrigated acreage at $3,050 and non-irrigated at $2,520 per acre. Pastureland value increased to $2,200 per acre, a 7.3 % increase. 
Oklahoma land values increased to $2,450 per acre, up 8.5 % over 2022. New Mexico, at $610 per acre, is unchanged from 2022, according to the USDA report. 
Oklahoma State University Agricultural Economics Associate Extension Specialist Roger Sahs says the state's pasture values were up 8.3% statewide according to the USDA National Agricultural Statistics Service. 
"There is not a separate value increase for irrigated cropland," Sahs adds. "The dryland cropland increase was also up 8.9%.  These are survey-based impressions of the market conducted in June with the results released in August." 
The COVID effect 
Charles Gilliland, research economist with the Texas Real Estate Research Center, College Station, says COVID played a significant role in rising rural real estate prices.  
"Everything exploded during COVID," Gilliland says. "When COVID first emerged in 2020, everything was dead for about a month. Everyone thought we were in for a bad market. Then folks began to think it was no longer fun to live in cities where they were more likely to be exposed. A huge stampede to the countryside ensued. For about 18 months, anything listed in rural areas sold in a week or two. Historically, it often took a year to a year-and-a-half to market farm property." 
Gilliland says farmers received stimulus program funds to counteract effects of shutting down the economy. "Farmers were outbidding investors in areas like the Texas Panhandle." 
Those factors affected recreational land as well as true farmland, where farming operations provide the income.  
Nationwide changes 
"Changes occurred across the country," Gilliland says. "In Central Texas, the Austin and Waco areas, median prices on property sales, were up 40% one year over another during that time. The volume of activity exploded. I am unaware of anything like that happening in the past. No one anticipated it. Broker friends had big smiles on their faces for a couple of years." 
For now, Gilliland says, some buyers are priced out of the market, especially those who want to get into farming or expand acreage. "It might be better to lease for a while, bide their time." 
He says if sellers sold out in 2022, they did well. Now, higher interest rates provide a better return on their proceeds. But if potential sellers are on the fence about when to sell, they might not want to wait. 
Market drivers 
Sahs says current and expected earnings, along with interest rates drive the markets. "As long as commodity prices stay relatively strong, compared to a historical sense, it provides support to the land markets. This has been the case for many cropland areas (at least up until recently) and certainly for pastureland, given the strong cattle market outlook." 
Dwain Nunez, associate broker covering New Mexico for Charles S. Middleton and Sons, Lubbock, agrees with Gilliland that COVID played a role in the large real estate bumps in 2021 and '22. Now, the biggest factors moving rural real estate markets are investors "looking for investments other than the stock market. A few are parking a lot of money in New Mexico. 
"Hunting ranches are selling right and left," he says. "We list mostly production ranches, not a lot of those high-end mountain ranches." 
Recreational property 
Sahs says recreational interests near urban centers (Central and Eastern Oklahoma) play important roles in land markets. "This is part of the lifestyle demand component that adds supplemental income as opposed to the livelihood choice where farmland is the sole source of income," Sahs says.   
Communities benefit from higher land prices. "Higher real estate values add to the tax base, good for local government and schools," Sahs adds.  "A large proportion, more than 80% of the farm sector's assets, is held in real estate.   
"Since farm real estate comprises such a significant portion of the balance sheet of U.S. farms, a change in that value is a critical barometer of the sector's economic well-being. It adds to the wealth of a retiree with landholdings. It also makes it less affordable for a beginning farmer or rancher to get started. They might be able to lease if land is available instead of trying to obtain favorable rates from FSA." 
Nunez says production ranch prices in New Mexico typically are lower than in Texas. "Some of the cheapest land in Southwest Texas ranges from $1,500 to $2,000 an acre. It's a lot less than that here." 
Brokers, Gilliland says, recognized in 2021 and 2022 that the market was crazy and could not continue. "Prices paid were up almost 30% year over year. That was an exciting time to monitor the market. It was a sobering experience." 
For more information: 
Oklahoma Land Values Update 2023 - YouTube 
Subscribe to receive top agriculture news
Be informed daily with these free e-newsletters
You May Also Like
---