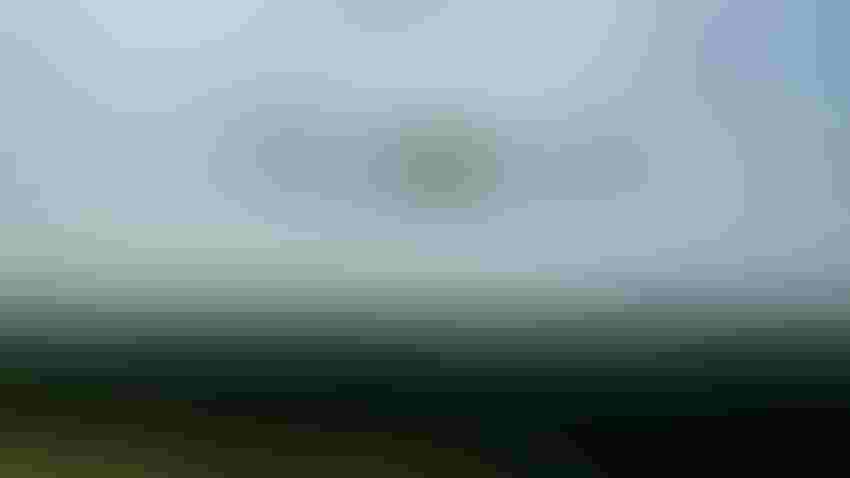 King Ag Aviation sprays a corn field near Olton, Texas. Texans will vote on The Right to Farm Amendment Nov. 7, a proposition to protect farmers and ranchers against lawsuits.
Shelley E. Huguley
Texans will have an opportunity on Nov. 7 to vote on a proposition that would add language to the Texas Constitution that would, in effect, make it difficult for future legislatures to change right-to-farm in the state.   
The proposition follows a Right to Farm statute previously passed by the Texas Legislature and now in effect. That law gives farmers and ranchers more protection against lawsuits that could affect how they run their businesses. 
Proposition 1, if passed, would establish the right to farming, ranching, timber production, and wildlife management in the Texas Constitution.  
Dee Vaughan, a Moore County wheat, corn, cotton, and seed sorghum producer, says the Right to Farm statute offers agricultural producers more protection against lawsuits. He responds to six key questions about the proposed amendment. 
Q: Why is this law and amendment needed? 
Vaughan: Those who live in rural areas might not realize it, but Texas is an urban state. More citizens live in Dallas-Fort Worth, San Antonio, and Houston than live in the countryside.  
Many have lived in cities three, four, or five generations and have no idea what farming is about. When urban areas spread out, take in land, annexing property outside the city limits, farmland might come under city control. That could sound good for a city dweller or the city council but could be devastating to a farmer who might be prevented from applying crop protection products or manure, plowing or performing other necessary chores a city dweller might find objectionable. 
It is important that we do something. 
A personal story from the Texas Panhandle, near Dumas, a city of 13,000 in a county of 22,000, makes the point. Someone bought a home and acreage just across from one of my farms. She had moved from San Antonio. The first time an aerial applicator sprayed a crop, she got the tail number of the plane and called FAA, reporting that a pilot was flying dangerously. The FAA called the pilot and the investigation lasted only about 30 seconds. 
The point is the lady did not understand why the pilot was flying so low. It was a lack of understanding, a bit humorous, but also a bit scary. Things do get scary when someone files a complaint, and a regulation gets written because of it. 
Q: Will it affect your operation? 
Vaughan: It could. It could happen in Moore County. We have new subdivisions in the county. We are fortunate that we have population and economic growth. But when those subdivisions want to get city services, farmers can be affected. 
Q: Any effect on urban encroachment? 
Vaughan: Urban encroachment can hurt us severely. Folks who move into the countryside don't understand that farmers sometimes must harvest on Saturday or Sunday. They make noise and create dust that drifts over homes and yards. A farmer has to harvest the crop on time.  
Livestock operations are also easy targets, more of a bullseye than row crop agriculture. We plant for a few days, and we're done until it's time to perform other operations. But animal operations are there seven days a week and 365 days a year. Every time the wind is in the right direction, the odor drifts over homes and the animal facility gets a black eye. 
Q: Do you see any downside?  
Vaughan: I really don't. The statute provides protection for farmers and ranchers who are using generally accepted practices. But at some future date things can change by statute to correct things. 
Q: Will it make a difference? 
Vaughan: If a city or other entity sees something that is dangerous, they still have the right to pursue relief if the activity is proved dangerous to the public. The law and the amendment do not supersede EPA to write labels. All rules and regulations remain in force. Local and state offices can regulate things that are dangerous. No bad actors are allowed to disregard labels and apply crop protection products as they wish. We are able to use practices and products that have been proven safe. The law preserves necessary rules and regulations but allows farmers and ranchers to operate. 
We don't want bad actors in our industry. If someone is doing something inappropriate, we want them regulated. We rarely hear those things but when we do we want those bad actors prosecuted. We want to maintain a good image with the public.  
Q: When is the vote? 
Vaughan: Nov. 7 is the general election. People have a tendency not to vote in these elections where mostly amendments are on the ballot. But be aware of this issue. If you have an interest in Right to Farm, you should turn out to vote. 
Subscribe to receive top agriculture news
Be informed daily with these free e-newsletters
You May Also Like
---