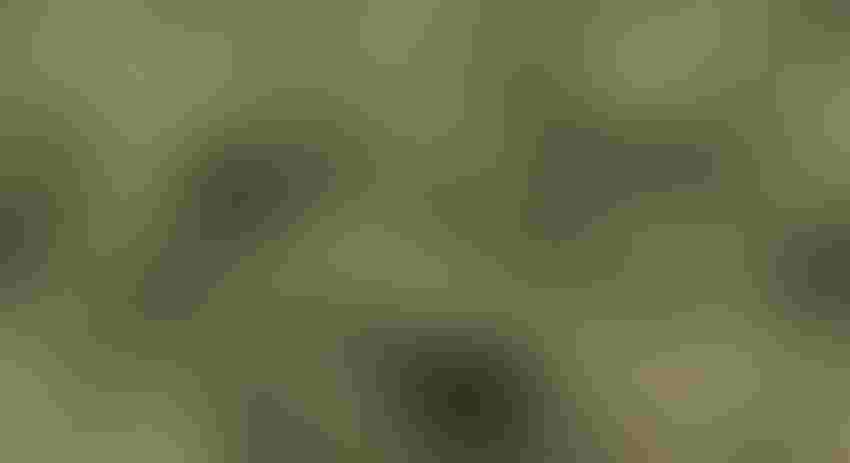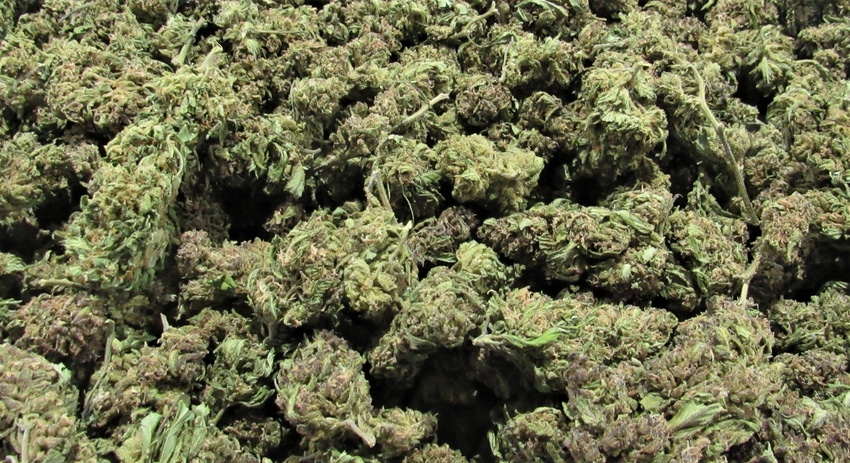 Smokable hemp buds are displayed at the 2020 World Ag Expo in Tulare, Calif. The University of California is conducting field trials with hemp, which was legalized under the 2018 Farm Bill.
Tim Hearden
Now that growing hemp has been legalized under the 2018 Farm Bill, the University of California is holding field trials to test growth patterns and best cultural practices for different varieties under different growing conditions.
University researchers this fall are harvesting their second industrial hemp crop at the UC's West Side Research and Extension Center in Five Points and at the UC Davis farm. The 2018 crop was their first ever.
West Side center director Bob Hutmacher and other scientists want to help growers determine optimal planting dates either by seed or transplants, irrigation and fertilization management and pest and disease management, according to the university.
"As is often true for crops that are new to a region, growers have a lot of questions about what types of things are suitable," Hutmacher said during the UC's annual alfalfa and forage field day on Wednesday, which was held online this year.
Hutmacher, who is based in western Fresno County, is working with UC Cooperative Extension specialist Dan Putnam and UC Davis professor and plant breeder Charles Brummer. Oregon State University is also participating in irrigation management and water use response experiments, Hutmacher said.
While hemp has historically been produced for grain and fiber, many growers believe the crop's most profitable component may be cannabidiol, or CBD, which is said to be a natural remedy for inflammation, pain, nausea and other ailments.
Hemp growers face a challenge in producing a crop with CBD while staying within regulatory limits for tetrahydrocannabinol, or THC, which is psychoactive and found in marijuana. The state Department of Food and Agriculture requires an industrial hemp plant grown in California to have no more than 0.3 percent THC when plants are sampled.
Still lots to learn
Hutmacher and others say there's still lots to learn about hemp's variety choices, how varieties and crop responses differ in areas with different climates and soils, pest and disease pressures, and nutrient management. Some varieties mature and are ready for harvest more quickly than others, Hutmacher said.
"Industrial hemp cultivars grown for essential oils such as CBD can be photoperiod-sensitive or not sensitive," he said. "The auto-flower varieties have potential to be more versatile in some production systems, in that they could be planted at a broader range of times of year since they don't respond to day length."
The different plant characteristics can affect the timing of planting and other production management choices, he said. Among the aspects of growing that researchers are looking at are how density of planting relates to yields, he said.
In conjunction with the Salinas-based Kayagene Co., Hutmacher and Putnam have been studying planting densities ranging from about 7,500 plants per acre to 30,000 plants per acre, the UC reports. The scientists are examining the tradeoff between growing costs and the yield benefits of planting higher densities.
The OSU-led study is examining drip irrigation trials set up at the UC's two California locations and at three sites in Oregon to test the effects of varying levels of water stress – from about 40 percent to 100 percent of estimated crop water requirements. The scientists are observing how four different varieties – two auto-flower and two photoperiod-sensitive – respond in different soils, climate and other environmental conditions.
Subscribe to receive top agriculture news
Be informed daily with these free e-newsletters
You May Also Like
---