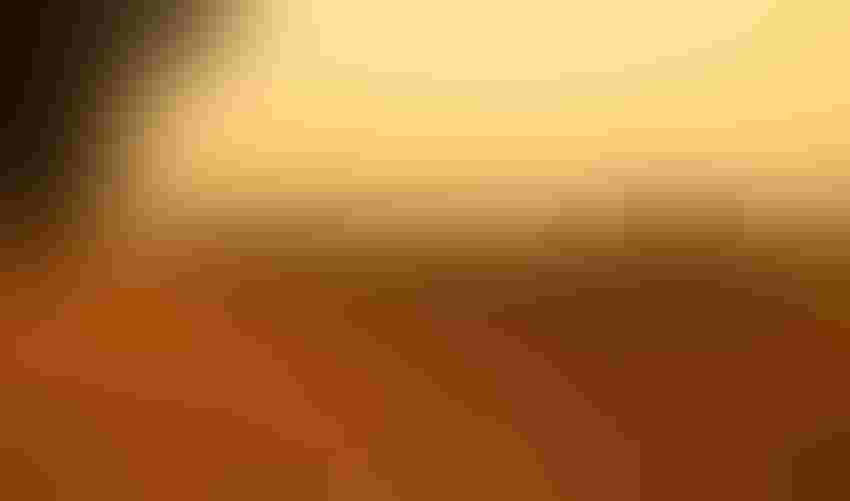 An orange, smoke-filled sky is seen above a vineyard in Oregon on Sept. 10. Fresh smoke from a nearby fire can cause smoke taint in wine grapes.
Deborah Bloom/AFP via Getty Images
Patience may be a grower's most important attribute when it comes to managing crops that have been scorched by wildfires, experts say.
Orchards and vineyards within a fire zone often won't show the extent of their damage until the following spring, while grasslands take several years to rebuild after they've been burned, scientists explain.
Often, the best thing a farmer or rancher can do is wait.
"There's a strong emotional desire to do something big because there's so much damage, and that's certainly understandable," said Morgan Doran, a University of California Cooperative Extension livestock and natural resources advisor. "My recommendation is to temper that with the financial feasibility and goals that you have for the landscape you manage."
Doran's advice came during a wildfire recovery webinar he organized after spending a weekend in late August in a truck with a Solano County sheriff's deputy escort to search for live animals displaced or trapped by the LNU Lightning Complex fire. Nearly 300 animals – mainly horses, sheep, goats and alpacas – were killed in the county during the fire, the UC's news service reported.
Taking stock of damage
Growers throughout the West are taking stock of crop damage and making needed facility repairs after wildfires in California, Oregon and Washington burned nearly 5 million acres as of mid-September. Among the damage to agriculture, the fires charred hundreds of square miles of rangeland and timber, including high-value allotments on public land.
Rangelands show about a 40 percent loss of production in the first growing season after a fire, and about 20 percent in the second year, Doran said. By the third, production usually returns to normal, he said.
"The primary reason for the change is the impact the fire has on species composition," he said. "When a fire passes through a grassland system, it really stimulates germination and seeds."
For this reason, it's often unnecessary to plant grass seed, as the grasses will return naturally, he said. The fire will stimulate weed growth, which can be dealt with in the following spring, he said.
"Sometimes (doing) nothing is best," said Rich Casale of the USDA's Natural Resources Conservation Service. "I know it's a hard pill to swallow, but sometimes it is the best practice."
In orchards and vineyards, plants can be damaged by the fire itself or by its heat, scientists say. The heat of a fire that's close by can boil water or sap within the plant, destroying cells or melting conduits.
Trunk damage ruins trees
Orchardists should examine the trunks of their trees, as damage there will prevent the canopy from recovering, said Katherine Jarvis-Shean, a UCCE orchard systems advisor. Damage that's limited to the canopy can be pruned away in many instances, she said.
"It can take months for damage to fully manifest," Jarvis-Shean said. "The best way is to wait until spring to see what grows and what doesn't. Think about how you've dealt with freeze damage in the past. This is really similar."
In the meantime, growers should irrigate frequently for short periods to keep the root zones moist, she said. When the extent of damage becomes known, growers will want to consider whether it's more cost effective to replace individual trees or remove the entire orchard and start over, she said.
The approach in vineyards is similar, said Glenn McGourty, a UCCE emeritus viticulture advisor.
"The good news is vineyards typically don't burn very easily," McGourty said, adding that borders are most at risk.
"When vines are damaged, it's very similar to trees," he said. "The vines may recover but still have damage to their vascular system … Like trees, it may take time to see the damage."
A grower might be able to save a vine with heavy pruning, "but once you have a compromised vine, it's usually in trouble," he said.
Smoke taint fears
A bigger concern for growers of wine grapes is the prospect of smoke taint, as chemicals from a fresh, nearby fire can affect the taste of the wine. Grapes are more vulnerable to smoke than most other agricultural products, in that their skins are permeable. Free volatile phenols created by burning wood become part of the grape itself, UC advisors have explained.
However, the compounds responsible for smoke taint are naturally present in grapes at low levels, and they are also part of the pleasant aroma compounds that are released into the wine during barrel aging.
"The latest research shows that smoke has to be fresh, dense and in close proximity to the grapes to have an impact," said Gladys Horiuchi, spokeswoman for the San Francisco-based Wine Institute. "Grape variety, duration and elevation of the smoke and wind direction are also factors. Late-stage smoke (older than 24 hours) does not impact grapes."
Winemakers and growers are now analyzing grapes to determine if they have smoke exposure and at what level, Horiuchi told Farm Press. Their decisions may include opting to not harvest selected rows or blocks, producing micro-fermentations to determine needed winemaking protocols, and carefully analyzing wines throughout the fermentation process, she said in an email.
"There are testing delays which are problematic," she said. "Wine Institute is identifying more certified labs to help speed up the process. Winemakers are committed to ensuring that the wines that reach the market are of the consistent high quality and character that customers have come to expect from California wines."
Help available
For those affected by wildfires, the USDA Farm Service Agency offers disaster assistance and low-interest loan programs to help producers recover. These programs include:
• The Non-Insured Crop Disaster Assistance Program, which provides financial assistance to growers of non-insurable crops — including native grass for grazing — when low yields, loss of inventory, or prevented planting occur because of disaster.
• The Livestock Indemnity Program, which covers livestock death losses in excess of normal mortality because of adverse weather.
• The Tree Assistance Program, which helps eligible orchardists and nursery tree growers for qualifying tree, shrub, and vine losses from disaster.
• The Emergency Assistance for Livestock, Honeybees, and Farm-Raised Fish program, which provides emergency relief for losses because of feed or water shortages, adverse weather, or other conditions.
• The Emergency Loan Program, which is available to producers with agriculture operations in a county under a primary or contiguous presidential or secretarial disaster declarations.
• The Emergency Conservation Program, which funds fence replacement and other projects to rehabilitate land severely damaged by natural disasters.
Each of these programs has specific eligibility requirements and deadlines. Visit www.fsa.usda.gov/disaster or contact your local FSA office for additional information.
Subscribe to receive top agriculture news
Be informed daily with these free e-newsletters
You May Also Like
---