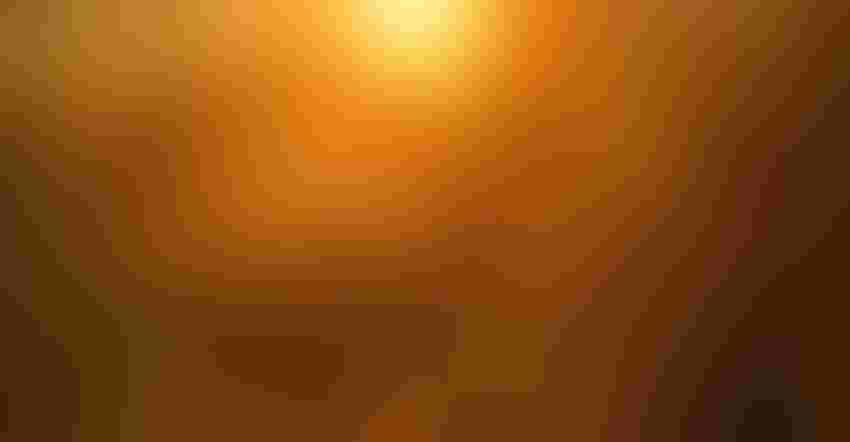 LOGISTICS: Illinois is a committee vote away from a summer growing season for industrial hemp, leading growers to organize and collect data on where processors should locate.
UrosPoteko/Getty Images
Wisconsin has led the Midwest region in growing hemp, so long as you don't count Kentucky, where tobacco growers with expansive dry barns have grown the crop in small but ready-to-scale quantities for years.
Illinois is cushioned between these two hemp powerhouses, with Wisconsin having already licensed hemp processors in various cities in what's now the second pilot year for industrial hemp in that state. Similarly, Kentucky has multiple processors already in operation, like Sunstrand in Louisville.
Illinois so far has zero licensed industrial hemp processors, though that will soon change; applications for processing hemp open once the Illinois Department of Agriculture regulations are approved in committee after April 9.
Tabitha Tripp of the Southern Illinois Growers Network is working to form hemp processing cooperatives throughout her region of the state, gathering information on planned hemp farms through a statewide survey by the Illinois Stewardship Alliance to help plan where processing centers will go.
She says each fiber processor will cost about $2 million to operate each year. Adding seed oil processing to a facility would raise the price tag to $3 million.
"These are not cheap. It's important we know where the best places are to put these processors," Tripp says. "We want to get in on this market, make a good example for Missouri and Iowa to get on the bandwagon, because we need to get this ball rolling."
Related:IDOA releases final rules for Illinois hemp
Rob Davies, marketing director with Illinois Farmers Union, says compared to Illinois, Missouri and Iowa are behind on supporting a state hemp industry. Neither will have a growing season for hemp in the summer, while Illinois is one committee vote away.
He says Iowa still doesn't differentiate between hemp and marijuana, so growing hemp there is still illegal. While Missouri is ahead of Iowa in putting forward a pilot program, Davies says the regulations don't go into effect until well into the growing season.
To the east, he says Indiana will likely have another year of research production — last year had a total of 5 acres, with one farmer growing hemp to perfect seed oil extraction. The acreage will grow as Indiana farmers such as Marty Mahan, board member of the Indiana Farmers Union, send fiber across state lines to be processed in Kentucky this year.
"There are 1,405 growers in Wisconsin applying for its second pilot year. What that's going to help us with: If there's a big drive from supply, then the markets are going to start taking notice. Wisconsin is doing a lot of hard work for us, and we ought to thank them for it," Davies says.
"Some guys on the border might think about processing out of state. But for everyone else, this is an opportunity to bring jobs and opportunities back to Illinois," he adds.
Davies is eyeing two "nodes" for industrial hemp that will develop over the next five to 10 years: one in northwest Illinois and one in southern Illinois. Both areas will draw in processors and shippers, thanks in part because they're located between the two leading hemp-producing states, as well as the wealth of highways, barges and railways in both areas.
"We've got two rivers going right down the bottom of Illinois, and we can get in this game if we get organized together," Tripp concludes. "If we figure out where our communities are that want to grow CBD [cannabidiol], and those that want to grow fiber, we can figure out where those processing plants need to go. But we have to work together to figure that stuff out."
About the Author(s) Associate Editor, Prairie Farmer
Austin Keating is the newest addition to the Farm Progress editorial team working as an associate editor for Prairie Farmer magazine. Austin was born and raised in Mattoon and graduated from the University of Illinois at Urbana-Champaign with a degree in journalism. Following graduation in 2016, he worked as a science writer and videographer for the university's supercomputing center. In June 2018, Austin obtained a master's degree from the Medill School of Journalism at Northwestern University, where he was the campus correspondent for Planet Forward and a Comer scholar.
Austin is passionate about distilling agricultural science as a service for readers and creating engaging content for viewers. During his time at UI, he won two best feature story awards from the student organization JAMS — Journalism Advertising and Media Students — as well as a best news story award.
Austin lives in Charleston. He can sometimes be found at his family's restaurant the Alamo Steakhouse and Saloon in Mattoon, or on the Embarrass River kayaking. Austin is also a 3D printing and modeling hobbyist.
Subscribe to receive top agriculture news
Be informed daily with these free e-newsletters
You May Also Like
---