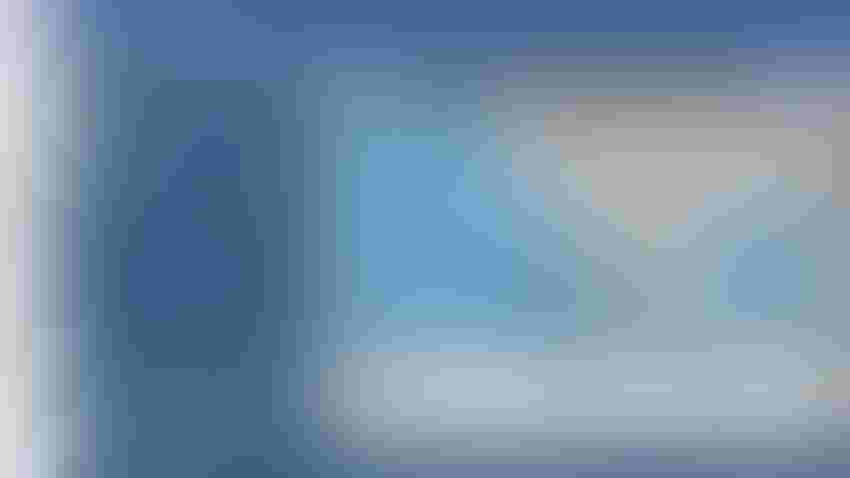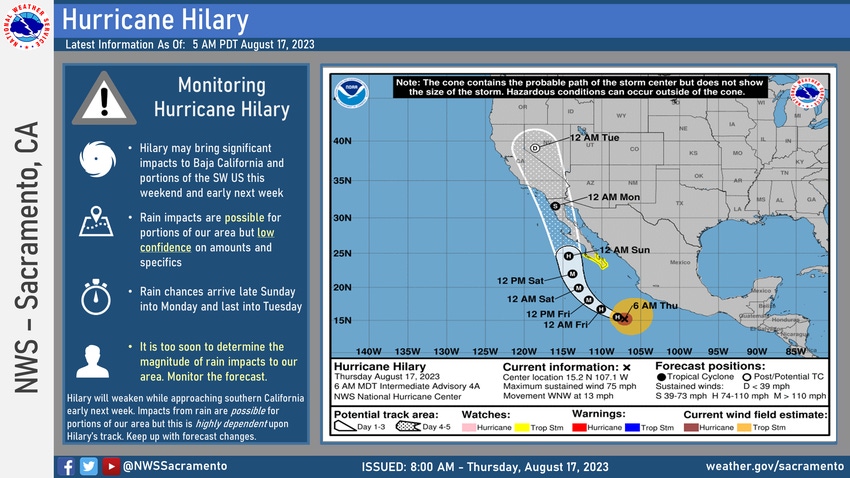 The National Weather Service's anticipated storm track for Hurricane Hillary as of midday Aug. 17.
National Weather Service
Now off the tip of Baja California, Hurricane Hilary is expected to bear down on the U.S. Southwest this weekend and drench much of the West just as growers are planting or harvesting a multitude of the region's iconic specialty crops.
While lettuce beds are starting to go up in the deserts of Southern California and southwestern Arizona, some farmers planning their transition to winter vegetables may see some delays. Meanwhile, California farmers are being told to brace for significant impacts.
One Yuma-area cotton farmer said his transition to lettuce might be delayed as he opted to wait out the storm before defoliating his cotton.
Ryan Jacobsen, CEO, Fresno County Farm Bureau, said the impacts in the San Joaquin Valley will be many as a whole host of crops are being harvested.
"Valley agriculture can take small amounts of rain this time of year," he said. "This is different. We're looking at this one as significant."
Fresno County farmer Don Cameron said he's doing what he can to protect crops like canning tomatoes, wine grapes, and his almonds. He knows he cannot pick up all the harvested almonds he has drying on the ground before the rain comes by early next week. All he can do is leave them on the ground and not move them into windrows until after the storm.
Wine and strawberries
Significant coastal wind and rain in southern and central California could fluster two of the Golden State's leading commodities – wine grapes and strawberries. While the table grape harvest is underway, wine grapes have been slower to develop this season because of the unseasonably cool spring and summer, according to the Ciatti California Report. Full picking already may not happen until October.
Strawberries are just wrapping up their peak season in California, and two of the state's three main growing regions – around Watsonville/Salinas and Santa Maria – are producing berries. The regions expect light to moderate rain going into Monday, Aug. 21, the California Strawberry Commission notes.
Harvests of Brussels sprouts, bell peppers and tomatoes have also begun along the Central Coast, observes the National Agricultural Statistics Service in Sacramento. Among other California crops, according to NASS:
Some apples and pears are being harvested, while other orchards are continuing to develop.

Valencia and navel oranges, lemons, grapefruit and mandarins are being picked and packed.

Numerous vegetables – from broccoli, cauliflower and lettuce to carrots, sweet potatoes and processing tomatoes – are in the midst of their harvest. Salinas Valley lettuce fields were already devastated last spring when a series of atmospheric rivers caused flooding of the Salinas and Pajaro rivers.
Storm track shifts
The National Hurricane Center on Thursday morning, Aug. 17, moved the projected track a little farther east, putting the center of the storm close to Calexico and Mexicali on the international border with California. The previous forecast track took the storm over San Diego and Los Angeles. The noon update continued that northward track across the border near El Centro, Calif..
The storm is projected to make landfall Monday morning as a tropical storm at the northern part of Baja California. Tropical storm winds range from 39-73 mph. It is expected to make major hurricane (Category 3) status by early Friday morning but diminish greatly as it moves over cooler water and onto land.
The larger issue for Hilary will be rainfall and the likelihood of flash flooding in southern California and along the Colorado River in Arizona. Rainfall amounts could run from 2-4 inches from Yuma, Ariz., into Imperial County, according to the National Weather Service. Places like Phoenix and Tucson could see little to no rain.
The National Weather Service in Hanford, Calif., says flash flooding is expected from Kern to Fresno counties by Sunday night, with extended flash flooding and heavy rain in the Valley as far north as Madera County on Monday.
Projected rainfall could be as high as two inches in the Bakersfield area on Monday, with as much as an inch of rain in Fresno and Tulare. Worst-case estimates suggest over three inches of rain could fall across much of Kern County with about two inches of rain on parts of Fresno County.
Impacts from Hilary could reach into Northern California as well as southern Nevada and southern Utah, according to the weather service. But the storm likely won't be much help to the Pacific Northwest, where record heat and drought have fueled more than two dozen major wildfires.
Reservoirs full
The storm comes as most of California's major reservoirs are already holding well above their historical averages and some are near capacity. The San Luis Reservoir was at 214% of its average for Wednesday, Aug. 16, and was at 87% of capacity, according to the state Department of Water Resources. The Don Pedro Reservoir was at 92% of capacity and the New Melones Reservoir was at 82%, the state's water agency reported.
The DWR has been moving water around to take advantage of the Golden State's record-breaking precipitation in 2022-23, which saw one of the largest snowpacks in 70 years. In all, the agency has moved and stored 3.5 million acre-feet in case drought returned.
Hilary may be nature's first shout in what is expected to be a strong El Nino that lasts throughout the winter. El Nino oceanic conditions favor warmer storms coming in from the Southwest and can bring copious amounts of rain to Southern California.
As the transition to winter vegetables gets started in the low desert of Southern California and Arizona, farmers preparing their lettuce beds for planting may need to repair those after the storm disappears. The National Weather Service in Phoenix is saying between two and three inches of rain could fall in and around Yuma, which is approximately what the region receives annually.
Subscribe to receive top agriculture news
Be informed daily with these free e-newsletters
You May Also Like
---